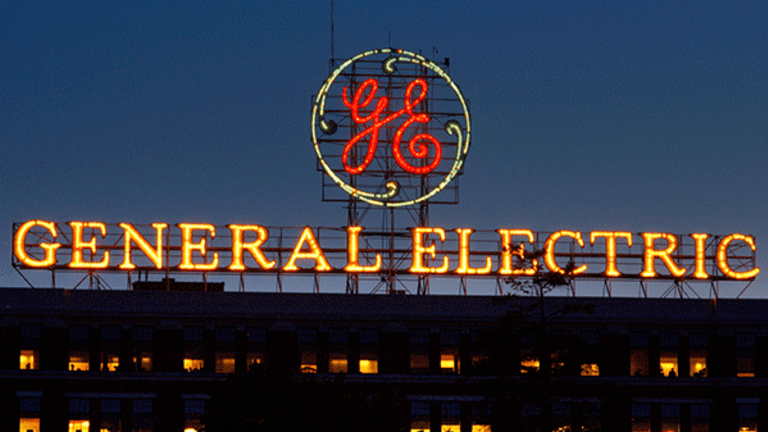 GE's $12 Billion Cash Target Proves Tough, But Dividend Is Safe
'We expect cash flow to continue to improve throughout the year,' CEO tells investors.
Updated from 6:42 a.m. on Friday, July 21.
General Electric Co. (GE) - Get General Electric Company Report  managed to allay some investor concern about cash generation in Jeffrey Immelt's last full quarter as CEO, but its biggest test is still to come: The manufacturer has just six months to reach a target of at least $12 billion originally spread over the full year.
Despite improving cash from industrial operations by $3.1 billion in the three months through June, the Boston-based company said Friday, June 21, that it remained $200 million in the red on that measure for the first half of 2017. GE invested $1.6 billion more than in its manufacturing businesses than they earned in the first quarter. 
While Immelt assured investors cash flow would improve in the second half, executives warned that cash from manufacturing would come in "at the lower end" of GE's original forecast of $12 billion to $14 billion -- and that meeting the goal would depend in part on natural resource markets. 
GE "has a big hill to climb in the second half," Jeff Sprague, an analyst with Vertical Research Partners, said in a note to clients. "This is the first time we can remember industrial cash from operating activities being negative for an entire first half."
The benchmark is particularly important benchmark to GE investors since manufacturing businesses make up the vast majority of the company's operations after Immelt's strategic shifts during the past several years.
Reaching the 2017 target would require performance in the six months through December much like last year's, when GE generated about $11 billion in the second half, CFO Jeff Bornstein said in a telephone interview. About $4 billion in working capital should be converted to cash this year, as GE ships products to customers and books revenue, and earnings will increase amid higher volumes coupled with lower costs, he said.
This year's cash from operations will be curbed by about $2 billion spent on restructuring, but "that won't happen forever," Bornstein added. "Underlying operations are even better."
GE fell 2.9% to $25.91 at the close of New York trading on Friday. Shares of the company, founded as a light bulb-maker by Thomas Edison in the late 1800s, had previously dropped 4.5% to $26.69 since Immelt announced his retirement -- even though the stock led gains on the Dow Jones Industrial Average the day he did so.
Friday's decline wiped out a pre-market pop from traders' initial response to GE's earnings report, which included profit of 28 cents a share in the three months through June. That was three cents higher than the average estimate from analysts surveyed by FactSet.
Watch More: This Is What General Electric's Results Reveal About the Rest of Earnings Season
Income on a net basis, including parts of the GE Capital lending business sold since last year, fell 57% to $1.19 billion, or 15 cents a share, the company said in a statement.
Total revenue of $29.6 billion, higher than estimates, still dropped 12% from a year earlier as locomotive sales slid amid falling railroad deliveries for U.S. shale drilling. Revenue from oil and gas equipment dropped 3% to $3.1 billion as crude prices at less than half a 2014 peak continued to curb demand from producers.
The declines were countered somewhat by growth in the power segment, boosted by the Alstom acquisition and a $3 billion services agreement in Algeria, as well as renewable energy and health care.
"GE had a solid quarter in a volatile world," Immelt told analysts and investors on the earnings call. U.S. growth is stable, though inflation continues to lag the Federal Reserve's 2% target, and the CEO said global expansion is accelerating despite a lag in resource markets.
"The global scale of the company, along with our ability to innovate industry-leading products and services, will help us navigate the current environment and unlock productivity across our businesses and markets," Immelt said in the statement.
The 61-year-old, who cedes the title of CEO to 55-year-old John Flannery on Aug. 1, has spent years streamlining the sprawling conglomerate he inherited from predecessor Jack Welch by exiting businesses such as television and appliances to focus on digital manufacturing, where he sees the potential for dramatic growth.
"Since the outcome of the board's succession-planning process was announced in June, John and I have been spending a lot of time together discussing this unique role and what he can expect in the months and years ahead," Immelt said in the statement. "I am as confident as ever that John is going to be an outstanding leader of this great company."  
Flannery, who formerly led GE's health care business, said on the call he plans to update the company's 2018 earnings outlook in November.  
"I'm in the middle of a series of deep dives into each of the businesses, looking at everything you would expect," he said. "I want to repeat the process I used in health care to really get out and listen to what people are thinking, good and bad, about the company. I always start with customers and employees, but it's also important to get the view of our government partners and especially our investors."
EXCLUSIVE LOOK INSIDE: General Electric is a holding in Jim Cramer's Action Alerts PLUS charitable trust portfolio. Want to be alerted before Cramer and the AAP team buy or sell the stock? Learn more now.
GE's disappointing cash performance in the first quarter compounded the frustration when Immelt appeared to pull back on a 2018 earnings target of $2 a share, a goal important to activist Nelson Peltz's Trian Partners, and prompted speculation that GE might be forced to cut its dividend.
Nick Heymann, an analyst with William Blair, has discounted that possibility, and executives reiterated their comment to the quarterly payout on Friday's conference call.
GE has cut its dividend only twice in its history, once during the Great Depression in 1938 and again in 2009 as Immelt shored up the company's cash buffers amid the global financial crisis. That reduction, from 31 cents a quarter to 10 cents, saved about $9 billion a year, GE said at the time.
"Everybody here prioritizes the dividend at a very high level," Immelt said Friday. "I was here the day we cut the dividend. It was the worst day of my tenure as CEO."
GE returned $7.8 billion in cash to shareholders in the first six months of the year, $3.6 billion through share repurchases, the company said. The total is slightly less than half of the GE's targeted return of $19 billion to $21 billion for all of 2017.
Flannery and Bornstein, the CFO, are reviewing an earlier decision to devote $11 billion to $13 billion to stock buybacks, however. Heymann said earlier that GE is likely to trim its repurchases over time as the parent company's annual payment from the once-sprawling lending business dwindles.
GE's ability to generate cash has been hampered since mid-2016 by the introduction of new products such as next-generation locomotives, higher cash pension contributions and higher-than-anticipated capital investments in digital manufacturing, Heymann said.
More of What's Trending on TheStreet:
Hedge Funder Scaramucci Lands Job in White House; Sean Spicer Quits
Quiz: Which Company Makes Your Favorite Junk Food?
T-Mobile Launches Promotion Discounting Apple's iPhone 7 -- Here's How Much You'll Pay