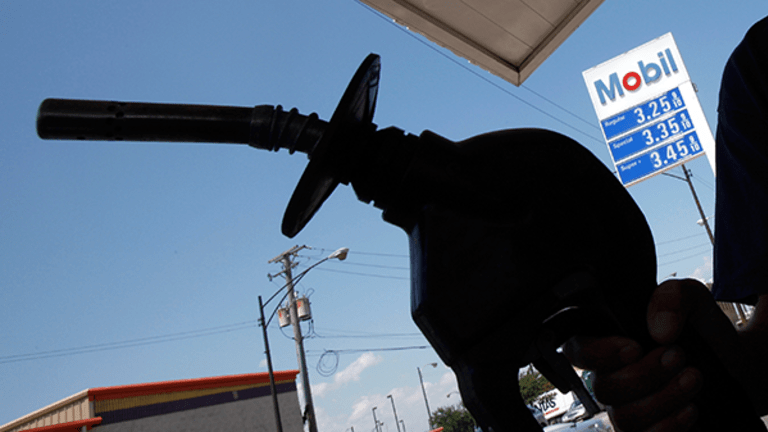 Publish date:
Gas Prices Jump as Tropical Storm Harvey Shutters Gulf Refiners
Gas prices rise to four-month highs in Harvey's Wake
Gas prices rise to four-month highs in Harvey's Wake
Americans should brace for higher gas prices in the weeks ahead after Tropical Storm Harvey shutters nearly a fifth of the country's refining capacity amid high winds, torrential rains and unprecedented flooding.
Gasoline futures prices have risen more than 10% over the past two days to a two-year high as investors count the cost of Harvey's devastating wake, which has taken out the equivalent of more than 3.6 million barrels of refining potential in the Gulf region. Key distribution pipelines that take gas and distillate products to markets around the United States have also been hit, although most are still operating under reduced capacity. 
However, with flood waters in the Houston area not expected to peak until Thursday, and the Department of Homeland Security still reluctant to put an estimate on the economic cost of the storm as it rightly focuses on humanitarian relief, the long-term impact of Harvey's destruction will likely put a cap on gas price increases over the medium term as demand wanes amid what is anticipated to be a multi-billion dollar rebuilding effort in America's fourth-largest city.
In the short term, however, retail gas prices are expected to rise sharply as the impact of reduced supply filters from the Gulf region to distribution points around the United States, where average prices are hovering around $2.41 a gallon, up 2 cents from yesterday and more than 10 cents from last month's average of around $2.31, according to the price comparison website Gasbuddy.com.
Curiously, U.S. crude oil prices are not reacting in the same way, with West Texas Intermediate crude futures for October delivery trading 0.7% lower from Tuesday's New York close at $46.11 per barrel. That puts the difference between U.S. and global crude prices, the so-called Brent spread, at around $5.54, near to the highest level in about two years.
U.S. crude prices are trading at a deep discount to international equivalents thanks in part to rising production levels and swollen inventories, which are expected to increase in the weeks and months ahead as drillers, which were largely unaffected by the path of the hurricane, continue to pump crude as refiners slowly inch back to full capacity.
More of What's Trending on TheStreet: