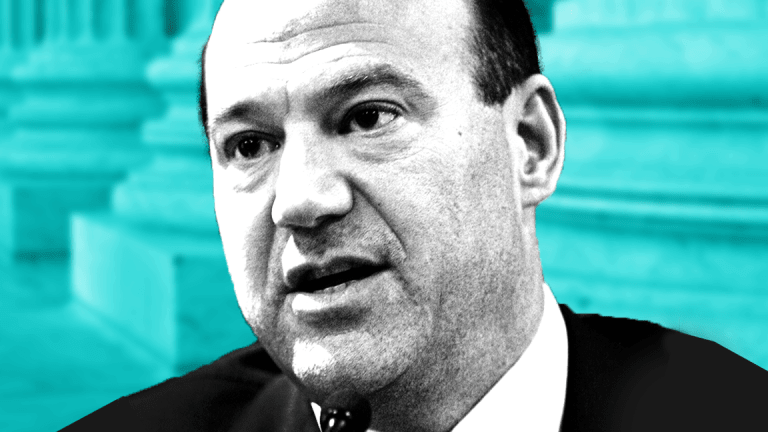 Jim Cramer: Gary Cohn's White House Departure Will Really Pressure Markets
The White House insists there is no single driver behind Cohn's decision.
Get ready for some pain, bulls.
Gary Cohn revealed on Tuesday plans to resign as President Donald Trump's top economic adviser.
Dow futures plunged as much as 344 points on Wednesday. 
TheStreet's founder Jim Cramer told Action Alerts Plus investment club members Cohn's departure will "put a lot of pressure" on the market, revealing several reasons why here. Cramer was all over the call last week.
"The initial market reaction should be very negative both because it signals that the Trump administration is absolutely going to move forward with tariffs and the risk of a trade war is now more elevated as well as the loss of a market-savvy and well regarded voice of reason within Trump's inner circle," said Chris Zaccarelli, chief investment officer, Independent Advisor Alliance.
"To the extent that the initial reaction is too severe and this is the beginning of more substantial trade negotiations and not necessarily a race to the bottom in terms of worldwide tariffs then it may prove to be a buying opportunity," Zaccarelli said.
The White House reportedly said there was no single determining factor behind Cohn's decision to resign, but the move comes days after the president announced plans to impose tariffs on steel and aluminum imports to the U.S. Cohn has long been labeled a free-trade supporter who has tempered some of Trump's more nationalist policy ideas. 
"Gary has been my chief economic adviser and did a superb job in driving our agenda, helping to deliver historic tax cuts and reforms and unleashing the American economy once again," Trump said in a statement to The New York Times. "He is a rare talent, and I thank him for his dedicated service to the American people."
The Times reported that Cohn is expected to exit his role atop the National Economic Council in the coming weeks. Cohn's departure would come following a string of exits from top Trump aides, most notably of late White House communications director Hope Hicks.
Cohn's resignation also followed conversations between Cohn and the president over his possibly replacing chief of staff John Kelly, the Times reported citing anonymous sources familiar with the talks. According to them, the president never formally offered Cohn the chief of staff position, but rather attempted to gauge his interest in taking it. 
Cohn was previously president of Action Alerts Plus holding Goldman Sachs Group Inc. (GS) - Get Report .