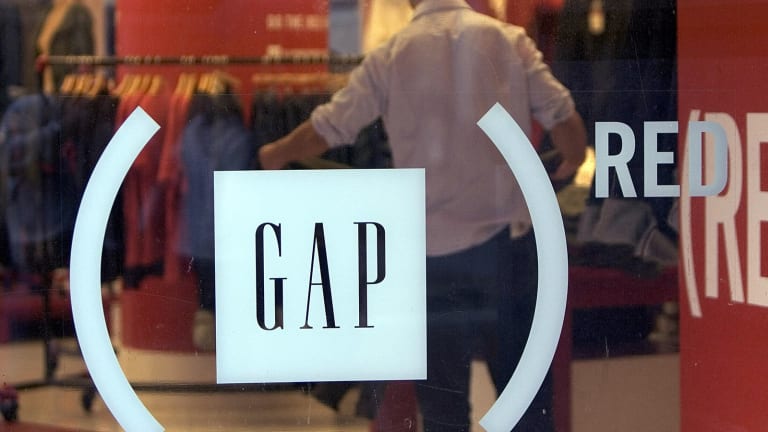 Gap's Planned Closure of 175 U.S. Stores Signals Major Shift in Strategy
Hurt by the rise of fast-fashion rivals such as H&M and Forever 21, the Gap is on a path to becoming more of a niche retailer.
Hurt by the rise of fast-fashion rivals such as H&M and Forever 21, the Gap is on a path to becoming more of a niche retailer.
NEW YORK (TheStreet) -- With profit margins on T-shirts and jeans under siege from the proliferation of H&M and Forever 21 stores in America, mall staple Gap (GPS) - Get Report has found a new way to meet profit objectives for this year.
More aggressively dismantle its mall retail empire to reduce costs.
On Monday, the struggling specialty apparel retailer announced it will close about 175 Gap brand stores in North America over the next few years. About 140 closures will occur this fiscal year, a majority likely coming in January following the end of the holiday season.
In the past two years, Gap North America has already shuttered roughly 106 stores. After its latest store closing campaign, which was not hinted at on the company's first-quarter earnings call on May 21, it will operate 800 Gap stores in the U.S. comprised of 500 Gap locations and 300 Gap outlet stores. That is a far cry from Gap's white t-shirt and khaki selling heyday in the early 2000s, when it operated over 1,400 stores in the U.S.
The store closures will cost Gap $300 million in sales and one-time outlays of $140 million to $160 million. Gap estimates annualized savings from these actions to be $25 million beginning in 2016.
"Returning Gap brand to growth has been the top priority since my appointment four months ago -- and Jeff Kirwin (Gap global president) and his team bring a sense of urgency to this work," said Art Peck, Gap's CEO, in a statement. "Customers are rapidly changing how they shop today, and these moves will help get Gap back to where we know it deserves to be in the eyes of consumers."
By closing stores in mass quantity this year, Gap is effectively on a path to become a niche retailer that focuses on the affluent, where discounts are not the only consideration on whether to buy a shirt. It's a similar move being employed by fellow mall dweller Macy's (M) - Get Report, which has noted recently it intends to invest most of its resources in its 150 best-performing locations. As for Gap, the announcement comes at an odd time for two reasons.
First, the important back to school selling season is about to kick off in July. News trickling down to associates that their Gap store will close at year's end may impact engagement with customers. At the very least, it may cause some operational disruption not planned for by Gap earlier in the year, such as messy store presentations and the need to discount more to drive sales.
Second, by exiting stores, Gap may be hurting its chances to service clients that are increasingly shopping online.  "I think, as we said, we are really continuing to push omnichannel capabilities which have been for us more, what I would call, spot capabilities, so reserve in store, shipping from store, finding a store, and now we are testing mobile POS (point of sales)," emphasized Peck on Gap's fourth-quarter earnings call on Feb. 26.
Turning Gap stores into distribution points to meet online demand was also a focus by Peck's predecessor at CEO, Glenn Murphy. "Omni-channel initiatives are not all about driving online sales -- as a matter of fact, in some cases, reserve in store and order in store drive more productivity inside our physical assets," said Murphy in his final earnings call back in November last year.
Shares of Gap rose by by less than 1% in after-hours trading. Gap did not return a request for comment.
This article is commentary by an independent contributor. At the time of publication, the author held no positions in the stocks mentioned.