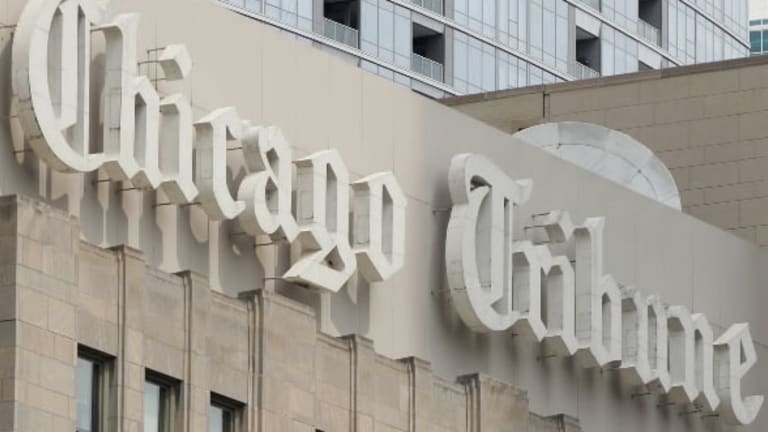 Gannett Used to Be Evil, Now It Might Save Tribune Publishing
Voracious and efficient, Gannett was anathema to journalists of a previous generation. But for Tribune's editors and reporters, the company may look more like a savior.
There was time when journalists considered Gannett (GCI) - Get Gannett Co., Inc. Report to be evil.
Gannett was run by the hard-charging Al Neuharth, who aggressively bought newspapers and cut costs, building a chain that reporters through the 1980s and 1990s derided as cookie-cutter and milquetoast. USA Today was "McPaper," a snub handed Gannett by the late Ben Bradlee, the old-school publisher of The Washington Post.
In comments that presaged Gannett's bid last week to buy Tribune Publishing (TPUB)  in a deal valued at $815 million, former Chicago Tribune editor Jim O'Shea once said of Neuharth that he was a "corporate predator" who "worked for a company that acquired newspapers like Imelda Marcos bought shoes."
To those in the news business who saw their calling as speaking truth to power, Gannett's ambition was squeezing out profits. Its battles with rivals were infamous, many of them chronicled in Richard McCord's acerbic The Chain Gang. 
But Gannett has evolved and the newspaper industry has become a lot smaller than it was before the Internet began taking advertising sales away from print publications.
The debates over media consolidation that peppered the 1990s and early 2000s seem sweet and nostalgic at a time when Facebook (FB) - Get Meta Platforms Inc. Class A Report  captures one-third of all digital advertising revenue. Few newspaper reporters or editors are worried about any one publisher getting too big--they're more concerned with survival. 
"It's been convenient for a lot of journalists to piss on Gannett and a whole bunch of other chains that bought up smaller newspapers because, quite frankly, we were snooty about it," said Charles Madigan, a 27-year reporter at the Chicago Tribune, who left the newspaper in 2007 to teach and write books. "But my attitude has changed because these people [Gannett] have a commitment to doing journalism. They're still covering communities and presenting readers with news options, and that's much more important than how they run it."
But the way Gannett runs its newspaper operations, scorned in the past for its impersonal efficiency, may be just what Tribune Publishing needs. Last week, Gannett may have shown investors, and Tribune shareholders, how to operate a legacy print publisher in the modern era.
Its first-quarter earnings, released April 27, beat Wall Street estimates even as advertising was softer than forecast. Profit excluding some items easily beat Wall Street estimates as Gannett moved faster than expected to consolidate distribution centers, hold down newsprint costs and integrate the digital USA Today with its other websites.
"Cost controls more than offset top-line weakness," Jefferies media analyst John Janedis said. Tribune Publishing, owner of the Los Angeles Times, Chicago Tribune and Sun-Sentinel of Fort Lauderdale, may need to take note.
"The thing you can learn is how to be efficient operators, and Tribune never was an efficient operator," said Ava Seave, a principal at industry consulting firm Quantum Media and member of the Columbia Journalism School faculty. "Gannett is an efficient operator. That learning can be put against these other publications."
For the past week, Tribune Publishing chairman Michael Ferro has remained publicly dismissive of Gannett's $12.25 per share buyout offer. On Monday, Tribune urged its shareholders to ignore a Gannett call to withhold support for a slate of Ferro-backed directors when the company holds it annual meeting on June 2. Ferro said he deserves time to try to right the Tribune ship.
Yet when Tribune Publishing reports its first-quarter earnings at the close of trading on Wednesday, Ferro may find himself under more pressure to negotiate a deal.
After all, gross profit at Tribune has been falling for three years running. Before the Gannett offer, the publisher's shares had tumbled 71% since being split from its television station group in August 2014. An exhausting four-year bankruptcy process that ended in December 2012 had left Tribune stumbling. Arguably, the company was still reeling from its 2007 sale to real estate developer Sam Zell and a forced marriage with Times Mirror in 1999.
"There were structural problems in the news business, and Tribune wasn't particularly efficient and didn't move fast enough to try to respond to them," Seave added. "It makes sense that another company which seemed to have a better run at making money in the newspaper business would try to pick it up."
Gannett's play for Tribune is nothing new for the company now headed by CEO Robert Dickey. When other publishers were taking on millions of dollars in debt to make outsized acquisitions, Gannett stayed modest. It didn't mimic Tribune when it bought Times-Mirror, or New York Times (NYT) - Get New York Times Company Class A Report when it acquired the Boston Globe or McClatchy (MNI) - Get McClatchy Company Class A Report when it purchased Knight-Ridder.
All of those deals backfired. Gannett, meanwhile, has long mixed ambition with prudence. 
Shareholders who purchased Gannett when Neuharth took the company public in 1980 watched as its share price climbed from $4.60 to $72 in April 2004, when the bottom began to fall out of the newspaper industry. Gannett split its television holdings into a new company, Tegna (TGNA) - Get TEGNA, Inc. Report , in June 2015 when its stock price hit $30.
If Gannett does succeed in acquiring Tribune, it would own about 17% of the country's daily newspaper circulation of 41 million. "The tallest midget in the room" is how one fund manager described the end-product of a possible merger. It's unlikely to be much of a threat to Facebook.
For those at Tribune's newspapers who remain dedicated to speaking truth to power, Gannett may be less the Man in the Black Cape than the Knight in Shining Armor. The idea that the once middle-market, lowbrow Gannett chain might buy the mighty and very proud publisher formerly known as Tribune doesn't seem as preposterous as it might have 15 or 20 years ago.
"The poor Tribune has been bashed and battered around more than anyplace in the past 10 years," Madigan said. "If they get bought by someone who has journalism at its center, even if it may feel uncomfortable for a while, that's a good thing."