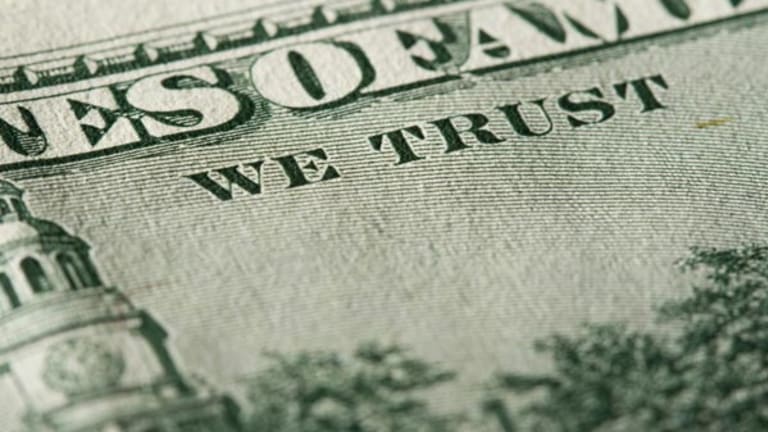 Gannett Outlook: Not Pleasant Reading
Despite the media company's efforts to go digital, its financial outlook looks bleak.
With the unemployment rolls exploding, the prospects for a majority owner of a job-hunting Web site should be bright. But analysts are forecasting that the financial results of
Gannett
(GCI) - Get Gannett Co. Inc. Report
, which holds a controlling interest in the
CareerBuilder.com
employment portal, are not likely to make pleasant reading.
Negatives permeate Gannett's financial results. Fiscal 2007 revenue of $7.44 billion was down 5.2% from the previous year. Earnings per share for 2007 fell 13.3%. One-time items resulted in a second-quarter loss of $10.03 a share vs. a profit of $1.23 a share a year earlier. This year's third-quarter per-share net, reported last month, was down 31.7% from last year.
Consensus projections offer no solace. The current fiscal year net per share is projected to be 17% worse than 2007. Analysts expect next year's EPS to show a 25.4% year-over-year decline.
Gannett, the nation's largest newspaper publishing company, is saddled by the dual burdens of declining circulation and vanishing advertising revenue. Readership isn't just weakening, it is evaporating at a rapid pace.
Last month, the company announced it would eliminate 10% of its newspaper staff, which represented a continuation of previous personnel cuts. Then, earlier this month, both Moody's and Standard & Poor's Ratings Services sliced the ratings on Gannet bonds to just above junk status.
As the accompanying table shows, Gannett's grade of "D" from TheStreet.com Ratings is equivalent to a sell recommendation. The analyst consensus calls for earnings per share to retreat to $2.58 next year from the current year's estimated $3.46.
Gannett publishes 85 daily and close to 900 non-daily newspapers in the U.S., including flagship publication
USA Today
. It also publishes 17 daily papers and nearly 300 non-dailies in the U.K.
The firm also includes a broadcasting division that operates 23 television stations that account for roughly 11% of Gannett's revenue.
In September, the company hiked its ownership position in job-hunting Web site CareerBuilder.com to a controlling 50.8% stake. (The Web site's other owners include
Tribune Co.
,
McClatchy
(MNI) - Get McClatchy Company Class A Report
and
Microsoft
(MSFT) - Get Microsoft Corporation Report
.)
While Gannett has been coming to terms more so than some other competitors with the migration of news distribution from printed newspapers to the Internet, its efforts haven't been enough to stop the financial damage.
In both the U.S. and U.K., Gannett runs news and advertising Web sites for its papers that focus on their various local areas. But its recognition of the digital age has yet to contribute to a major reversal of the slides in Gannett's revenue and profitability.
Among Gannett's publicly traded competitors on the newspaper side are
New York Times
(NYT) - Get New York Times Company (The) Report
,
Washington Post
(WPO)
and
News Corp
(NWS) - Get News Corporation Report
. On the online job-listings side, Gannett competes with companies like
Monster.com
(MWW)
.
For more coverage from TheStreet.com Ratings team, check out TheStreet.com Ratings section.
Richard Widows is a senior financial analyst for TheStreet.com Ratings. Prior to joining TheStreet.com, Widows was senior product manager for quantitative analytics at Thomson Financial. After receiving an M.B.A. from Santa Clara University in California, his career included development of investment information systems at data firms, including the Lipper division of Reuters. His international experience includes assignments in the U.K. and East Asia.