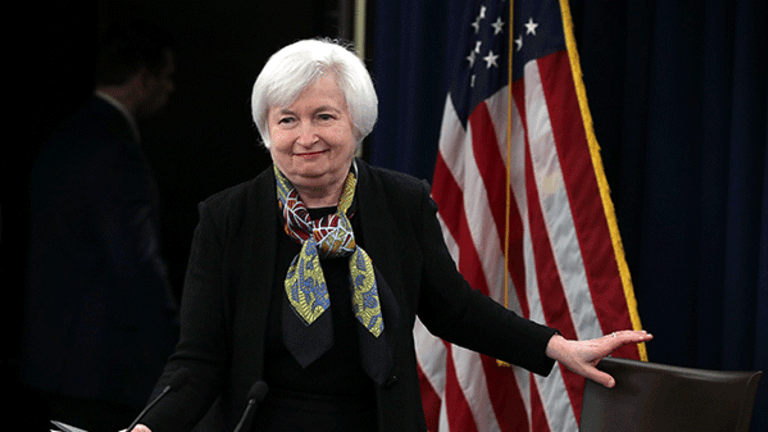 Which Market Sectors Will Flourish With the Fed Rate Hike?
With the Federal Reserve hiking interest rates, uncovering new opportunities is the name of the game on Wall Street.
As expected, the Federal Reserve lifted the lid on interest rates, raising them a quarter point on December 14, to between 0.50% and 0.75% at its Federal Open Markets Committee meeting.
S&P stock futures traded up on the news, by 7.75 in Thursday trading, to 2,259.75. Dow Jones Industrial Futures fared even better, ending up 59.71, to 19,852.50. Volatility is low, as well, with the S&P 500 Vix futures index down by 0.40 for the day
The rate move didn't surprise traders, as stock market trading was relatively calm. Most market watchers saw the move as a sign the Fed sees the U.S. economy getting better, a point Federal Reserve Chair Janet Yellen made at a post-meeting press conference.
"Our decision to raise rates should certainly be understood as a reflection of the confidence we have in the progress the economy has made," Yellen said.
Economists say the Fed likely isn't done hiking interest rates. "The Fed sees the potential for a modest uptick in prices and activity over the next 12 to 24 months," says Lindsey Piegza, chief economist at Stifel Fixed Income. "But in the long-run, the Fed's forecast for a moderate trajectory of the economy remains."
Now that the deed is done, which investment sectors should be most impacted, good or bad, by the Fed's move?
The housing market is at the top of the list.
"While consumer spending and confidence have been strong recently, there's no doubt that higher rates will weigh on demand for housing and other debt-financed purchases going forward," says Josh Wright, chief economist of iCIMS, a Matawan, N.J.-based recruitment software company. "The moves we've seen so far might not break anyone's bank, but they will exert some drag. As it is, the housing recovering has been slow and affordability has suffered as prices have risen. The stronger dollar should slow purchases at the at the top end of the market by international buyers, but how much that will affect lower tiers of housing remains to be seen."
"As mortgage rates have already risen sharply, it will be weeks before we see their full impact on home buying behavior," Wright adds. "But homebuyers who locked in a mortgage rate before the election have to be feeling pretty good right now."
Kirk du Plessis, founder and head trader from Option Alpha, says his firm looked at six rate hike cycles between 1983 and 2004 and determined that only in rare cases did the S&P 500 index show negative returns. Both stocks and bonds have fared well, he says.
"Although not quite as strong as the stock market, U.S. bonds -- as measured by the Barclays Aggregate Bond Index -- also performed surprisingly well both before and after an interest rate hike," he says. "Average returns were slightly higher during the 12 months after a rate hike cycle than in the 12 months before the start of the cycle, with both outpacing average bond returns during all time periods."
In an email to TheStreet, du Plessis offers some additional data on which investment sectors perform well after a Fed rate hike, as follows:
Compound annual growth rate (CAGR) for bonds during the last eight rate hike cycles:

5-year Treasury notes: 2.6%
Long-term Treasury bonds: 0.3%
Overall average: 2.5%
% over- or underperformed during the last seven interest rate tightening cycles by Industry:
Energy: +8.5%
Materials: +6.2%
Industrials: +5.5%
Technology: +3.5%
Consumer Discretionary: +3%
Health care: +1.3%
Consumer Staples: +.8%
Financials: -.5%
Utilities: - 2.5%
Telecom Services: -3.4%
Dividend-linked investments should also fare well in a post rate hike investment environment.
"We believe we're in the perfect environment for companies that have the ability and willingness to increase their dividends," says Brian Hennessey, co-portfolio manager at Alpine Capital Woods Investors, in Purchase, N.Y.
Hennesey says the new Trump administration and an environment of increased economic activity will likely benefit Alpine's Global Dynamic Dividend Fund (AGD) - Get Report and Total Dynamic Dividend Fund (AOD) - Get Report , which invest in companies that pay dividends, have strong cash flows and demonstrate the ability to grow earnings. "We expect that the companies in our portfolio will see dividend growth of four to five percent over the next 12 months."
"Specific sectors positioned to win include aerospace and defense, pharmaceuticals and financials," Hennesey adds. "We're also enthusiastic about the infrastructure sector, given that Trump has discussed increasing spending between $500 billion and $1 trillion over the next 10 years."
If history is any guide, bet on sectors like energy and consumer goods after a Fed rate hike, says Robert Johnson, president and CEO of The American College of Financial Services.
"The best-performing sectors (annualized returns in parentheses) in a rising rate environment from 1966 through 2013 were energy (11.47%), consumer goods (8.36%), utilities (7.77%) and food (7.00%)," Johnson says. "The worst performing sectors in a rising rate environment included autos (-1.28%), retail (1.68%), mining (2.19%) and apparel (2.31%). While these may not be the winners and losers in the coming months, I believe Mark Twain had it correct when he said, 'History doesn't repeat itself, but it rhymes.'"
Johnson also studied commodities, and found that in a rising rate environment, the broad Goldman Sachs commodity index had a much higher return (17.66%) when rates were rising than when rates were falling (-0.19%). "Gold actually had a higher return (7.85%) when rates were falling than when rates were rising (4.86%)," he says. "In fact, gold did not keep pace with inflation in a rising rate environment."
Fed-watchers expect more rate hikes in 2017, possibly two or three more, so any ripple effect on the financial markets should continue. But for now, housing, dividends, commodities, and bonds are all impacted by the Fed's action, and should be for months to come.