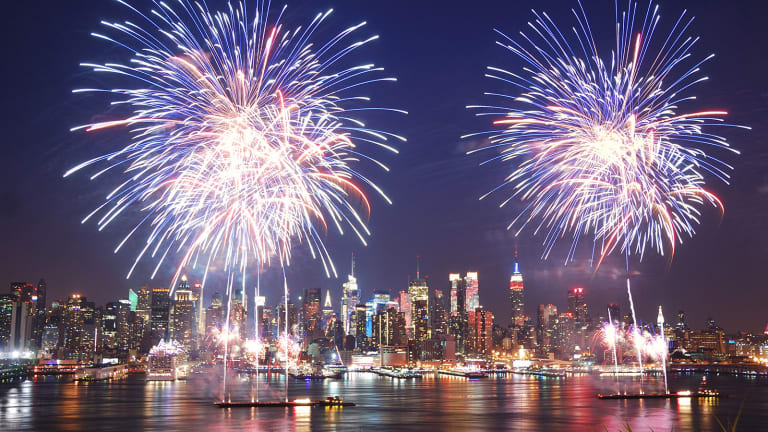 Where Wall Street Stands After a Week of Dow Records and Earnings Fireworks
The Dow had a record-making week.
Some of the world's largest companies reported earnings in the past week, including tech king Apple Inc. (AAPL) - Get Apple Inc. Report . On top of that, the Dow Jones Industrial Average managed to close at records every day. Here's what you need to know.
Where Markets Ended
There were no giant leaps forward, but the Dow still managed to close each day of the week with a fresh record. Friday's gain marks its eighth straight record in a row and ninth day of increases. Its record-breaking streak is the longest of the year. 
The gains themselves weren't that impressive. The Dow's best-performing day was on Tuesday, Aug. 1, and even then its gain was only 0.33%. For the full week, the Dow climbed 1.2%, in line with the week before.
The S&P 500 and Nasdaq have been a wash over the past week, but remain within reach of all-time highs. The S&P 500 last hit its record of 2,477 on July 26. The Nasdaq hit its all-time high of 6,422 on the same day.
"A strong push this week by blue chip stocks catapulted the Dow past the 22,000 mark while other indexes continued to hover near their record highs," U.S. Bank's Jim Davis told TheStreet. "It has been a successful earnings season. The bar was set high for company results, yet most firms met or exceeded these expectations. This has set a solid foundation for market valuations and sets a course for upward earnings estimates and gains in share prices going forward."
Bunch o' earnings
It was a busy week of earnings, with just over 130 S&P 500 companies reporting. Apple was the largest, but there were plenty others to keep investors occupied. 
In tech, GoPro Inc. (GPRO) - Get GoPro, Inc. Class A Report issued an upbeat outlook and exceeded quarterly earnings estimates. Yelp Inc. (YELP) - Get Yelp Inc Reportreported after a better-than-expected quarter and sold its Eat24 delivery service to GrubHub Inc.  (GRUB) - Get Grubhub, Inc. Report  ; Fitbit Inc. (FIT) - Get Fitbit, Inc. Class A Report narrowed its quarterly loss and topped sales estimates; and Square Inc. (SQ) - Get Square, Inc. Class A Report halved its quarterly net loss and increased its outlook for the full year.
Tesla Inc. (TSLA) - Get Tesla Inc Report posted a second-quarter loss narrower than expected and reported strong demand for the Model 3, its newest sedan. Tesla said order reservations for its highly anticipated Model 3 vehicle, released last week, were averaging more than 1,800 a day. The Model 3 starts at $44,000 and is largely viewed by Wall Street as Tesla's path to profitability.
Watch:Tesla's Elon Musk Is All Jokes as the Model 3 Accelerates Into 'Production Hell'
Avon Products Inc. (AVP) - Get Avon Products, Inc. Report reported an unexpected loss in its recent quarter and made a surprise announcement that its CEO Sheri McCoy was leaving the company. The cosmetics company reported a loss of 12 cents a share compared with profit of 6 cents a year earlier. An adjusted loss of 3 cents a share surprised analysts looking for earnings of 7 cents.
Time Warner Inc. (TWX) reported a better-than-expected second quarter thanks to the box-office success of Wonder Woman. The media company earned $1.34 a share, up from $1.20 a share a year earlier. Adjusted earnings of $1.33 a share beat estimates of $1.19. Revenue of $7.33 billion exceeded consensus of $7.3 billion.
Mondelez International Inc. (MDLZ) - Get Mondelez International, Inc. Class A Report topped profit estimates over its recent quarter and announced a dividend hike. Adjusted earnings of 48 cents a share exceeded estimates by 2 cents, though revenue of $5.99 billion came in slightly short of consensus of $6 billion. The company increased its dividend by 16% to 22 cents.
Mondelez also announced that CEO Irene Rosenfeld would step down, with Dirk Van de Put assuming the position. Rosenfeld will continue as chairman until March 31, 2018.
Molson Coors Brewing Co. (TAP) - Get Molson Coors Beverage Company Class B Report reported a rise in net profit, though fell short of consensus. Second-quarter profit increased to $1.49 a share from 80 cents a year earlier. Adjusted earnings of $1.66 a share came in below estimates of $2.12. Revenue of $3.09 billion missed expectations of $3.1 billion. Worldwide brand volume increased 2.3%.
Sprint Corp. (S) - Get SentinelOne, Inc. Class A Report returned to profit for the first time in three years. The telecom earned 5 cents a share over its first quarter compared with a loss of 8 cents a year earlier. Analysts anticipated a loss of a penny a share. Revenue of $8.16 billion came in slightly below estimates. Postpaid phone customers increased by 88,000, while prepaid customers rose by 35,000. Sprint forecasts cost cuts of$1.3 billion to $1.5 billion over fiscal 2017.
BP Plc  (BP) - Get BP Plc Report posted second-quarter earnings largely in-line with forecasts and maintained its dividend as the company swung to a profit thanks to gradually rising global oil prices. BP said profit for the three months ended in June was $144 million, a massive swing from the $1.42 billion loss recorded during the same period last year. Profit excluding inventory gains and losses slipped 5% to $684 million, but still topped a company-provided estimate of $500 million.
BP Sees Oil Prices as Low as $45 a Barrel This Year
Apple's Quarterly Report Card
Apple hit records earlier in the week following a solid earnings report. The world's largest company beat profit forecasts and issued an outlook that seemed to allay worries over potential iPhone 8 delays. Apple said it expects revenue in its fiscal fourth quarter, which ends in September, to be about $49 billion to $52 billion, a figure that tops analysts' forecasts and suggests that rumors of production and technical delays linked to the 10th anniversary iPhone release later this year were unfounded.
Watch:Apple Shakes Off Concerns About Its Brand New iPhone
For its fiscal third quarter, the world's biggest tech company posted earnings of $1.67 a share on revenue of $45.41 billion. Apple said all-time iPhone sales topped the 1.2 billion mark during the three months ended in June after 41.03 million units were shipped during the quarter, a 1.6% increase from the same period last year.
Apple is a holding in Jim Cramer's Action Alerts PLUS Charitable Trust Portfolio. Want to be alerted before Cramer buys or sells AAPL? Learn more now.
"Apple is projecting another monster quarter over the next three months, and if management can deliver again, we expect the stock to continue its climb past its current highs," said Jim Cramer and the AAP team.
Jobs, jobs, jobs
The U.S. economy added more jobs than anticipated in July. Nonfarm payrolls rose by 209,000 last month, according to the Labor Department, above consensus of 180,000. The June jobs number was revised to 231,000 from 222,000, though the May figure was cut to 145,000 from 152,000.
The unemployment rate decreased by 10 basis points to 4.3%, as expected, matching the 16-year low reached in May. Average hourly earnings increased 0.3% month over month, in-line with estimates, and were up 2.5% over the past 12 months.
"This should keep the chances of a December rate rise alive," Aberdeen Asset Management Investment Strategist Luke Bartholomew said in a note. "The next rate rise really boils down to whether inflation picks up and this requires stronger wage growth. While far from spectacular, especially given the further fall in unemployment, today's wage numbers are just about enough for now."
The Fed left the federal funds rate at 1% to 1.25% at its meeting in July. Another rate hike isn't expected until at least December. Chances of a year-end increase are at 47%, according to CME Group interest-rate futures. Chances had been 42% following the Fed's meeting on July 26.