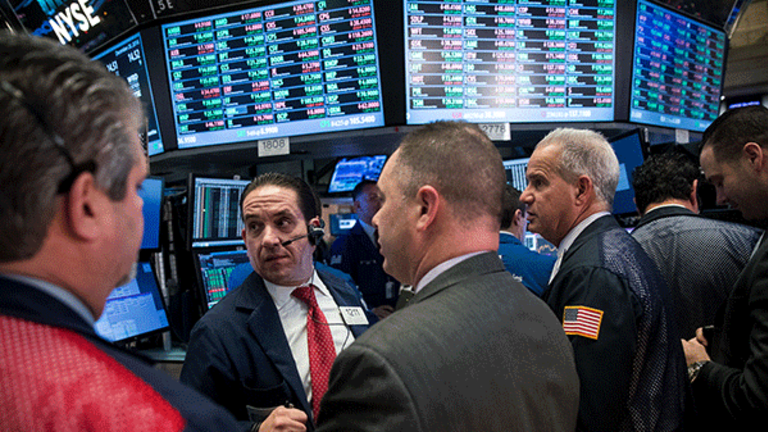 What's Holding Back Stock Futures in January?
President-Elect Trump has dominated the news, financial and otherwise, but now, traditional economic news holds center stage.
President-Elect Trump has dominated the news, financial and otherwise, but now, traditional economic news holds center stage.
With President-elect Trump officially taking office, the media spotlight continues to shine on the New York real estate tycoon turned commander-in-chief.
But for stock futures trackers, the needle is starting to steer away from the Trump story, and on to more familiar market movers like corporate earnings, consumer sentiment and the real estate market.
All of the above are in play as 2017 opens up, and so far, futures traders aren't exactly sure what they're seeing on the financial front.
On Wednesday, January 18, Dow Jones futures were trading at 19,701, down moderately for the month. Meanwhile, S&P futures were trading at 2,260, also of for the first two weeks of January. With so much uncertainty over Trump, and for the opening days of the quarterly earnings season, many equity investors are taking cover in hard assets like gold, and in safer currencies like the Japanese yen.
Some relief came Wednesday from better-than-expected earnings from the U.S. banking sector, with Wells Fargo (WFC) - Get Report , Bank of America (BAC) - Get Report  and JP Morgan Chase (JPM) - Get Report  all beating earnings estimates.
But larger issues could continue to hamper stocks, market experts tell TheStreet.
"U.S. markets will be constrained going forward for several reasons," says James Song, leader of the investment team in Myanmar at Faircap Partners. "The first is that capital superabundance is driving valuations upwards, and, currently, the total market capitalization of U.S. markets, as a percentage of gross national product, is over 120%, signaling general overvaluation."
Song says this scenario has made finding value in the equity markets difficult. "Even Charlie Munger came out saying he had to revise his investment strategy, from investing in companies that an idiot can run, to proactively seeking companies with exceptional management because it's so hard to find value today," he states.
Additionally, Song points out the U.S. economy is 92 months into an economic expansion, and in the last 100 years, the longest the nation has ever gone without a recession is 120 months. "Of the expansion periods, we average 54.6 months of expansion before a recession, with a median period of 45 months before a recession," Song adds. "While I'm not saying we are going into a recession this year, it's important to note that near-term recession risk is extremely high."
Add in increased pressures from fast-growing China, which has more billionaires than the U.S., and the U.S. stock market faces some stiff headwinds. "Taken together, these factors limit the expected future distributions of U.S. businesses, which are naturally expressed as constraint in stock futures," Song says.
Others say the stock market has simply exhausted itself since the U.S. presidential election, with the Dow Jones Industrial Average up over 6% and the S&P 500 up 8%.
"Optimism over expected tax cuts (both individual and corporate increased), future infrastructure spending and a more business favorable regulatory environment drove initial gains," notes Robert Johnson, CEO of The American College of Financial Services, in Bryn Mawr, Pa. "Yet while the Dow seemed poised to break through the 20,000 point barrier, the index has languished over the past couple of weeks."
Johnson says the market advance simply couldn't continue at the post-election pace and market participants are pausing to see what the Trump administration's priorities will be in the initial stages of his term. "While stock futures may have slowed down, it is interesting to note the VIX index is still trading at near record low levels," he adds. "The recent performance of the index runs counter to the oft-repeated mantra that uncertainty -- at least in the short-term -- is increasing."
Above all, money managers are cautioning investors to take a longer view, and leave the short-term interruptions on the doorstep, with possibly a single exception.
"I don't see any signs of an imminent, significant correction in the U.S. stock market or risks of a U.S. recession over the short term," states Kevin Mahn, CEO of Hennion & Walsh, in Parsippany, N.J. "To the contrary, I believe that investors are now taking a step back to see what will actually unfold after Inauguration Day this Friday and which of his stated priorities Trump will run with, and be successful with, during his first 100 days in office."
While looking to uncover investment opportunities, Mahn says that investors would be wise to build, or maintain, balanced and diversified portfolios consistent with their own financial objectives. "That means having tolerance for risk and investment timeframes, while resisting the temptation to make short-term investment decisions based upon potential fiscal policies or economic events," he says. "Overall, we are optimistic about the potential for U.S. economic growth and U.S. stock market gains, with limited and measured interest rate increases from the Federal Reserve, in 2017."
"That said, we remain somewhat concerned about prospects for additional economic growth in other developed economies and emerging market economies," Mahn notes.