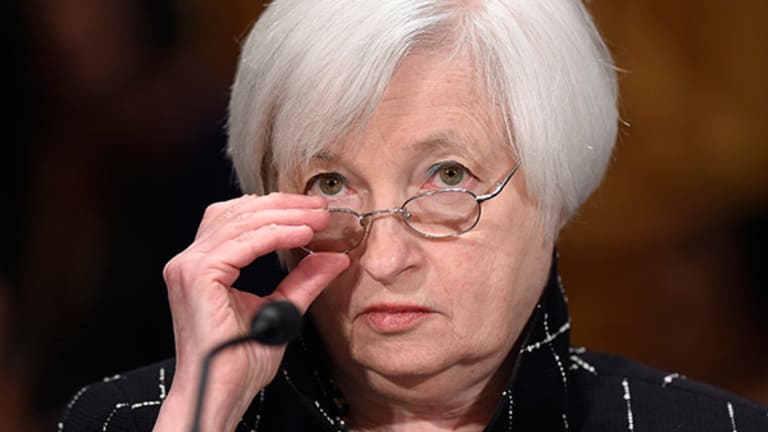 Publish date:
Week in Review: Soft Jobs Report Caps Off Week of Fed Speculation
The question of when the Federal Reserve would next raise rates dominated yet another week.
The question of when the Federal Reserve would next raise rates dominated yet another week.
Your Money, Your Retirement, and the 2016 Presidential Election - What changes will you need to make to your portfolio should Hillary Clinton become president? What happens to your investments should Donald Trump become president? Join us on Sept. 12 as our panel of the world's top financial experts provide trusted information on the investment risks and opportunities that arise with the upcoming presidential election in November. [Learn more about the event and RSVP.]
The question of when the FederalReserve would next raise rates dominated yet another week with Wall Street eagerly awaiting Friday's jobs report to either support or reject the case for a September hike.
But once it came, the August jobs number, unquestionably weak, did little to curb choppiness as some had expected it would. Instead, the soft headline number and more hawkish comments from Fed members left investors as uncertain as ever.
Range-bound choppy trading left markets slightly higher for the week. The S&P 500 was up 0.50% since Monday, the Dow Jones Industrial Average added 0.52%, and the Nasdaq gained 0.59%.
A weaker-than-expected jobs report released Friday morning gave investors reason to believe the Fed wouldn't hike rates until later in the year, if at all. The U.S. created 151,000 jobs in August, below consensus of 180,000 jobs.
"This week's disappointing data from the world's largest economy has dampened expectations for a rate rise in 2016, though it has not been entirely moved out of the equation," said Fawad Razaqzada, market analyst at Forex.com. "Unfortunately it just means that uncertainty about the next rate rise will remain in place for far longer than one would have liked."
A range of hawkish and dovish comments from Fed members has added to the murky hike outlook. Richmond Fed President Jeffrey Lacker said on Friday afternoon that higher interest rates would be warranted unless the labor market sees a significant slowdown in coming months.
"It appears that the funds rate should be significantly higher than it is now," he said in remarks to economists in Richmond. Lacker isn't a voting member on the Federal Open Market Committee.
Compare that with Chicago Fed President Charles Evans who said on Wednesday that slower U.S. economic growth will likely continue, leading to a prolonged period of low interest rates for the foreseeable futures. Evans also noted that low expectations among investors has become entrenched, allowing the Fed to delay a hike without financial instability.
Earlier in the week, Fed Vice Chairman Stanley Fischer noted that the U.S. labor market is "very close to full employment" and that the next interest rate increase might not be "one and done."
Commentary took a hawkish turn a week earlier after Fed Chair Janet Yellen said the U.S. economy had improved in recent months to the point where near-crises levels of rates weren't justified. Yellen's comments were made in her widely anticipated speech at the annual Economic Policy Symposium in Jackson Hole, Wyo.
The chances of a September hike in interest rates from the Fed currently sit at 21%, according to CME Group Fed funds futures. September's chances were at 24% before the jobs report on Friday. A December hike has greater odds at 46%, up from 42% a day earlier.
In economic data out this week, factory orders in the U.S. rose 1.9% in July, its best increase in nine months. The reading was a positive sign of a rebound in the manufacturing sector, albeit a slow one. 
Readings on the manufacturing sector for August showed an industry still weathering headwinds, however. The ISM Manufacturing Index for August fell into contractionary territory at 49.4 from 52.6 in July, well below an expected reading of 52.2. A strong U.S. dollar and weak global demand have impeded manufacturing growth for months.
"Without signs of further progress on inflation and with these data raising some warning flags over a loss of momentum (at least in manufacturing) post-Brexit, we continue to believe this cautious, risk-adverse Fed is more likely to wait for more information rather than hike in September," RBS analysts wrote in a note. 
Crude oil ended the week sharply lower as ballooning domestic output concerned traders already worried over an international supply glut. Drilling activity in the U.S. rose for its ninth time in 10 week with the U.S. oil rig count rising by 1 to 407 over the past week, according to Baker Hughes.
A weekly read on domestic inventories showed an increase of 2.3 million barrels in the past week. Analysts had expected supplies to rise by just 600,000. 
West Texas Intermediate crude ended with a weekly loss of 6.7%, settling at $44.44 a barrel. 
In earnings news this week, Lululemon (LULU) - Get Report  reported in-line quarterly earnings and a soft outlook. The yoga apparel chain's chief financial officer Stuart Haselden said, "Traffic continued to be a headwind, and those headwinds extended into the third quarter."
Joy Global (JOY) reported a quarter in which weak demand for mining equipment hurt results. Total bookings fell 17%, dragged on by a 46% slump in original equipment orders. 
Salesforce.com (CRM) - Get Report issuedlight guidance for its current quarter. The cloud software developer expects current-quarter earnings of 20 cents to 21 cents a share on revenue no higher than $2.12 billion. Consensus was for earnings of 24 cents a share and sales of $2.124 billion.
The second-quarter earnings season is all but complete with only a few companies of note yet to report. Expectations had been conservative heading into the season, with many expecting the headwinds of a stronger U.S. dollar, weaker global growth, a prolonged period of low oil prices, and soft manufacturing activity to continue to impact the top and bottom lines of S&P 500 companies.