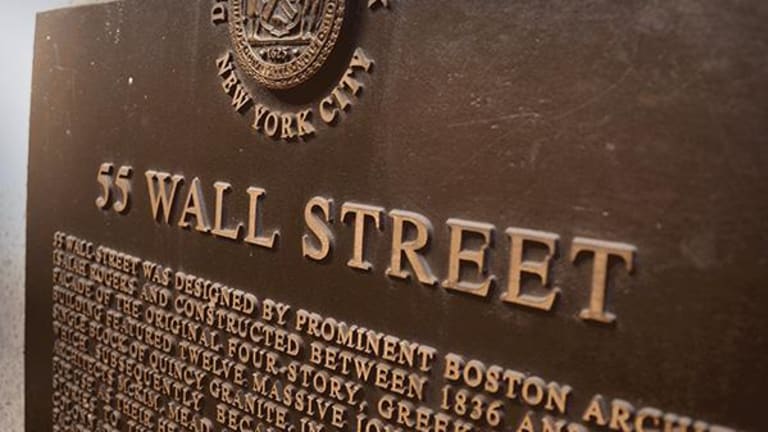 Week in Review: S&P 500 Sees Second-Best Weekly Gain of 2017 in Record-Breaking Streak
Wall Street had a superb week, smashing new all-time highs and scoring its longest record-making streak in a quarter century.
Wall Street had a superb week, smashing new all-time highs and scoring its longest record-making streak in a quarter century. 
The Dow Jones Industrial Average closed higher each day this week and has ended at records for the past seven sessions. Over the past five days, the Dow rose 1.75%, the S&P 500 climbed 1.51%, and the Nasdaq added 1.82%. The S&P 500 saw its best gains since the first week of the year. 
The promise of tax reform from President Donald Trump was largely the driver behind recent all-time records for benchmark indexes achieved earlier in the week, even as details remained vague. The so-called Trump rally lost its luster on Thursday during an unfocused and lengthy press conference in which Trump said a tax reform plan would come after a health care proposal in March. Trump has made vague references to a forthcoming tax reform plan, though no details of the president's self-described "massive" tax reform have been divulged.
All three benchmark indexes ended Wednesday with their fifth record close in a row, the longest record-making streak since a six-session stretch from late 1991 to early 1992. That record stretch was snapped on Thursday after the S&P 500 and Nasdaq fell and the Dow closed at a new record by just a few points.
Despite most of the credit, Wall Street's winning streak has less to do with Trump, though, and more to do with a sound U.S. economy, said Schwab's Randy Frederick in a phone call.
"There's no question that the economic backdrop has been improving pretty sharply even since before the election," said Frederick. "There's no question that, yes, the Trump effect has had an effect on this market but without a very solid economic foundation, I don't know that it could have gone up this much or this long without that."
The FederalReserve took a more hawkish turn in the past week with several central bank members suggesting a rate hike sooner than later. On Thursday, Fed Vice Chair Stanley Fischer said the Fed is moving toward removing its accommodative monetary policy. The Fed expects the economy to move "closer to the 2% inflation rate and that the labor market would continue to strengthen," he told Bloomberg. "If those two things happen we'll be on the (policy) path that we more or less expected."
Three rate hikes this year appear appropriate for the Fed, Philadelphia Fed President Patrick Harker said on Wednesday. "The overall economy is in pretty good shape," Harker told an audience at La Salle University, noting that unemployment had reached its "natural state."
Separately, Boston Fed President Eric Rosengren said more than three rate hikes could be called for this year. In a keynote speech at the New York Association Economics Luncheon on Wednesday, Rosengren said, "It is my view that it will likely be appropriate to raise short-term interest rates at least as quickly as suggested by the Fed's current ... median forecast, and possibly even a bit more rapidly than that forecast."
Fed Chair Janet Yellen straddled the line between hawkish and dovish during her semi-annual Congressional testimony. Yellen reiterated that rate hikes would be gradual but pointed out that it would be "unwise" to wait too long to hike again.
Market expectations for a rate hike at next month's meeting remain slim, but the outlook for the rest of the year is murkier. The Fed has expressed a more hawkish lean in recent months as inflation trends toward the central bank's 2% target and the U.S. economy nears full employment.
"Regarding the outlook for monetary policy, we view her remarks as indicating a low probability of a rate hike in March," Barclays analysts wrote in a note. "We see it as consistent with 'a few' rate increases this year that the chair referenced in her January speech and the committee projected in December."
The Fed previously predicted three interest rate hikes this year, a possibility becoming more and more likely. Futures indicate markets expect a 43% chance of at least three hikes this year, according to CME Group. The chances of at least three moves in 2017 sat at 33% on Monday.
Inflation data appeared to confirm the likelihood of a Fed move in coming months. The consumer price index climbed by 0.6% in January, double estimates, and increased by 2.5% over the past 12 months. Excluding food and energy, core prices rose by 0.3%, higher than a target of 0.2%.
Producer prices in January logged their largest gain since 2012 as higher gas prices pushed inflation toward the Fed's target. The U.S. producer price index increased 0.6% last month and increased 1.6% over the past 12 months. Core prices, excluding food and energy, rose by 0.2%.
The fourth-quarter earnings season barreled on in the past week with more than four-fifths of S&P 500 having reported their performances by the week's end. So far, earnings have generally exceeded estimates.
Networking giant Cisco Systems (CSCO) - Get Cisco Systems, Inc. Report beat earnings estimates and raised its dividend. Adjusted earnings of 57 cents a share in its fiscal second quarter came in a penny above estimates. Revenue slid 2% to $11.58 billion, higher than consensus of $11.55 billion.
"All in, while we view the quarter as relatively in line, we believe this was enough to keep investors satisfied with the recent rally in shares when considering the opportunities that lie ahead, not only within the business (the transformation has shown continued strength, driven by software and security) but also in terms of the macro (tax reform and repatriation)," said Jim Cramer and the AAP team, which holds shares of Cisco in Cramer's Action Alerts PLUS Charitable Trust Portfolio.
CBS (CBS) - Get CBS Corporation Class B Report swung to a loss in its recent quarter on lower ratings at the network. Advertising revenue slid 2.8% to $1.8 billion, largely tied to three fewer Thursday Night Football airings.
Kraft Heinz (KHC) - Get Kraft Heinz Company (KHC) Report  declined 4% after reporting an across-the-board dip in quarterly sales. Revenue in the U.S. slid 3.1% to $4.8 billion, while Canada sales dipped 2.4% and European sales declined 13.3%. Adjusted earnings of 91 cents a share exceeded estimates by 4 cents.
Jim Cramer and the AAP team hold a position inKraft Heinz for theAction Alerts PLUS Charitable Trust Portfolio. Want to be alerted before Cramer buys or sells KHC?Learn more now.