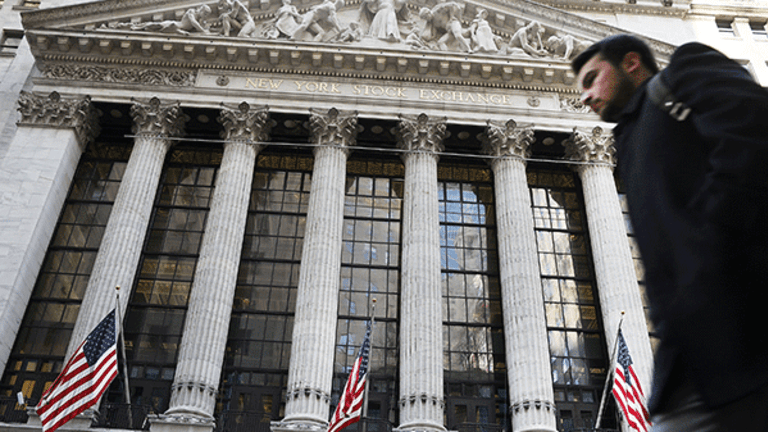 Week in Review: Retail Does U-Turn to Carry S&P 500, Nasdaq to New Records
The S&P 500 and Nasdaq both closed out the week with fresh records.
The S&P 500 and Nasdaq both ended Friday with new records as a series of surprising earnings beats in the retail sector carried the back-half of the week.
The S&P 500 added 1.43% over the past five days, the Dow Jones Industrial Average gained 1.32%, and the Nasdaq rose 2.08%.
A number of retailers reported positive performances over the recent quarter, a U-turn from a series of negative reports in preceding weeks. But some of the industry's major players including Macy's (M) , Kohl's (KSS) , J.C. Penney (JCP) , and Nordstrom (JWN)  reported disappointing quarters.
Higher membership fees propelled Costco (COST) profits, while same-store sales exceeded estimates. GameStop (GME) reported a better-than-expected quarter with store sales growth largely tied to the launch of a new portable gaming console, the Nintendo Switch. Sears (SHLD) reported its first GAAP profit since its second quarter of last year, while Abercrombie & Fitch (ANF) exceeded sales estimates.
Best Buy (BBY) was one of the sector's best performersafter the electronics retailer posted unexpected growth in same-store sales over its recent quarter. CEO Hubert Joly said the positive performance was tied to "strong performance in gaming, a better-than-expected result in mobile, and the improvement of overall sales trends due to the arrival of delayed federal tax refund checks."
Earnings weren't all positive, though. Tiffany & Co. (TIF) reported a surprise decline in same-store sales over its recent quarter. The jewelry retailer reported a 3% decline in worldwide same-store sales, a surprise to analysts looking for a 1.6% increase. Lowe's (LOW) fell short of earnings and revenue estimates in its most-recent quarter.
The Federal Reserve looked more likely to move in June after hawkish minutes from the May meeting were released on Wednesday. In that meeting, "most" members of the Fed's monetary policy committee showed a willingness to hike interest rates again "soon" despite leaving them unchanged at that gathering.
Most members also supported a plan to gradually reduce the Fed's $4.5 trillion balance sheet, a process that should begin this year. Members agreed to continue discussions on the committee's reinvestment policy at its June meeting. Tighter monetary policy is seen as the Fed's vote of confidence in the health of the economy.
"Absent of a material slowdown in the economy, Federal Reserve officials, acknowledging support from strengthening global growth, appear poised to stay on track towards interest-rate normalization," said Quincy Krosby, Chief Market Strategist at Prudential Financial. "The unwind in the Federal Reserve's balance sheet holds Chair [Janet] Yellen's signature gradual approach; she will not allow a quick unwind, nor anything that surprises markets."
Markets already have high expectations for an interest rate increase at the next meeting of the Federal Open Market Committee, the second of three expected hikes this year. Wall Street has priced in a nearly 88% chance of a 25-basis-point increase to the federal funds rate when the FOMC meets June 13-14, according to CME Group fed funds futures.
Crude oil had a rollercoaster of a week, plunging below $50 a barrel again even as major oil producers made efforts to rebalance global markets. The Organization of Petroleum Exporting Countries reportedly have agreed on a nine-month extension to a production cut agreement, which was set to expire at the end of June. Investors had widely accepted an extension to the current deal and had hoped for further action to balance global oil markets.
In economic news this week, U.S. economic growth over the first quarter was revised to show a 1.2% increase, far better than an original estimate of 0.7% growth. Analysts had expected a 100-basis-point revision to 0.8% growth. Consumer spending increased 0.6%, while business investment surged 11.9%. Exports gained 5.8% and imports rose 3.8%. Still, overall economic performance over the first quarter remained somewhat weak as a cautious consumer and delayed winter weather depressed growth.
A more subdued Donald Trump kept markets on their upward trajectory this week. Trump is due to return to the U.S. this weekend after a nine-day international trip, his first since taking office in January. During the trip, Trump attended a G-7 meeting in Sicily, met NATO members in Brussels, sat with the Pope in Vatican City, and engaged in talks with leaders of Saudi Arabia and Israel. The trip came after two weeks of bombshells tied to his campaign's relations with Russia during the election.
The White House unveiled its 2018 budget proposal as a "taxpayer first" plan that makes deep cuts to a number of programs while raising spending on border security and defense. The Trump administration sent the budget proposal to Congress on Tuesday, outlining its wish list for how the federal government will spend its money next year.
The plan, titled "A New Foundation for American Greatness," included $3.6 trillion in spending reductions by slashing funds for entitlements and discretionary programs while increasing allocations for items including law enforcement and defense. About $800 billion in cuts would be made to Medicaid over the next decade, while cuts to food stamps would amount to $192 billion over 10 years. Trump promised on the campaign trail that he would not enact cuts to Medicaid should he become president.
Trump's proposed budget cuts could hurt the discount retail sector, Brian Sozzi argued over on TheStreet's premium site Real Money. Get his insights with a free trial subscription.
A bombing at a Manchester, England, concert set Wall Street on edge on Tuesday. The deadly attack at an Ariana Grande concert at the Manchester Arena late Monday claimed 22 lives and many more injuries. The attacker died at the scene after using a self-detonating explosive in the 21,000-seat capacity arena.
The incident is the deadliest terrorist attack on British soil since July 2005, when Muslim extremists killed 52 people with three separate suicide bombs across London's transport system at the height of the morning rush-hour commute.