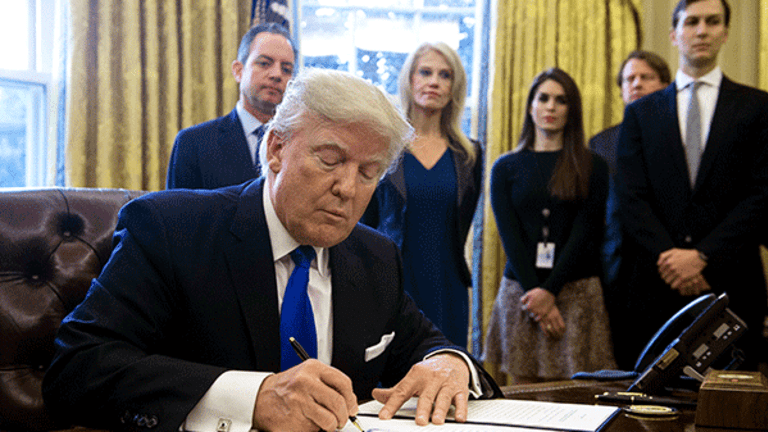 Week in Review: Earnings Drive Dow to 20K in Trump's First Week in White House
One good rally was all it took for stocks to seal new records and for the Dow Jones Industrial Average to smash through its 20,000 mark.
One good mid-week rally pushed stocks to seal new records and the Dow Jones Industrial Average to smash through its 20,000 mark, a milestone it had previously struggled to achieve.
The Dow closed higher three times in the last five sessions with solid gains on Wednesday pushing the blue-chip index to secure a level above 20,000. Over the past five days, the Dow rose 1.34%, the S&P 500 climbed 1.03%, and the Nasdaq added 1.90%.
The road to 20,000 has been nail-biting. The Dow rose to within a point of the level on Jan. 6 before quickly backing off. The blue-chip index then withdrew from the milestone over the past several weeks on concerns over a Donald Trump administration's policies, particularly those concerning protectionist trade moves. It took 64 days for the Dow to reach 20,000 after passing 19,000 for the first time.
Markets had rallied initially in the two months following Trump's unexpected win in November. Investors had placed big bets that a Trump administration would lead to higher infrastructure spending and looser financial regulations.
However, many of Trump's moves in his first week in office troubled investors. The White House fueled fears of a trade war on Thursday afternoon after suggesting a 20% tariff on goods imported from Mexico -- before walking back that suggestion. Increased tensions over a border wall, and which country would subsidize the cost, pushed Mexican President Enrique Pena Nieto to call off a planned meeting at the White House.
Trump acted to alleviate some of those concerns on Friday afternoon when detailing a phone call he held with Nieto that morning. Trump spoke with Nieto for an hour in what has been described as a productive conversation. Trump said the U.S. would "renegotiate our trade deals" with Mexico.
In his first week in power, Trump signed executive orders to repeal the Affordable Care Act, formally withdraw from the U.S. from the Trans-Pacific Partnership, and enact a hiring freeze on federal employees, except the military. Also this week, Trump and his team railed against the media, called into question the legitimacy of voting systems, and disputed photo evidence that his inaugural crowds were smaller than the inauguration of former President Barack Obama.
Much of the gains this week were tied to better-than-expected earnings coming from leaders in industries ranging from tech to manufacturing. In earnings news, Alibaba (BABA) - Get Free Report topped analysts' estimates in its third quarter on strength in its digital media and entertainment units. Digital media and entertainment revenue rocketed 273% higher, while cloud-computing revenue climbed 115%.
Alphabet (GOOGL) - Get Free Report fell short of profit estimates over its recent quarter as the adjusted cost of revenue over the full year jumped 41%. Pixel manufacturing costs, YouTube content costs and greater depreciation expenses on past capital investments all contributed, as did $320 million in "one-time charges" related to "equipment and other adjustments."
Alphabetis a holding in Jim Cramer'sAction Alerts PLUS Charitable Trust Portfolio. Want to be alerted before Cramer buys or sellsGOOGL?Learn more now.
Elsewhere in tech, Intel (INTC) - Get Free Report topped quarterly estimates on its top- and bottom-line, while Microsoft (MSFT) - Get Free Report exceeded consensus on strength in cloud-computing services demand. Yahoo! (YHOO) beat on profit and sales estimates and said its pending $4.8 billion acquisition by Verizon (VZ) - Get Free Report would likely close in the second half of this year.
Starbucks (SBUX) - Get Free Report reported slower same-store sales growth over its first quarter than analysts had anticipated. Same-store sales growth in the U.S. clocked in at 3%, below forecasts of 4.2%.McDonald's (MCD) - Get Free Reportalso saw weaker performance in the U.S. over the recent quarter. Same-store sales in the U.S. declined by 1.3%, while international sales rose 2.8%.
Starbucksis a holding in Jim Cramer'sAction Alerts PLUS Charitable Trust Portfolio. Want to be alerted before Cramer buys or sellsSBUX?Learn more now.
It was a big week for industrials earnings. Honeywell (HON) - Get Free Report exceeded earnings estimates, though organic revenue declined. Caterpillar (CAT) - Get Free Report reported a double-digit percentage drop in quarterly sales. The company warned that sales of large construction equipment would likely decline this year.
Boeing (BA) - Get Free Report surpassed fourth-quarter profit estimates and guided for an in-line 2017. UnitedTechnologies (UTX) - Get Free Report met quarterly consensus and bookmarked $1 billion to $2 billion for potential acquisitions this year. Alcoa (AA) - Get Free Report improved upon volume and sales over its recent quarter, its earnings report since splitting its business from its units that produce manufactured goods.
It was a tough quarter for multinationals, which continued to feel pain over a strong U.S. dollar. Kimberly-Clark (KMB) - Get Free Report saw quarterly sales growth plateau and warned that it expected a "continued difficult environment" this year. Another multinational,Johnson& Johnson (JNJ) - Get Free Report , also guided for a weaker full year than anticipated.Colgate-Palmolive (CL) - Get Free Report said "uncertainty in global markets and foreign exchange volatility remain challenging" in 2017, though pledged to deliver "solid organic sales growth."
The U.S. economy slowed down in the fourth quarter of 2016 to cap off a year of the worst growth since 2011. The economy grew at a rate of 1.9% over the final three months of the year, a sharp decline from 3.5% growth in the third quarter. Over the full year, the U.S. grew 1.9%, compared to 2.6% growth in 2015. Annual growth hasn't exceeded 3% for the past 11 years. In 2011, U.S. growth was 1.6%.