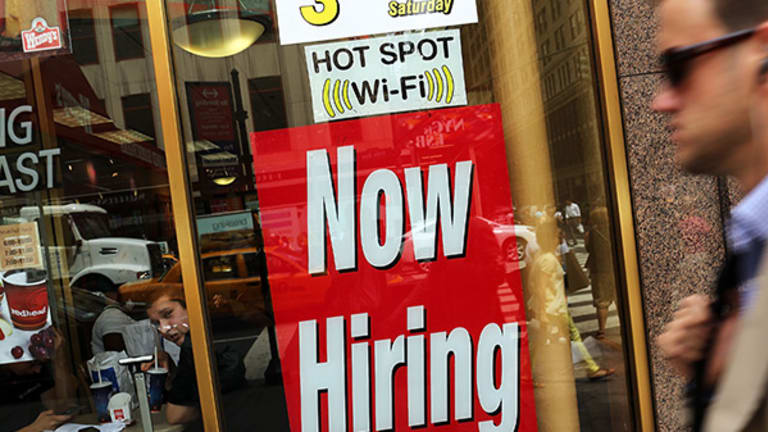 Week Ahead: Jobs Report Could Make or Break Case for Near-Term Rate Hike
The jobs report for August, out Friday, caps off a busy week filled with crucial data, economic snapshots that will play into the Federal Reserve's decision-making later in September.
The jobs report for August, to be released Friday, caps off a busy week filled with crucial economic data that will play into the FederalReserve's decision-making later in September.
The stakes for a positive jobs report for August, the most-watched economic release of any month, are even higher after Fed Chair Janet Yellen turned hawkish in comments on Friday, making the case that economic improvement warrants another rate hike. Fed Vice Chairman Stanley Fischer also said the upcoming jobs report will be an important factor in policy discussions.
But some analysts argued that a rate hike as soon as September remains a distant possibility with incoming positive data more likely to increase hawkish rhetoric in the next few months before the central bank makes a move at year's end.
"A strong August report on the heels of favorable June and July releases seems enough to change the FOMC's language, but not rates," Terry Sandven, chief equity strategist at U.S. Bank Wealth Management, told TheStreet. "The Fed seems poised to let the U.S. economy run hot before acting, which points toward a December vs. September rate hike."
The closer look at the labor market begins on Monday with the release of personal income and outlays for June. Wednesday will see the release of the ADP National Employment Report before the bell.
Then on Friday, the official jobs number from the Labor Department will be released. Economists expect the pace of jobs growth in August to slow after blockbuster reading in June and July. TD Securities analysts expect 189,000 jobs to have been added to the U.S. economy, while the unemployment rate will dip to 4.8%. The U.S. economy added 255,000 jobs in July.
Another blowout jobs report will increase the likelihood of a rate hike from the Fed in the near term, a possibility Fed members have recently been discussing at the Economic Policy Symposium in Jackson Hole, Wyo. Last week. Markets have currently priced in a 30% chance of a rate hike when the central bank meets in September, according to CME Group fed funds futures. A December rate hike has far higher chances at 45%.
As investors readjust to an increasingly hawkish Fed, stock market volatility could ensue, Tom Siomades, head of Hartford Funds Investment Consulting Group, told TheStreet.
"They will not move near-term, but the signal will be there, and markets will adjust to and price-in the possibility," said Siomades. "We may see the volatility of the re-pricing."
Fed watch will continue in the new week with a number of Fed speeches on the timetable. Boston Fed President Eric Rosengren and Chicago Fed President Charles Evans will address the Shanghai Advanced Institute of Finance in Beijing and Minneapolis Fed President Neel Kashkari will make a speech in Minnesota on Wednesday; Cleveland Fed President Loretta Mesta will speak on community development in Kentucky on Thursday; and Richmond Fed President Jeffrey Lacker will discuss interest rate benchmarks in Virginia on Friday.
In other upcoming economic news, the Dallas Fed Manufacturing Survey will be released on Monday; the S&P Case-Shiller Home Price Index and consumer confidence on Tuesday; Chicago PMI and pending home sales on Wednesday; the PMI Manufacturing Index, ISM Manufacturing Index, and construction spending on Thursday; and international trade and factory orders on Friday. Car sales for August will be released throughout the day Thursday.
The final few S&P 500 companies still to release their quarterly performances will have their chance in the coming week. More than 98% of S&P 500 companies have reported earnings so far this season, with more than two-thirds exceeding lowered estimates. Second-quarter earnings contracted 2.2%, its fifth straight quarter of earnings in decline.
"It was a so-so earnings season, with mixed results," noted Siomades. "I am fairly certain that the earnings recession is over and that we have hit the bottom and things will improve in Q3 as GDP picks up."
On the earnings calendar, DSW (DSW) - Get Report and Abercrombie & Fitch (ANF) - Get Report are set to report on Tuesday; Palo Alto Networks (PANW) - Get Report , H&R Block (HRB) - Get Report , Bob Evans (BOBE) , Salesforce (CRM) - Get Report , Infoblox (BLOX) , Five Below (FIVE) - Get Report  and Box (BOX) - Get Report on Wednesday; and Vera Bradley (VRA) - Get Report , Land's End (LE) - Get Report , Joy Global (JOY) , Dollarama (DOL) - Get Report , Ciena (CIEN) - Get Report , Campbell Soup (CPB) - Get Report , Verifone (PAY) , Smith & Wesson (SWHC) , Lululemon (LULU) - Get Report , Broadcom (BRCM)  and Ambarella (AMBA) - Get Report on Thursday.