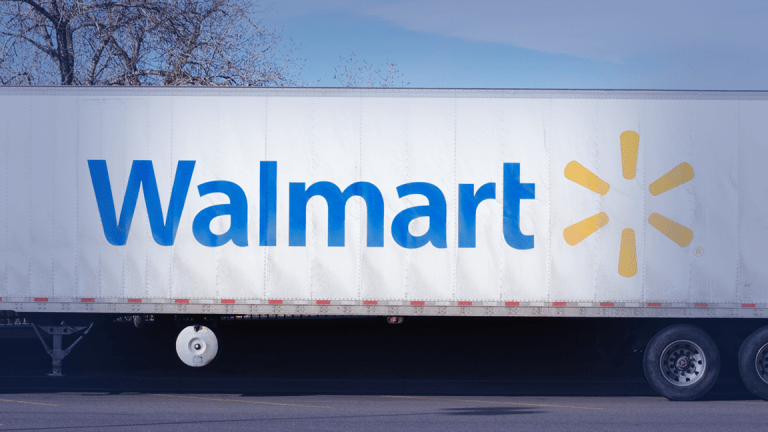 Walmart's Online Prices Shockingly Near Amazon on Cyber Monday
Walmart beats Amazon prices on wearables and sports equipment.
Walmart's (WMT) - Get Free Report online prices are nearing that of Amazon (AMZN) - Get Free Report for the first time on Cyber Monday, according to a new study, as the battle for consumers over the biggest shopping days of the year continues.
Walmart's investment in rolling back prices is seemingly paying off, with its prices now only 0.3% more expensive than Amazon, according to a study by retail data analytics firm Market Track.
The study conducted for Reuters analyzed the prices of 213 products in 11 categories over a period of 700 days ending Nov. 7, 2017. Walmart's prices by comparison were 3% higher on average in the first 350 days of last year, according to the study.
Amazon shares were up 0.59% in premarket trading Monday, after gaining more than 2.58% on Friday to close at $1,186.
"We are committed to having online prices that meet or beat prices at other top sites," Wal-Mart spokesman Dan Toporek told Reuters.
The study found that in the wearables category, which includes smart watches and fitness trackers, Walmart's prices were 6.4% lower than Amazon compared with 12.6% higher in the same time period last year. Walmart also beat Amazon on sports and outdoor products, which were 1.3% lower this year, compared with 3.5% higher one year ago.
Retailers will be hoping that consumers continue their spending spree into Cyber Monday. On Black Friday online sales online sales were up 15.6% from last year to $3.54 billion according to Adobe. The analytics firm reiterated its forecast for $5 billion in sales alone on Black Friday.
The International Council of Shopping Centers on Monday said that throughout the weekend, more than 145 million adults spent time at malls and shopping centers and estimated spending, on average, $377.50.
"Thanksgiving Weekend is a great indicator for what will be a holiday season full of spending, as we are seeing a very positive consumer sentiment and willingness to spend," President and CEO of ICSC Tom McGee said in a statement. "Shopping centers across the country should feel very optimistic about the season ahead. While the shopping season is longer this year, it's not coming at the expense of the most popular shopping day of the year."
Walmart shares closed at $96.62 on Friday, after gaining 0.22%.
More of What's Trending on TheStreet: