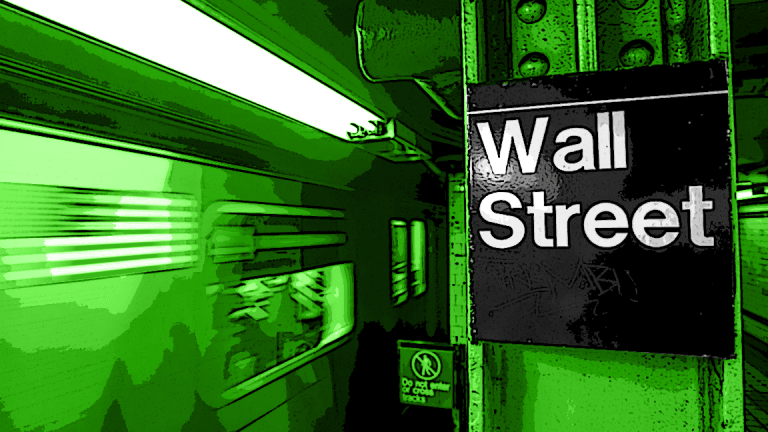 Publish date:
U.S. Stocks on Track for New Records as Consumer Staples Lead Wall Street
Walmart leads the Dow Jones Industrial Average to trade in the green, while the rest of the market struggles to hold higher after a days-long win streak.
Walmart leads the Dow Jones Industrial Average to trade in the green, while the rest of the market struggles to hold higher after a days-long win streak.
Stocks were on track to clinch new records on Tuesday, Oct. 3, as gains in Walmart Stores Inc. (WMT) - Get Report  led consumer names higher.
The Dow Jones Industrial Average was up 0.33%, the S&P 500 added 0.13%, and the Nasdaq gained 0.15%. Any gains would put the Dow Jones Industrial Average at its second closing record in a row, the Nasdaq's third, and the S&P 500's fourth.
Walmart shares rose more than 1% after the world's largest retailer acquired small New York-based company Parcel. The acquisition is a play to go head-to-head with Amazon.com Inc. (AMZN) - Get Report in the same-day delivery market, first focusing on the New York City area. Details of the deal were not disclosed.
Other stocks in the non-cyclical consumer space were caught up in the momentum, including Procter & Gamble Co. (PG) - Get Report , Anheuser-Busch InBev NV (BUD) - Get Report , Ambev SA (ABEV) - Get Report and CVS Health Corp. (CVS) - Get Report . The Consumer Staples Select Sector SPDR ETF (XLP) - Get Report increased 0.2%.
Even with markets at records, the trading range sits at its lowest level in decades. The S&P 500 has seen a move of at least 1% only eight times so far this year, according to LPL Research. That marks its least since 13 in 1995. Its lowest ever was just three in 1963.
"If you had forecast that the 11 months after the 2016 U.S. presidential election would be one of the least volatile periods ever, you would be in the minority," said Ryan Detrick, senior market strategist at LPL Research, in a note. "Then again, the last time we saw a streak of calm like this was the year after John F. Kennedy was assassinated in November 1963 -- once again proving that the market rarely does what the masses expect and usually surprises us."
The CBOE Volatility Index, otherwise known as the fear index, was up 1.9% to 9.63 on Tuesday. The measure remains near its lowest level since December 1993.
A mass shooting in Las Vegas on Sunday evening has been designated by officials as the worst in the country's history and President Donald Trump described it as an "act of pure evil." The attack in Las Vegas left 59 dead and 527 injured after a gunman opened fire on a music festival from the 32nd floor of the Mandalay Bay Hotel and Casino late Sunday, Oct. 1. The suspect was identified as Stephen Craig Paddock, 64 years old, of Mesquite, Nevada. Paddock had 23 guns in the room where he was found dead by officers.
Casino stocks were on the decline for day two. Mandalay Bay owner MGM Resorts International  (MGM) - Get Report , Las Vegas Sands Corp. (LVS) - Get Report  and Wynn Resorts Ltd. (WYNN) - Get Report declined. Gun stocks extended Monday's gains. Smith & Wesson parent American Outdoor Brands (AOBC) - Get Report and Sturm Ruger & Co. (RGR) - Get Report were both in the green. 
U.S. automakers reported better-than-expected sales in September. General Motors Co.  (GM) - Get Report reported an 11.9% increase year over year, beating analysts' estimates for a 7.9% jump. GM's strong performance was driven by year-over-year gains of 17% at Chevrolet and 9% at GMC.
Fiat Chrysler Automobiles (FCAU) - Get Report reported a 9.7% decrease in unit sales to 174,266, better than an estimated 10.9% decline. By brand, Fiat sales fell 24%, Chrysler 16%, Jeep 4%, and Dodge 30%. Wrangler and Renegade sales increased 10% and 38%, respectively. 
Ford (F) - Get Report said light vehicle deliveries increased 8.9% year over year, smashing projections for a 2.3% uptick. Truck sales jumped 19.9%, SUV sales rose 1.8%, but car sales sunk 1.3%.
Shares of General Motors increased more than 2%, Ford rose 1.9%, and Fiat Chrysler Automobiles was flat. 
Investors were also looking ahead to the September jobs report on Friday, Oct. 6, in what will be the first full month in which the effects of hurricanes Harvey, Irma and Maria on the labor market will be laid bare. Weekly jobless claims have already shown the initial impact with the number of new applications for unemployment benefits seeing an uptick in recent weeks.
"Work disruptions due to Hurricanes Harvey and Irma are likely to knock down payroll growth substantially in September," Wells Fargo analysts wrote in a note. "It bears the potential to interrupt the 83 consecutive months of employment growth."
Wells Fargo expects 55,000 jobs to have been added to the U.S. economy in September. Meanwhile, economists surveyed by FactSet anticipate 75,000 jobs to have been added, a sharp slowdown from the 156,000 jobs added in August. The measure has not fallen below the 100,000 mark since March and has only been below that threshold four times in the past five years.
Lennar Corp. (LEN) - Get Report increased more than 3% on Tuesday after better-than-expected third-quarter results. The homebuilder reported earnings of $1.06 a share, up a nickel from a year earlier. Analysts anticipated earnings of a $1. Revenue of $3.26 billion came in higher than $3.24 billion consensus. Home sales rose 17% and home deliveries increased 12%. 
Former Equifax Inc. (EFX) - Get Report Chairman and CEO Richard Smith apologized to the American people during Congressional testimony Tuesday and Wednesday for a data breach that exposed the personal data of nearly half the U.S. population.
In testimony, Smith said he takes "full responsibility." He said the failure to implement a software patch in March and a failed scan of the software contributed to the company's vulnerability.  
Equifax said Monday that 2.5 million more U.S. customers potentially were impacted by the data breach, bringing the total to 145.5 million.
Tim Sloan, CEO of Wells Fargo & Co. (WFC) - Get Report , appeared before the Senate Banking Committee on Tuesday to say the bank remains "deeply sorry" for its previous sales practices, and that in the year since the phony account scandal exploded it has substantially changed improved its culture. Sloan told the Senate that the action taken was "insufficient" and that he was angry with the way the bank "handled the problems."
Wells Fargo was fined $185 million for its illegal sales practices. The bank has said 3.5 million accounts were potentially opened without customers' permission between 2009 and 2016, as employees tried to meet ambitious sales targets. In comments to CNBC on Tuesday, billionaire investor Warren Buffett said the bank still "has my faith."
Tesla Inc. (TSLA) - Get Report   rose 0.7% after reporting it delivered 220 Model 3s during the third quarter. CEO Elon Musk has previously  boasted in August that Tesla would produce 1,500 Model 3s in just September, ramping up to 20,000 a month by December. Tesla blamed "production bottlenecks" for the slow rollout. But it said it was confident it could fix those issues.
Tesla said overall it delivered 26,150 vehicles in the third quarter, up 4.5% from a year earlier, and logged a personal best for sales of the Model S and Model X.
The Tile Shop Holdings Inc. (TTS) - Get Report plummeted 34% after issuing a warning ahead of its third-quarter results. The company anticipates sales of $84 million, 7% higher than a year earlier, but below estimates of $86.6 million. Same-store sales are expected to increase 1%, more than half the expected rise. 
Paychex Inc. (PAYX) - Get Report increased 3.5% after beating profit estimates and reporting a rise in sales. The company earned 62 cents a share over its fiscal first quarter, 2 cents higher than expected. Revenue grew 4% to $816.8 million, missing estimates by nearly $4 million.
BlackBerry Ltd. moved 1.6% lower on Tuesday after announcing it will move to the New York Stock Exchange from the Nasdaq. The tech company will begin trading on the NYSE on Oct. 16 under the new ticker BB. CEO John Chen said the "partnership with the NYSE will further raise the profile of our company and strengthen the value of our BlackBerry Secure brand."
Urban Outfitters Inc. (URBN) - Get Report tumbled 4% after Deutsche Bank downgraded its rating to sell from hold. The firm set a price target of $19, implying a 16% downside to current levels. Deutsche said margin pressure and current valuation following a recent rally were reason for the downgrade. 
Updated from 1:22 p.m. ET, Oct. 3. 
Join Jim Cramer, CNBC's Jon Najarian and Other Experts Oct. 28 in New York
Jim Cramer will host CNBC's Jon Najarian, TD Ameritrade's JJ Kinahan, famed analytics expert Marc Chaikin and other market mavens on Oct. 28 in New York City to share successful strategies for active investors.
You can join them as they discuss how smart investors can make the most of options trading, futures contracts, fundamental and quantitative analysis and great ETFs to buy right now. Participants will also get a chance to meet Jim and other panelists and take photos.
When: Saturday, Oct. 28, 8 a.m.-3 p.m.
Where: The Harvard Club of New York, 35 West 44th St., New York, N.Y.
Cost: Special early bird price: $150 per person. (Normal price: $250)
Click here for the full conference agenda or to reserve your seat now.
More of What's Trending on TheStreet: