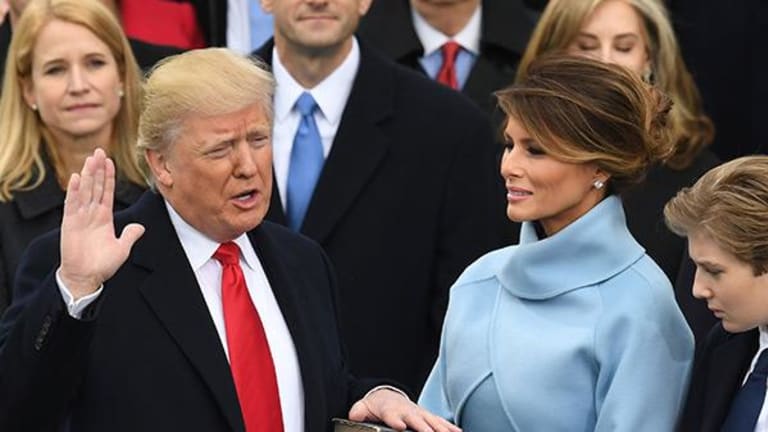 Wall Street Ushers in the Trump Era With Gains
The beginning of a new presidency boosted U.S. markets on Friday but stocks moved off highs shortly after Donald Trump was sworn into office.
The beginning of a new presidency did little to boost U.S. markets on Friday with stocks even coming off highs shortly after Donald Trump was sworn into office.
The S&P 500 was up 0.33%, the Dow Jones Industrial Average rose 0.48%, and the Nasdaq rose 0.28%.
Stocks rebounded slightly on Friday after days of uncertainty. However, gains were roughly half of what they were earlier in the session. 
In his speech following his swearing-in on Friday, Trump pledged to rebuild America, offering a rare conciliatory tone that was absent throughout the election campaign. Trump also said that Friday would mark the resurgence of the forgotten people.
""We are not merely transferring power from one administration to another or from one party to another, but we are transferring power from Washington, D.C., and giving it back to you, the people," said Trump. "The forgotten men and women of our country will be forgotten no longer. Everyone is listening to you now."
Stocks have been shaky for days as investors wrestled with what changes an incoming Trump administration could implement and how quickly. During confirmation hearings, Trump's cabinet member picks have frequently disagreed on some of Trump's core campaign promises, including a ban on Muslim immigration and foreign relations with Russia.
The Dow has had a rough time in recent days, closing out Thursday with its fifth straight session lower. The S&P 500 and Nasdaq have fallen in two of the past four sessions.
Markets had initially rallied in the two months following Trump's unexpected win in November. Investors had placed big bets that a Trump administration would lead to higher infrastructure spending and looser financial regulations. The Dow, in particular, had surged to new heights on Trump's proposals, even coming within a hair of its 20,000 milestone.
"Markets are typically prone to rise on lofty expectations and fall on less-than-lofty realities," James Chen, analyst at Forex.com, wrote in a note. "If the realities under President Trump fail to match expectations with regard to fiscal spending, lower taxes, financial deregulation, or other market-related issues, the many investors who have fully bought-in to the "Trump Trade" could potentially be in for a rude awakening."
Crude oil prices held higher on Friday even after a weekly reading on drilling activity in the U.S. showed a sharp increase. The number of active U.S. rigs drilling for oil rose by 29 to 551 rigs in the past week, according to Baker Hughes.
West Texas Intermediate crude was up 2% to $52.42 a barrel on Friday.
Procter & Gamble (PG) - Get Free Report increased 3% following a better-than-expected quarter. Adjusted earnings of $1.08 a share came in 2 cents above estimates, while revenue of $16.86 billion beat consensus of $16.94 billion. The company warned that currency exchange woes could cut its sales growth by two to three percentage points this year.
General Electric (GE) - Get Free Report declined 2% as persistent pressure on oil prices hurt its energy business. Revenue dropped 2% to $33.1 billion, falling short of estimates of $33.63 billion. Oil and gas revenue slumped 22% over the fourth quarter, though sales in its renewable energy business rose 29%.
Schlumberger (SLB) - Get Free Report declined nearly 1% after reporting an in-line quarter. The energy company narrowed its fourth quarter loss to 15 cents a share from 81 cents a share in the year-ago quarter. Adjusted earnings of 27 cents a share met analysts' estimates, while revenue of $7.11 billion came in above consensus of $7.07 billion.
General Electric and Schlumberger are holdings in Jim Cramer's Action Alerts PLUS Charitable Trust Portfolio. Want to be alerted before Cramer buys or sells GE or SLB? Learn more now.
American Express (AXP) - Get Free Report  dropped slightly following a mixed fourth quarter. The credit card company earned 91 cents a share, 7 cents below estimates. Revenue fell 4.4% to $8.02 billion, though beat forecasts by $70 million. Net revenue, excluding currency exchange, rose 6% as card member spending increased.
IBM (IBM) - Get Free Report rose 2% after topping quarterly estimates on its top and bottom lines. Earnings of $5.01 a share breezed past forecasts of $4.88. Sales slipped 1.2% to $21.8, but came in $160 million above consensus. IBM said its technology services and cloud platforms saw revenue increase 1.7% from last year to $9.3 billion. For the full year, IBM said cloud revenue rose 35% to $13.7 billion. Its outlook for 2017 was also upbeat with anticipated earnings of at least $13.80 a share beating consensus of $13.74. 
TransDigm (TDG) - Get Free Report slumped 10% after Citron Research called the company "the Valeant of the aerospace industry." The research firm said TransDigm "stands out when it comes to egregious price increases hoisted on the government."