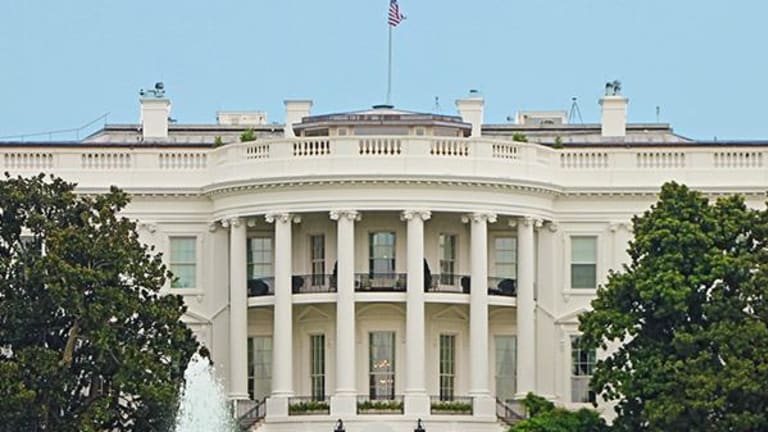 Dow Is On Track for Worst Day of 2017 Amid Trump White House Uncertainty
Deep political and civic division over recent executive actions from the White House continue to make market waves on Tuesday.
Deep political and civic division over recent executive actions from the White House continued to make market waves on Tuesday.
The S&P 500 was down 0.34%, the Dow Jones Industrial Average slid 0.7%, or 160 points, and the Nasdaq fell 0.3%. The S&P 500 has fallen for the past four days.
Losses on the Dow stretched across various sectors -- the biggest losers included Goldman Sachs (GS) - Get Free Report , Intel (INTC) - Get Free Report  and Caterpillar (CAT) - Get Free Report . The blue-chip index was on track for its worst day of the year. 
President Donald Trump overnight fired the acting Attorney General Sally Yates for "refusing to enforce" a controversial, and seemingly unconstitutional, travel ban on Muslim-majority countries. Yates had ordered Justice Department attorneys not to defend the executive order. During the campaign, Trump had floated the possibility of a Muslim ban, which conflicts with constitutional law prohibiting a test of religion.
The White House ordered on Friday the temporary ban of immigration from seven countries, including Iran and Iraq, a move deemed unconstitutional by several federal judges. The order extended to lawful residents in the U.S., including those with valid visas. The move set off a wave of protests at airports and harsh criticism from Democratic leaders.
"For the past few months a Trump presidency has been widely regarded as positive for stocks," said Nigel Green, founder and CEO of deVere Group. "But it appears that the rose-tinted glasses have come off as the travel ban for seven Muslim-majority countries has indicated to investors that there could be major geopolitical headwinds brewing as the controversy intensifies."
Democratic leaders added to the turmoil on Capitol Hill Tuesday after boycotting a vote on two of Trump's top Cabinet picks. Senate Democrats opted out of a committee vote for Department of Health and Human Services pick Tom Price and Treasury Department selection Steve Mnuchin. The boycott meant Republicans didn't have the quorum needed to proceed with a vote.
Biotech and pharmaceutical companies rallied on Tuesday after Trump met with leaders in the industry and pledged to slash regulations. Meeting with the CEOs of companies including Merck (MRK) - Get Free Report , Johnson & Johnson (JNJ) - Get Free Report and Eli Lilly (LLY) - Get Free Report , Trump said approval will be a "quick process, it's not going to take 15 years." Trump also said he wants to target "astronomical" drug prices and bring drug manufacturing back to the U.S.
The iShares NASDAQ Biotechnology Index ETF (IBB) - Get Free Report increased 1.9%, while the S&P Biotech SPDR ETF (XBI) - Get Free Report rose 2.8%.
Federal Reserve members convened on Tuesday for a two-day meeting, culminating in an announcement on Wednesday afternoon about interest rates. Most economists don't expect a change to rates at this meeting, though the Fed's statement could shape expectations for the rest of the year.
"There's no chance of a rate hike this week so investors are going to be poring over the sections of the Fed statement about inflation and the outlook for fiscal policy," said Luke Bartholomew, investment manager at Aberdeen Asset Management. "There's an anticipation that Trump's going to enact policies that will force the Fed to act. Equally, who he chooses to fill the vacancies on the committee will determine some of how the Fed behaves. But nothing has actually happened yet. Everyone is sitting on their hands waiting for more information."
Business conditions in the Chicago area fell for their second straight month. The Chicago PMI declined to 50.3 in January from 54.6 in December. Analysts had anticipated the measure to tick up to 55.3.
Consumer confidence declined in January after reaching a 15-year high in December. The Conference Board's index fell to 111.8 in January from 113.7 in December. Economists expected the measure to fall at a slower pace to 112.9. A less optimistic outlook for business conditions, jobs and income prospects drove the bulk of the decline.
Pfizer (PFE) - Get Free Report  fell short on fourth-quarter earnings and guided for weaker sales in 2017 than many anticipated. Adjusted earnings for the December-ended quarter came in at 47 cents a share, below consensus of 50 cents. CEO Ian Read said the drugmaker performed well in 2016 "despite a challenging operating environment." Pfizer anticipates full-year sales no higher than $54 billion, below average consensus of $54.5 billion.
Aetna (AET) said on Tuesday that it was considering its legal options after a federal court blocked its $37 billion takeover of Humana (HUM) - Get Free Report . A federal judge had blocked the acquisition earlier this month on the basis that it would "substantially lessen competition in markets for individual Medical Advantage plans and health insurance sold on the public exchanges." The health insurance company also blew past earnings estimates in its recent quarter with profit of $1.63 a share, well above estimates of $1.44.
Under Armour (UA) - Get Free Report slumped 22% on Tuesday morning after offering weak guidance for the full year. The athletic apparel retailer anticipates 2017 sales growth between 11% to 12% to $5.4 billion, below an anticipated $6.06 billion. Under Armour also announced the resignation of Chief Financial Offer Chip Molloy. Molloy will step down for personal reasons.
Sprint (S) - Get Free Report reported a wider-than-expected loss over its third quarter. Losses widened to $479 million, or 12 cents a share, from $142 million, or 4 cents a share, a year earlier. Analysts anticipated a loss of 8 cents a share. In more positive news, the telecom added 368,000 postpaid phone customers, its highest level in four years.
Coach (COH) rose 4% after shaking off other retailers' holiday-season woes in its recent quarter. The accessories retailer reported a 2% increase in North American sales, while international sales increased 3%. Overall revenue increased 3.8% over the holiday quarter to $1.32 billion. Adjusted earnings of 75 cents a share beat estimates by a penny.
MasterCard (MA) - Get Free Report sank 3% after a mixed fourth quarter. The credit card company earned an adjusted 86 cents a share over the quarter, a penny above estimates, while revenue of $2.76 billion fell short of $2.78 billion consensus. Gross dollar volume increased by 9% to $1.2 trillion over the quarter, missing analysts' target of $1.27 trillion.
Exxon Mobil (XOM) - Get Free Report fell short of fourth-quarter profit estimates, though recorded an increase in revenue. The oil company earned $1.68 billion, or 41 cents a share over its recent quarter, far below estimates of 70 cents a share in profit. Revenue rose to $61.1 billion from $59.8 billion in the same quarter a year earlier. Sales missed consensus of $61.4 billion. A $2 billion charge for upstream assets ate into its earnings.
UPS (UPS) - Get Free Report sank 6.6% after offering a weaker full-year outlook than many anticipated. The delivery company anticipates adjusted earnings in 2017 of $5.80 to $6.10 a share, below estimates of $6.15. Adjusted earnings for its fourth quarter came in at $1.63 a share, below a target of $1.69. Results were pressured by a "shift in product mix and the continued softness in industrial production," said Chief Financial Officer Richard Peretz.