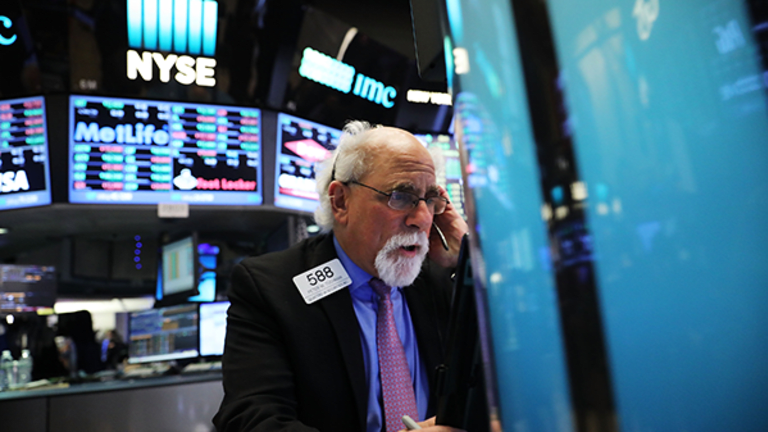 Wall Street Sets Up for Sharp Losses as North Korea Threat Returns
Stock futures trade lower.
Stock futures trade lower.
If you'd like to receive our daily "5 Things You Must Know Before the Bell" newsletter, please register here.
Stock futures were sharply lower on Tuesday, Aug. 29, as the threat of conflict with North Korea returned to destabilize markets. 
Dow Jones Industrial Average futures were down 0.55%, S&P 500 futures fell 0.62% and Nasdaq futures slid 0.8%. Volatility also spiked in premarket trading. 
Global markets tumbled on Tuesday after North Korea launched its latest missile test, the first to fly directly over Japan since 2009. North Korea's missile test was launched late Monday evening and landed just 1,200 kilometres (750 miles) off the Japanese island of Hokkaido.
The latest move from North Korea will likely increase geopolitical risk in the region. Japanese Prime Minister Shinzo Abe called the move an "unprecedented, grave and serious threat that seriously damages peace and security in the region."
Donald Trump, in a statement from the White House on Tuesday, said, "All options are on the table" with regards to North Korea. The president in the past has threatened military action if North Korea continued to threaten the U.S. and its allies. Trump previously said the U.S. would bring "fire and fury" should North Korean and its leader Kim Jong-un continue to issue threats. 
Worries over North Korea sent investors into safe-haven assets such as gold. Gold for December delivery jumped 0.8% to $1,326.20 an ounce on Tuesday morning. Gold has gained more than 10% since early July as investors move cash into traditional safe-haven assets amid the rising military and political tensions in Asia following a series of missile tests by North Korea.
Home prices increased at a faster pace in June than in May, according to the S&P Corelogic Case-Shiller Home Price Index. National home prices increased 5.8% in June, up from 5.7% in May. Economists expected the measure to remain steady at May levels. 
The  economic calendar in the U.S. on Tuesday includes consumer confidence for August at 10 a.m. ET
Nike Inc. (NKE) - Get Report was lower on Tuesday after Morgan Stanley downgraded the stock on slowing sales in North America. Sales in North America have slowed "much more than anticipated" since the companies fourth quarter earnings, Morgan Stanley analyst Jay Sole wrote in a Tuesday note. Sole cut Nike's full year 2018 earnings per share target to $2.44 from a previous $2.58.
Sole also cut the sports shoe maker's sales forecast to a 2% decline from 3% growth. The move by Morgan Stanley comes as commentary from sports retailing companies such as Dick's Sporting Goods Inc. show that Nike sales have slipped and prices are expected to decline. Morgan Stanley said it was concerned that Nike has lost some of its core customers to Adidas AG  (ADDYY) .
Finish Line Inc. (FINL) followed Nike shares into the red on Tuesday morning. The footwear retailer plummeted roughly 30% in premarket trading. On Monday, Finish Line slashed its second-quarter forecast to 8 cents a share in profit on $470 million in sales. CEO Sam Sato said, "The marketplace for athletic footwear became much more promotional as our second quarter progressed resulting in challenging sales and gross margin trends." Susquehanna analysts lowered their price target to $9 from $15 on Tuesday. 
Stocks closed the trading day narrowly mixed on Monday, Aug. 28, as insurance and energy industries grappled with the fallout of Tropical Storm Harvey's devastation in and around Houston. Tropical storm Harvey's devastating flooding has taken almost 17% of U.S. refining capacity offline and about 10% of crude production, creating an imbalance that is likely to lead to larger U.S. crude inventories and weigh on crude prices.
Much of the U.S.'s refining capacity is located in the coastal region of Texas where the storm made landfall on Sunday night and where flooding has been worst. The storm is expected to lash the Gulf of Mexico's coast on Tuesday with the National Hurricane Center predicting as much as 50 inches of rain in some regions, contributing to "ongoing catastrophic and life-threatening flooding from Texas to Louisiana."
West Texas Intermediate crude edged higher on Tuesday. Prices were up 0.1% to $46.61 a barrel. 
Best Buy Co. (BBY) - Get Report  turned lower in premarket trading Tuesday, falling 3.6%, despite besting second-quarter estimates. The electronics retail chain earned 67 cents a share over its recent quarter, up form 61 cents a share a year earlier. On an adjusted basis, earnings of 69 cents a share came in above estimates of 63 cents. Revenue of $8.9 billion exceeded consensus of $8.7 billion. Same-store sales rose 5.4%, far better than a targeted 2.1% increase. CEO Hubert Joly said higher sales were "driven by stronger consumer demand for technology products and by the strong execution of our strategy." Best Buy also increased its full-year revenue guidance to 4% growth from 2.5%. 
Movado Group Inc. (MOV) - Get Report rose 11% in premarket trading after a better-than-expected quarter. Net income dipped to 24 cents a share over its second quarter from 27 cents in the year-ago three-month period. Adjusted earnings of 43 cents a share came in far higher than an estimated 23 cents. Sales of $128.8 million exceeded estimates of $119 million. Movado also increased its full-year sales and earnings estimates. 
Updated from 8:37 a.m. ET, Aug. 29. 
More of What's Trending on TheStreet: