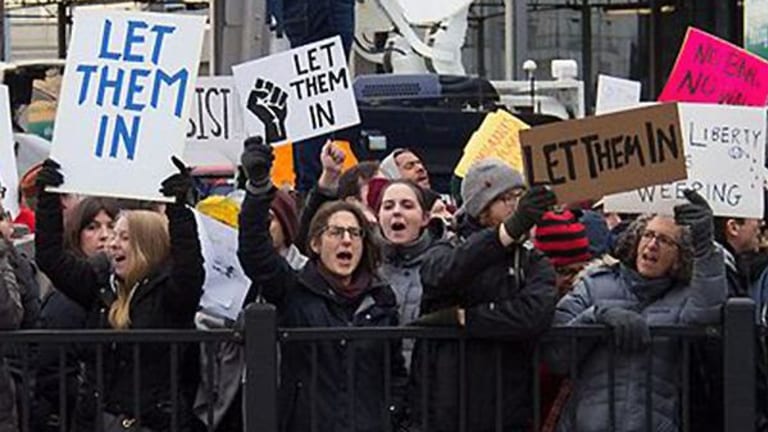 Wall Street Retreats as Immigration Ban Upends Trump Rally
The Trump rally takes a blow on Monday as chaos and confusion surrounding the White House immigration ban sends global equities spiraling.
The Trump rally took a blow on Monday as chaos and confusion surrounding the White House immigration ban sent global equities spiraling. 
The S&P 500 was down 0.60%, and the Nasdaq declined 0.83%. The Dow Jones Industrial Average fell 0.61%, retreating to 130 points below 20,000. The blue-chip index had hit 20,000 for the first time last week. The Volatility Indexundefined , also known as the fear index, spiked 12% to 11.86.
European markets also closed sharply lower on worries over the immigration ban. The Stoxx 600 stumbled 1.1% on Monday, closing out its worst session in three months. The FTSE 100 dropped 0.9%, the DAX in Germany fell 1.1%, and the CAC 40 in France tumbled 1.1%.
President Donald Trump late Friday signed an executive order temporarily banning immigration from seven Muslim-majority countries, including Iran and Iraq. The hasty rollout led to widespread confusion over whether the ban extended to green card holders, leaving a number of permanent residents stranded in U.S. airports.
Federal judges in New York and Virginia, among others, overruled the ban on visa holders. Thousands also flooded to airports across the country, including John F. Kennedy International Airport in New York and Dulles International Airport in Virginia, to protest the immigration order.
"At this point it looks like investors are trying to digest the new information, assess the impact and are moving to a more 'risk off' posture which is driving the relative outperformance of sectors generally considered defensive," Chris Zaccarelli, chief investment officer for Cornerstone Financial Partners, told TheStreet. "Markets around the world including those of the larger European economies have also reacted negatively further supporting the idea that this is driving all investors to be defensive."
Utilities and telecom stocks were among those performing best in Monday's broad selloff. Telecoms AT&T (T) - Get Free Report and Verizon (VZ) - Get Free Report sported minor losses, compared to sharper losses elsewhere, while utilities stocks including NextEra (NEE) - Get Free Report and CPFL Energia (CPL) - Get Free Report saw slight gains.
Executives at a number of American companies, particularly those in Silicon Valley, voiced disappointment in the White House's executive order. Top executives at Netflix (NFLX) - Get Free Report , Apple (AAPL) - Get Free Report , Facebook (FB) - Get Free Report and Microsoft (MSFT) - Get Free Report were among those that expressed concern. Apple CEO Tim Cook issued a letter stating that, "Apple would not exist without immigration, let alone thrive and innovate the way we do."
Apple and Facebook are holdings in Jim Cramer's Action Alerts PLUS Charitable Trust Portfolio. Want to be alerted before Cramer buys or sells AAPL or FB? Learn more now.
The immigration executive order overshadowed an order Trump made on regulations on Monday. The latest order requires that for every new federal regulation, two existing regulations should be made void. In comments at the signing, Trump said," there will be regulation, there will be control, but it will be normalized control."
The president has had a rocky first week in office, regularly facing public backlash over a number of his actions. Among his first moves in the White House, Trump and his team railed against the media, called into question the legitimacy of voting systems, and disputed photo evidence that his inaugural crowds were smaller than the inauguration of former President Barack Obama.
"The maelstrom our president has unleashed over immigration, and the seven countries under temporary ban, is yet another reason to honor our models' cautionary stance in the near-term," said Raymond James' Jeffrey Saut in a note. "Our country is amazingly dynamic and the equity markets are only impacted by such events in the short-term. Longer-term we remain convinced the equity markets are in a secular bull market that has years left to run."
Airlines and other travel stocks moved lower on the immigration ban. JetBlue (JBLU) - Get Free Report , Southwest Airlines (LUV) - Get Free Report , American Airlines (AAL) - Get Free Report , Delta Air Lines (DAL) - Get Free Report and Spirit Airlines (SAVE) - Get Free Report sank, while Pricelineundefined , Tripadvisor (TRIP) - Get Free Report , Expedia (EXPE) - Get Free Report and Ctrip (CTRP) - Get Free Report logged losses.
Personal income and spending in the U.S. both rose in December, according to the Bureau of Economic Analysis. Incomes rose 0.3% in December, slightly below 0.4% consensus but three times the pace in November. Spending increased 0.5%, in-line with estimates.
Pending home sales moved higher in December as demand continued to drive strength in the housing market. Pending sales, wherein a contract has been signed but a deal not yet closed, rose 1.6% in December. The increase was far higher than expected 0.6% growth.
Fitbit (FIT) - Get Free Report declined 16% after cutting its fourth-quarter outlook. The fitness tracker company expects an adjusted loss of 51 cents to 56 cents a share, far worse than previous profit guidance of 14 cents to 18 cents a share. Fitbit also announced plans to cut 110 jobs, or 6% of its workforce, in an effort to reduce expenses. The moves are in response to a slowdown in the wearables market.
Rite Aid (RAD) - Get Free Report was slammed 17% after agreeing with Walgreens Boots Alliance (WBA) - Get Free Report to lower its acquisition price to $6.50 to $7 a share, depending on divestitures tied to regulatory approval. A Rite Aid acquisition was originally priced at $9 a share when the deal was announced in October 2015.
Walgreens is a holding in Jim Cramer's Action Alerts PLUS Charitable Trust Portfolio. Want to be alerted before Cramer buys or sells WBA? Learn more now.