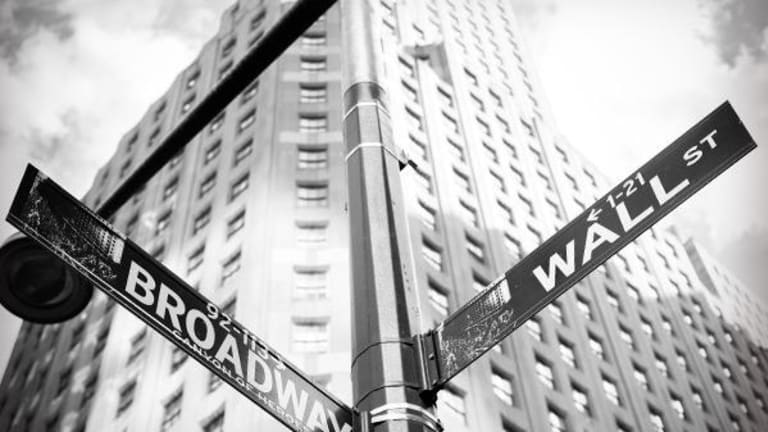 Wall Street May Snap Winning Streak as Crude Oil Prices Flounder
Stocks are narrowly mixed on Friday, putting the S&P 500 and Nasdaq at risk of snapping a six-day winning streak.
Major indexes fluctuated within a narrow range on Friday, putting the S&P 500 and Nasdaq at risk of snapping a six-day winning streak.
The S&P 500 was down 0.02%, the Dow Jones Industrial Average dipped 0.07%, and the Nasdaq was flat.
The S&P 500 and Nasdaq ended at fresh records on Thursday and closed out with their sixth straight session of gains, a surge not seen since mid-February. Positive earnings from retailers Best Buy (BBY) , Guess? (GES) , and Abercrombie & Fitch (ANF)  drove increases in the consumer space. 
It is hard to be negative when there is momentum like that, but it was a bit misleading, argued James "Rev Shark" Deporre over on our premium site for investors, Real Money. Get his insights with a free trial subscription to Real Money.
Crude oil prices fluctuated on Friday morning after a slump a day earlier. West Texas Intermediate rose to $48.96 a barrel after sliding below the $50 mark on Thursday amid an extension to a global output pact that disappointed investors looking for more. The Organization of Petroleum Exporting Countries agreed in Vienna on a nine-month extension to a production-cut deal set to expire at the end of June.
U.S. economic growth over the first quarter was revised to show a 1.2% increase, far better than an original estimate of 0.7% growth. Analysts had expected a 100-basis-point revision to 0.8% growth. Consumer spending increased 0.6%, while business investment surged 11.9%. Exports gained 5.8% and imports grew 3.8%.
Still, overall economic performance over the first quarter remained somewhat weak as a cautious consumer and delayed winter weather depressed growth.
Durable goods orders for April declined by 0.7%, a narrower decline than an anticipated 1.4% drop. Excluding transportation, orders for long-lasting U.S.-made goods fell 0.4%, a surprise to analysts expecting a 0.4% increase. March orders were revised up to show 2.3% growth from 1.7%. 
Consumer sentiment rose to 97.1 in May, according to the final reading from the University of Michigan. The measure was just 0.1% higher than a month earlier. Views on current economic conditions weakened slightly, while expectations for the future rose. 
Elsewhere on the calendar, the weekly report on oil-drilling activity from Baker Hughes is set for its usual time of 1 p.m. ET Friday.
St. Louis Federal Reserve President James Bullard sounded a dovish alarm on Friday, arguing that inflation trends were "worrisome" and the central bank's forecasts for hiking rates were too steep. Speaking in Tokyo, Bullard said current U.S. prices sit 4.6% below the levels between 1995 and 2012 when inflation was closer to the Fed's 2% price target.
Bullard illustrated the discrepancy by pointing out where prices currently sit and where they should be if inflation had hewn closer to the Fed's target. 
Most members of the Fed's monetary policy committee, however, showed a willingness to hike interest rates again "soon," according to minutes from the May meeting.
Most also supported a plan to gradually reduce the Fed's $4.5 trillion balance sheet, a process that should begin this year. Members agreed to continue discussions on the committee's reinvestment policy at its June meeting. Tighter monetary policy is seen as the Fed's vote of confidence in the health of the economy.
Markets already have high expectations for an interest rate increase at the next meeting of the Federal Open Market Committee, the second of three expected hikes this year. Wall Street has priced in an 83% chance of a 25-basis-point increase to the federal funds rate when the FOMC meets June 13-14, according to CME Group fed funds futures.
Higher membership fees propelled Costco (COST) earnings over its recent quarter. The warehouse retailer earned $700 million, or $1.59 a share, over its recent fiscal third quarter, compared to $545 million, or $1.24 a share, in the same quarter a year earlier. Adjusted earnings of $1.40 a share came in 9 cents above consensus.
Revenue increased 8% to $28.22 billion, higher than consensus. Same-store sales increased 5%, above analysts' target of 4% growth. Membership fees gained 4%.
Costco shares rose more than 1%.
GameStop (GME) reported a better-than-expected quarter with adjusted earnings of 63 cents a share coming in a dime above estimates. Revenue increased 4% to $2.05 billion, exceeding analysts' target of $1.97 billion. Same-store sales growth of 2.3% was largely tied to the launch of a new portable gaming console, the Nintendo Switch.
Shares still fell 6% after the video game retailer left its forecasts unchanged. GameStop anticipates full-year earnings of $3.10 to $3.40 a share, wrapping consensus of $3.32 a share. Same-store sales are expected to come in flat to as much as 5% lower.
Other earnings of note include LionsGate (LGF) , Ulta Beauty (ULTA) , Splunk (SPLK) , Brocade Communications (BRCD) , and Big Lots (BIG) .
Amazon (AMZN) shares were on watch as the stock hovered below its never-before-seen $1,000 level. Shares moved more than 1% higher on Thursday after the e-commerce retailer opened its first Manhattan bricks-and-mortar bookstore at Columbus Circle.
The stock has benefited from the Nasdaq's winning streak, closing at its own records for four straight sessions.
Meet the Millennial Media Moguls
Planning to be in New York on Tuesday, June 13? You're invited to join us for an evening of cocktails and conversation with three dynamic young CEOs whose companies have found big news audiences and good markets. How have they done it? What have they learned? Meet Chris Altchek, CEO and co-founder of Mic; Shafqat Islam, co-founder and CEO of NewsCred; and Kathryn Minshew, the CEO and co-founder of TheMuse. Our panel discussion will be led by Ken Doctor, media analyst and columnist for TheStreet. The event, from 6 to 8 p.m. is free, but space is limited and reservations are required. Please click here to RSVP and get more information.
Read More Trending Articles:
Ulta Beauty Rips to an All-Time High After Strong Quarter -- Here's the Trade