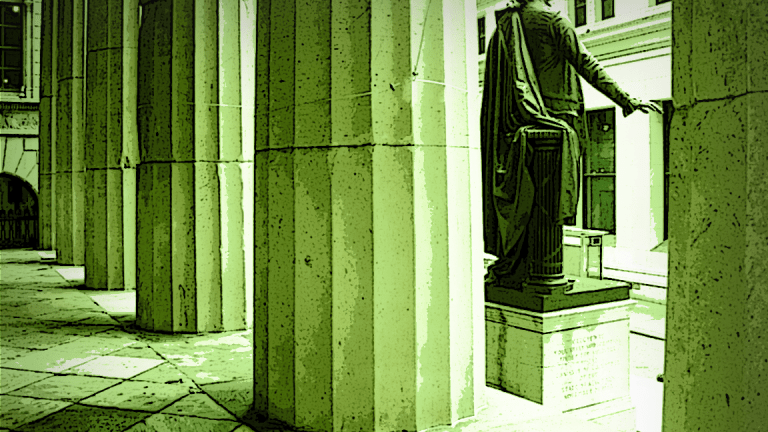 Wall Street Futures Are Upbeat Ahead of Long Weekend
U.S. stocks look set for a sixth day of gains on Friday.
U.S. markets looked set to make gains for the sixth day on Friday, Feb. 16, on a stream of corporate earnings, including Coca-Cola Co., Kraft Heinz Co. and Campbell Soup Co., and as traders prepared for a long Presidents Day weekend.
The Dow Jones Industrial Average had an implied open of 30 points to the upside at 7:39 am Eastern time. S&P 500 futures were 0.19% up and the Nasdaq looked set to add 17.3 points when markets open.
Stocks closed higher on Thursday, Feb. 15, for a fifth straight session. The Dow finished up 306 points, or 1.23%, to 25,200. The S&P 500 gained 1.21% and the Nasdaq rose 1.58%.
Stock markets in the U.S. will be closed Monday, Feb. 19, for the Presidents Day holiday, along with markets in Hong Kong and China, which will be closed until Thursday for the Lunar New Year.
Coca-Cola Co. (KO) surged in premarket trading, up 2% with an implied open of $45.68 after it reported a stronger-than-expected fourth quarter. The drinks company reported earnings of 39 cents a share, beating analysts' expectations of 38 cents a share, and revenue of $7.51 billion, ahead of Wall Street estimates of $7.37 billion.
Deere & Co. (DE) shares gained 0.77% in premarket trading Friday, after closing at $166.61. The company boosted its 2018 outlook, now projecting about 29% increase in equipment sales, up from a previous forecast of 22%. Deere reported a 23% increase in worldwide net sales in the first quarter to $6.9 billion, beating expectations of $6.4 billion.
Campbell Soup Co. (CPB) shares dropped 2.73% in premarket trading, with an implied open of $46.40, after CEO Denise Morrison said the fiscal second quarter was disappointing on challenges in the U.S. market. The company reported net income of $285 million in the quarter and earnings per share of $1. Sales rose to $2.18 billion from $2.17 billion.
"The decline in organic sales was largely due to the performance of Americas Simple Meals and Beverages, where U.S. soup sales decreased by 7 percent based on the key customer issue we discussed last quarter," Morrison said in a statement. "We are making progress with this customer and expect sales declines in soup to moderate in the second half."
Kraft Heinz Co. (KHC) , however, on Friday reported a worse-than-expected quarter, as U.S. sales weigh on the food giant. Kraft Heinz's U.S. sales fell 1.1%to $4.79 billion, declining for the seventh straight quarter, missing the $4.81 billion average estimate of two analysts. Net sales for the group were up 0.3% to $6.88 billion in the fourth quarter. Kraft Heinz shares were down 0.02% in premarket Friday, after gaining 1.1% Thursday to close at $72.71.
Walmart Inc. (WMT) shares were up 0.5% in premarket, after closing at $103.23 on Thursday. The world's largest retailer is reported in talks to buy a 40% stake in Indian e-commerce company Flipkart.
In what would be one of its biggest overseas deals, Walmart, the world's largest retailer, is looking at buying new and existing shares in Flipkart and due diligence is likely to begin as early as next week, Reuters reported. Terms of the deal were not disclosed.
Shares of networking company Arista Networks Inc. (ANET) fell more than 12% in premarket trading after the rival to Cisco Systems Inc. (CSCO) provided soft first-quarter guidance. Arista said it expects first-quarter sales of $450 million to $468 million; analysts estimated sales of $457 million.
European markets looked set to end the week in positive territory. London's FTSE 100 gained 0.64% to 7,280.93. Germany's Dax was up 0.46% to 12,403.42 and France's Cac 40 was up 0.9% to 5,269.32.
Japanese markets extended the recent rally Friday, with the Nikkei closing up 1.19% at 21,720, despite the 0.2% rise in the value of the yen to 105.89 against the dollar, its highest in 15 months.