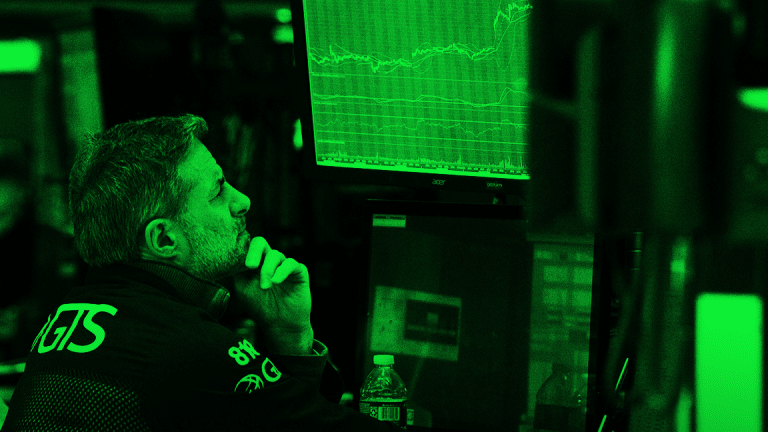 U.S. Stock and Crop Futures Tank After China Announces Reciprocal Tariffs
China said it would levy a 25% reciprocal tariff on 106 U.S. products including soybeans, cars, whisky and chemicals.
One Hot Market Stat You Need to Know
Market Snapshot
U.S. stock and crop futures dropped on Wednesday, April 4, after China outlined reciprocal tariffs on U.S. goods after President Donald Trump's administration outlined proposed tariffs on $50 billion worth of imports, including medicines, chemicals and consumer electronics.
China said it would levy a 25% reciprocal tariff on 106 U.S. products including airplanes, soybeans, cars, whisky, orange juice, frozen beef and chemicals.
The brewing trade tensions have led to a drop in Wall Street futures. At 8:36 am EST, the Dow Jones Industrial Average expected to fall 540 points at the open. The S&P 500 is expected to shed 43 points and the Nasdaq is indicated to lose 127 points when it opens.
U.S. crop futures were badly hit after the Beijing announced the tariffs, with corn for May delivery tumbling 2.25% to $3.80 per bushel, according to Factset data. Soybean futures dropped 3.88% to $9.98 a bushel and wheat futures lost 0.77% to $4.54 a bushel.
Companies due to be hit by the tariffs were under pressure in premarket trading. General Motors Co. (GM) - Get General Motors Company Report was down 3.90%, after closing at $36.94 on Tuesday, and the Ford Motor Co. (F) - Get Ford Motor Company Report was indicated to open 2.18% down on Wednesday. Boeing Co. (BA) - Get The Boeing Company Report  shares were down 5.1% after closing at $330.82 on Tuesday.
Machinery company Caterpillar Inc. (CAT) - Get Caterpillar Inc. Report was down 3.63% and agricultural machinery maker Deere & Co. (DE) - Get Deere & Company Report is marked 4.27% in premarket trading. 
Tesla Inc. (TSLA) - Get Tesla Inc. Report shares were marked 5.17% in premarket trading worries that they will be slapped with the new tariff, this will mark another bit of bad news for the company, which lost 5% on Monday over concern of the company's Model 3 production.  
Beijing vowed proportional retaliation to plans by the U.S. for a 25% tariff on 1,333 products, with China's Ministry of Commerce on Wednesday saying it would immediately appeal the actions to the World Trade Organization. The tariffs are in response to decades of state-backed intellectual property theft by China, which President Trump said was "probably ... in the neighborhood of $200 billion to $300 billion."
The tariffs won't come into immediate effect with U.S. companies given until May 22 to raise objections. Other goods on the list include vaccines, snowblowers, electric cars, jet engines and military weapons.
The Chinese embassy in Washington condemned the move. "Such unilateralistic and protectionist action has gravely violated fundamental principles and values of the WTO," the embassy said. "It serves neither China's interest, nor [the] US interest, even less the interest of the global economy."
President Trump on Wednesday morning tweeted that the U.S. was "not in a trade war with China, that war was lost many years ago ..."
London's FTSE 100 was down 0.42%, or 29 points, to 7,000. France's Cac 40 was down 0.91% to 5,104 and Germany's Dax lost 1.23% to 11,854.
WPP plc (WPP) - Get WPP plc American Depositary Shares Report shares fell to the bottom of the FTSE 100, falling as much as 3.4%, after the board said it had appointed an independent counsel to counsel to conduct an investigation in response to an allegation of personal misconduct against Sir Martin Sorrell. The Wall Street Journal on Tuesday had reported that the investigation was also looking a whether Sorrell has misused company assets. Sorrell has denied the claims.
Swiss Re AG (SSREY) shares were down 3.23%, changing hands at €79.22, after it was revealed that SoftBank Group Corp. SFTBY is likely to take a 10% or less stake in the reinsurer. Swiss Re said Wednesday that the companies are in talks about a strategic cooperation and an anchor investment. However, earlier reports had suggested SoftBank was considering a 25% stake.
Asian markets were surprisingly buoyant given the tensions. Japan's Nikkei was up 0.13% to 21,319.55 and the Topix gained 0.14% to 1,706.1. China's Shanghai Composite Index fell at the end of the session to close 0.2% down at 3,854, while Hong Kong's Hang Seng lost 2.19% to close at 29,518.
Stocks on Tuesday closed the day in the green after choppy trading. The Dow 387 points, or 1.64%, to 24,032 and the S&P 500 closed the day up 1.26%. The Nasdaq spent part of the afternoon in the red, but finished strong and rose 1.04%.