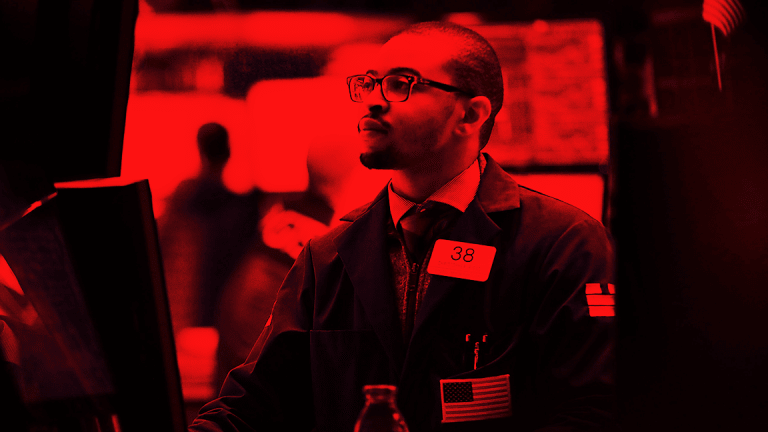 Dow, S&P Suffer Worst Day of Trading in 2 Weeks
China on Friday said it would counter Trump's proposed new tariffs 'to the end, and at any cost'
Hot Market Stats to Know Right Now
Via @BrianSozzi
Bitcoin is poised to end another dreadful week. The crypto is on pace to notch a 6% drop for the week, and is currently trading at about $6,586.
Respectable rally in the NYSE FANG+ Total Return Index off the late March lows. At 2,480, the index is up about 3% from its lows. It closed above both the 50-day and 100-day moving averages early in the week. Next test of the rally is the 200-day moving average at 2,535.83. Rallies in Tesla (TSLA) - Get Tesla Inc Report and Amazon the most evident from among the index.
Market Snapshot
Wall Street was under pressure Friday, April 6, after the U.S. added fewer jobs than expected in March. A hawkish speech from Fed chairman Jerome Powell didn't help sentiment, either. 
The U.S. added 103,000 jobs in March. Analysts polled by FactSet expect the U.S. economy added 185,000 nonfarm jobs to the payroll in March, which would be a slowdown from the 313,000 jobs added in February. February's nonfarm payroll additions was the fastest in a month since July 2016.
The unemployment rate came in at 4.1%, steady from February's rate, a 17-year low. FactSet economists expect the U.S. unemployment rate for March to come in at 4%.
The Dow Jones Industrial Average fell 2.34%, or 574 points to 23,855, while the S&P 500 fell 2.2% and the Nasdaq dropped 2.3%. 
Facebook Inc. (FB) - Get Facebook, Inc. Class A Report shares fell 1.3%. The European Commission said Facebook told the EC that 2.7 million European Union-based users of the social media site may have had their data obtained by Cambridge Analytica. The EC said further discussions would be needed with Facebook.
Chief Operating Officer Sheryl Sandberg told Bloomberg that some advertisers have, in fact, reduced their spending. "We've seen a few advertisers pause with us and they're asking the same questions that other people are asking," Sandberg was reported as saying. "They want to make sure they can use the data and use it safely." Sandberg added that Action Alerts Plus holding Facebook is engaging in "reassuring conversations with advertisers, just as [it is] with people."
Amazon.com Inc. (AMZN) - Get Amazon.com, Inc. Report was also down, losing 3.2% to $1,405. Speaking to reporters on Air Force One Thursday, President Trump accused Action Alerts Plus holding Amazon of not operating on a level playing field and not paying enough in sales tax, Reuters reported.
The escalation tit-for-tat responses by the U.S. and China has spooked markets, with European and Asian markets broadly lower.
China on Friday vowed to respond to President Donald Trump's threat to impose tariffs on an additional $100 billion of imports from the country.
Trump on Thursday said: "Rather than remedy its misconduct, China has chosen to harm our farmers and manufacturers. In light of China's unfair retaliation, I have instructed the USTR to consider whether $100 billion of additional tariffs would be appropriate under section 301 and, if so, to identify the products upon which to impose such tariffs."
The president also said he had instructed the agriculture secretary to "implement a plan to protect our farmers and agricultural interests" from Chinese retaliation.
China on Friday said it would counter Trump's proposed new tariffs "to the end, and at any cost," and that it doesn't "want to fight, but we are not afraid to fight a trade war."
However, according to Bloomberg data China doesn't import enough U.S. goods to match Trump escalation, but it could take other steps against Chinese tourists to the U.S. or against American companies' Chinese operations.
Deutsche Bank AG (DB) - Get Deutsche Bank AG Report shares were down 3.07% at $13.88 after reports by Bloomberg that Matt Zames, a former JP Morgan Chase & Co executive, was among the candidates being looked at to take over from CEO John Cryan. Cryan has said he is committed to the role, but chairman Paul Achleitner has reportedly been holding talks with successors.
Asian markets were mostly lower, the Japan's Nikkei down 0.36% and the Topix falling 0.31%. South Korea's Kospi lost 0.48%, while Hong Kong's Hang Seng gained 0.88% after it was closed on Thursday for a holiday. Mainland China markets were closed Friday.
Takeda Pharmaceutical Co. Ltd. (TKPYY) shares dropped more than 6.22% on Friday in Tokyo, making it the biggest faller on the Nikkei, after CEO Christophe Weber on Thursday told a group of analysts that size was not an obstacle when it comes to a possible acquisition of Shire plc (SHPG) - Get Shire PLC Sponsored ADR Report , Bloomberg reported. Takeda would not confirm what was said in the closed-door session.
Shire's London-listed shares were up 1.39% to 3,758 pence. Shares have gained more than 8% over the past five days since Takeda said it was considering an offer.
Gold was at $1,334.60 an ounce, falling off its daily highs. Oil fell 1.45% to $67.34 a barrel. The yen was higher against the dollar. The euro gave up earlier gains.
The latest proclamation from Trump threatens to undo work this week by his administration to temper fears of a trade war with China. New National Economic Council head Larry Kudlow said Wednesday any tariffs wouldn't kick in for several months.
Trump launched the trade controversy a month ago saying he wanted to punish China for dumping steel and aluminum at below-market rates in the U.S.
China retaliated this week, announcing tariffs on a variety of U.S. goods including wine and agricultural products.
Global markets rebounded on Thursday after it looked like both the U.S. and China would be willing to negotiate. The Dow Jones Industrial Average rose 3240 points, or 1%, to 24,505. The S&P 500 gained 0.7% and the Nasdaq was up 0.5%.
Watch all of Jim Cramer's full NYSE live shows right here: