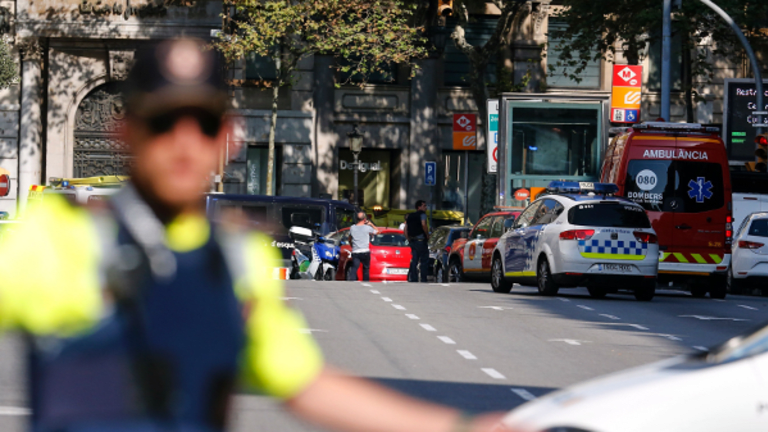 Barcelona Terror Attack Puts Dow, S&P 500 on Lock for Second Weekly Loss
Stocks are lower.
Stocks slid on Friday, Aug. 18, as global markets sold off in the wake of a terrorist attack in Barcelona.
The Dow Jones Industrial Average was down 0.32%, the S&P 500 dropped 0.36% and the Nasdaq fell 0.4%. The Dow and S&P 500 were on track for a second weekly decline and the Nasdaq was likely to end with a fourth. 
Police shot dead five suspected terrorists in Cambrils, hours after a van slammed into a crowd in Barcelona on Thursday afternoon. The five people had attempted to drive a car into tourists on the Cambrils seafront, south of Barcelona, but the vehicle overturned and the occupants instead attacked with knives, according to Reuters. Explosive belts found at the scene have now been determined to be fake. 
The Barcelona attack, on the the tourist-heavy Las Ramblas avenue, killed 13 people and injured more than 100 others. One women died from her injuries in Cambrils, bringing the total number of victims up to 14. ISIS claimed credit for the incident. 
European Markets Down on Trump Uncertainty, Barcelona Attack
The terrorist attack in Spain set European markets on edge on Friday. Germany's DAX fell by 0.62%, the FTSE 100 in London declined 1.1%, and the CAC 40 in France slid 1%. 
A stock selloff on Thursday, Aug. 17, sent U.S. benchmark indexes lower. A disappointing quarterly performance from Cisco Systems Inc. (CSCO) - Get Cisco Systems, Inc. Report triggered losses in the tech sector and led to a triple-digit decline on the Dow Jones Industrial Average. All Dow components ended in the red on Thursday, while the benchmark index suffered its worst daily performance since May.
Gap Inc. (GPS) - Get Gap, Inc. (GPS) Report moved lower Friday despite quarterly earnings more than double a year earlier. The casual clothing retailer earned 68 cents a share over its quarter ended July 29, far better than a 31 cents a share a year earlier and higher than estimates of 52 cents.
Sales declined by 1.4% to $3.8 billion, but also exceeded estimates. Analysts anticipated $3.77 billion. The company's lower-priced Old Navy line, which has bolstered the stock in recent quarters, reported same-store sales increasing 5%. The Gap and Banana Republic brands' same-store sales fell 1% and 5%, respectively. It was an improvement on the same quarter a year earlier when Old Navy same-store sales came in flat, Gap fell 3%, and Banana Republic declined by 9%.
All performed better than in 2016, when Old Navy same-store sales were flat, Gap's fell 3% and Banana Republic's fell 9%.
Foot Locker Inc. (FL) - Get Foot Locker, Inc. Report lost roughly one-quarter of its value after falling short of profit and sales estimates. Second-quarter net income fell to 39 cents a share, much less than 94 cents a share a year earlier. Adjusted earnings of 62 cents a share came in below consensus of 90 cents. Revenue declined by 4.4% to $1.7 billion, below expectations of $1.8 billion. Same-store sales unexpectedly fell 6%, a surprise to analysts looking for a 0.8% gain.
CEO Richard Johnson said "sales of some recent top styles fell well short of our expectations" and that the company was "affected by the limited availability of innovative new products in the market." Johnson expects those trends to persist through the rest of the year. Full-year comparable store sales are expected to fall 3% to 4%.
Estee Lauder Companies Inc. (EL) - Get Estee Lauder Companies Inc. Class A Report climbed around 7% Friday after a better-than-expected fiscal fourth quarter. The cosmetics company earned 61 cents a share, up from 25 cents a year earlier. Adjusted earnings of 5 cents came in higher than estimates of 43 cents. Sales of $2.89 billion exceeded consensus of $2.85 billion. First-quarter sales are expected to climb 9% to 10%. First-quarter adjusted earnings guidance of 94 cents to 97 cents a share came in higher than a targeted 91 cents.  
Deere & Co. (DE) - Get Deere & Company Report  declined after posting disappointing quarterly sales. Revenue increased by 16.6% to $7.81 billion, though fell short of a targeted $7.9 billion. The agriculture equipment company earned $1.97 a share over its quarter ended July 30, higher than $1.55 a share a year earlier. Analysts anticipated $1.93 a share in profit. Deere said it anticipates full-year agriculture and turf sales to increase by 9%, while construction and forestry revenue is targeted to climb by 15%. CEO Samuel Allen pointed to farm machinery sales in South America as a particular bright spot.  
Around 92% of S&P 500 companies have reported earnings so far this season. Of those, 73.7% have exceeded earnings estimates, above the historical average of 64%, according to Thomson Reuters data. More than 68% have topped revenue consensus, also above an average of 59%.
Consumer sentiment rose to its best level since January as recent stock market highs and a strong labor market fueled optimism. A preliminary reading on sentiment increased to 97.6 in August from 93.4. Economists expected the University of Michigan's measure to tick up to 94. 
The weekly read on U.S. drilling activity from Baker Hughes will be released as normal at 1 p.m. ET.
Updated from 10:09 a.m. ET, Friday, Aug. 18. 
More of What's Trending on TheStreet:
Apple Should Be Terrified By How Much Samsung Is Spending on Its Future