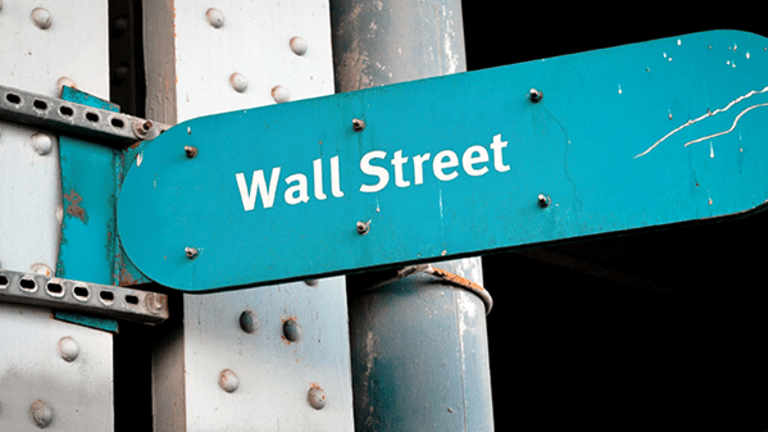 Wall Street Mostly Lower Ahead of Trump's Speech to Congress
Stocks are mostly lower as investors hit pause ahead of a widely anticipated speech from Donald Trump Tuesday evening.
Stocks were mostly lower Tuesday as investors hit pause ahead of a widely anticipated speech from Donald Trump.
The S&P 500 was down 0.15% on Tuesday, and the Nasdaq slid 0.3%. The Dow Jones Industrial Average was trading around its flatline. 
Markets on Tuesday could follow a similar pattern to Monday when stocks floundered around the flatline before breaking slightly higher to new records. Like Monday, investors on Tuesday appeared cautious as they await more detail on changes to the federal budget and the tax code.
The S&P 500 and Dow on Monday both ended at fresh records, with the Dow closing at a record high for the 12th session in a row. It's the Dow's longest record-breaking streak since 1987. If the Dow closes higher on Tuesday, it will be the longest record-breaking streak since January 1987.
Trump will address Congress on Tuesday evening for the first time in a speech to be broadcast live during primetime. White House Press Secretary Sean Spicer said the address will focus on "public safety including defense, increased border security, taking care of veterans, and then economic opportunity including education, job training, health care reform, jobs and tax and regulatory reform."
So far, Trump's comments on his tax plans, health care reform, and infrastructure spending details have been vague, though positive enough for markets to rally. However, without more substantive detail from the president, a weeks-long rally could come to an end. 
"We do not expect Trump to provide much additional clarity on the likely course of key policies initiatives," Nomura analysts wrote in a note. "To the extent that he focuses on economic policy, we expect the president to reiterate what he has done already and to focus on some aspects of fiscal policy. It seems unlikely that we are going to get a comprehensive fiscal plan."
The second estimate of U.S. economic growth showed fourth-quarter GDP holding at 1.9%. Economists expected growth to climb to 2.1%. Consumer spending was revised higher to 3% growth from 2.5%, while business investment and government spending was revised lower. U.S. GDP grew 1.6% over 2016 and hasn't exceeded 3% in 11 years.
International trade in goods in January widened its deficit. The trade deficit sat at $69.2 billion in January, wider than an estimated deficit of $66 billion, following a reading of $64.4 billion in December. 
Home prices continued to advance in December as constrained inventory and higher mortgage rates increased values. The Case-Shiller Home Price Index climbed by 5.8% in December, reaching a 30-month high. The increase was faster than expected growth of 5.3%. 
Business conditions in the Chicago area improved in February. Chicago PMI rose by 7.1 points to 57.4 during the month. The reading came in higher than an expected increase to 53.  
Consumer confidence hit its best level in 15 years in February, according to the latest reading from the Conference Board. The measure increased to 114.8 in February following a reading of 111.6 in January. Analysts anticipated confidence to ease to 111. 
Target (TGT) - Get Target Corporation Report plummeted on Tuesday after falling short of earnings estimates in its fourth quarter. Adjusted earnings of $1.45 a share missed expectations by 6 cents, while revenue slid 4.3% to $20.69 billion. Same-store sales declined by 1.5%, slightly more than an anticipated 1.4% drop. Full-year guidance was weaker as well -- the retailer expects earnings no higher than $4.20 a share, well below consensus of $5.32. 
Watch More: Jim Cramer on Target's Retail Struggles
Priceline (PCLN) rose 6% after a better-than-expected fourth quarter. Net income increased to $13.47 a share from $10 a year earlier. Adjusted earnings of $14.21 a share exceeded estimates of $12.89. Sales jumped 21% to $2.35 billion, higher than a target of $2.33 billion. However, first-quarter earnings guidance of $8.25 to $8.65 a share fell short of estimates of $10.46.
Valeant Pharmaceuticals (VRX) reported a wider loss over its recent quarter, though adjusted earnings and sales both beat estimates. The drugmaker reported a fourth-quarter loss of $1.47 a share, wider than a loss of $1.12 a share a year earlier. Adjusted earnings of $1.26 a share beat estimates by 6 cents. Revenue of $2.4 billion edged past consensus of $2.3 billion. The stock fell 8% early Tuesday.
Watch More: Jim Cramer: Focus on Valeant's Debt Load
SeaWorld (SEAS) - Get SeaWorld Entertainment, Inc. Report missed quarterly estimates on its top- and bottom-line as attendance continued to take a hit. The aquatic theme park reported a net loss of 14 cents a share, 3 cents wider than expected, while revenue dipped 0.1% to $267.6 million, falling short by $900,000. Fourth-quarter attendance slipped 0.7%. 
Domino's Pizza (DPZ) - Get Domino's Pizza, Inc. Report rose more than 1% after reporting a jump in domestic same-store sales and better-than-expected earnings for its recent quarter. Same-store sales in the U.S. increased by 13.7%, higher than 10% expected. International same-store sales grew 4.3%, weaker than anticipated 5.8% growth. Overall revenue climbed 10.6% to $819.4 million.