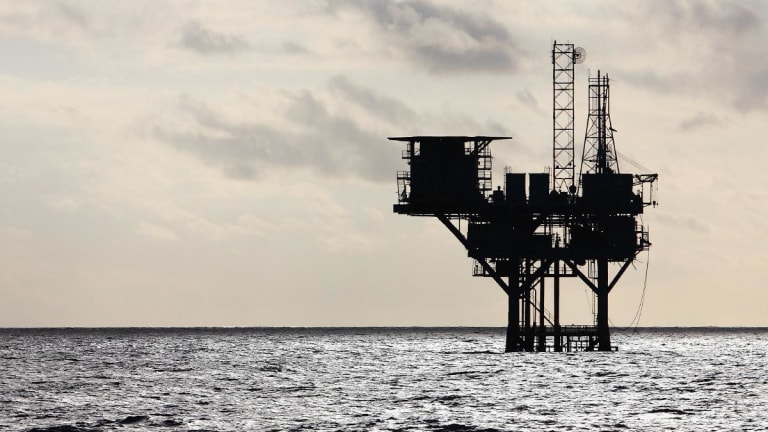 Global oil prices traded firmly higher Wednesday as U.S. drillers began evacuating staff from rigs in the Gulf of Mexico amid concern that a tropical depression could pick up speed over the coming days before landing on the Upper Texas Coast.
The National Hurricane Center in Miami warned late Tuesday that storm watches could be issue for the Gulf coast later today, as wind speeds and surge impact risks increase from a weather system currently heading westward over the norther Gulf of Mexico, which comprises around 17% of U.S. crude production.
Major U.S. drillers such as Chevron Corp. (CVX) - Get Chevron Corporation Report , as well as European rivals BP Plc (BP) - Get BP p.l.c. Sponsored ADR Report and Royal Dutch Shell (RDS.A) , have said they're removing non-essential staff from Gulf-located rigs in advance of the storm, while Exxon Mobil Corp. (XOM) - Get Exxon Mobil Corporation Report said its closely monitoring the depression's developments.
"While historically the Gulf of Mexico has been a significant proportion of total US production, this has fallen in recent years with the strong growth seen in shale- so far this year the Gulf of Mexico has made up around 16% of total US oil production, which compares to around 20% back in 2012," said ING's head of commodity strategy Warren Patterson.
Brent crude contracts for September delivery, the global benchmark, were seen $1.73 higher from their Tuesday close and changing hands at $65.89 per barrel in early European trading while WTI contracts for August, which are more tightly linked to U.S. gas prices, were marked $1.59 higher at $59.42 per barrel.
Oil prices were also supported by data from the American Petroleum Institute showed a bigger-than-expected decline of 8.1 million barrels in U.S. crude stocks last week, a figure that was well ahead of the Street consensus of a 2.9 million drawdown. The Energy Information Administration will publish official figures later this morning.
The API release followed reporting from Reuters that suggest Russia's state-owned oil compnay, Rosneft,  had pulled back significantly from its own production rate this month following the recent agreement with OPEC members to extend output cuts into the first quarter of next year.
OPEC members backed a nine-month extension to their collective production cuts, which were first agreed in December of 2018, following a tense meeting in Vienna last week that was ultimately swung by pressure from Saudi Arabia, which had pushed for the agreement following a weekend meeting with non-member ally Russia at the G20 Summit in Osaka.
Saudi Energy Minister Khalid al-Falih said the recent trade detente between the U.S. and China, as well record American production from its recently-tapped shale fields, meant global markets could weather an extension of the output cuts that will take 1.2 million barrels from the market each day until the first quarter of next year.
"I have no doubt in my mind that U.S. shale will peak, plateau and then decline like every other basin in history," Al-Falih said. "Until it does I think it's prudent for those of us who have a lot at stake, and also for us who want to protect the global economy and provide visibility going forward, to keep adjusting to it."