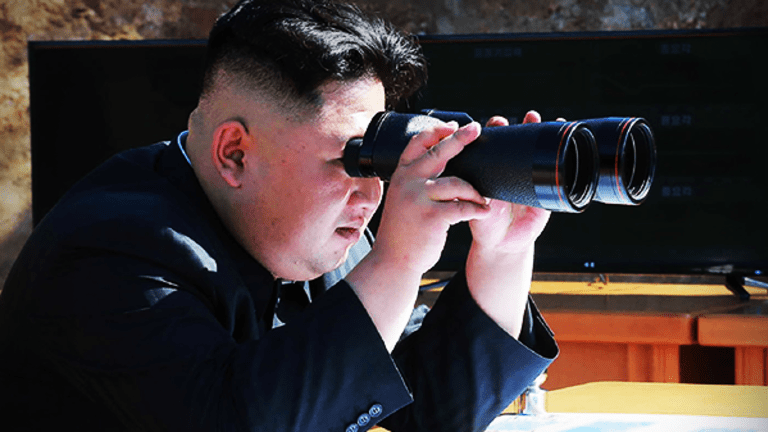 Dow Tanks, Fear Gauge Spikes as United Tech Slumps, North Korea Rattles Nerves
Stocks are lower as North Korea threat returns. Here's where stocks are trading by the afternoon session.
If you'd like to receive our daily "5 Things You Must Know" newsletter, please register here.
Stocks tumbled on Tuesday, Sept. 5, after United Technologies Corp. (UTX) - Get n.a. Report sealed a deal and investors reacted to new developments in the threat of conflict with North Korea. 
The Dow Jones Industrial Average was down 1.1%, or 230 points, the S&P 500 fell 0.8% and the Nasdaq slid 1%.
The Volatility Index, otherwise known as the fear index, spiked more than 38% to 14 by Tuesday afternoon. That was its largest daily increase since Aug. 10.
United Technologies was the worst performer on the Dow, down 5%, after agreeing to buy airplane parts maker Rockwell Collins Inc. (COL) . The defense company agreed to purchase Rockwell Collins for $23 billion, or $140 a share, in the biggest deal in the history of aerospace. Rockwell shareholders will receive $93.33 a share in cash and the remaining $46.67 in shares of United Technologies. The deal is expected to close in the third quarter of 2018.
"This acquisition adds tremendous capabilities to our aerospace businesses and strengthens our complementary offerings of technologically advanced aerospace systems," said United Technologies Chairman and CEO Greg Hayes.
The deal comes after a report recently suggested that a large activist hedge fund manager, possibly Third Point LLC's Dan Loeb, has been accumulating a big United Technologies stake and has put the avionics and industrial company on the defensive in an effort to have it spin off non-core businesses.
The threat of military action from North Korea spiked over the weekend break after the ready-to-strike authoritarian nation successfully conducted its sixth nuclear test on Sunday, Sept. 3. Worries over North Korea had receded in recent weeks as headlines became crowded by a terrorist attack in Charlottesville, Virginia, in mid-August and Hurricane Harvey's path of destruction across Texas and Louisiana last week. 
South Korea's defense ministry said Monday, Sept. 4, that North Korea is preparing the launch of another intercontinental ballistic missile, one that could be fitted with a nuclear warhead. North Korea launched its first two ICBM tests in July. 
The threat of conflict with North Korea dominated market action at the beginning of August after President Donald Trump warned of severe retribution should the authoritarian state proceed with any more missile tests or threats. Trump said that further threats would be met with "fire and fury like the world has never seen." 
North Korea had then threatened to launch missiles at the U.S. territory of Guam, and the country previously threatened "all-out war, wiping out all the strongholds of enemies, including the U.S. mainland."
Financials were the worst performers on Tuesday with Goldman Sachs Group Inc. (GS) - Get Goldman Sachs Group Inc. (The) Report shares taking a large chunk out of the Dow. Other laggards in the financial sector include Bank of America Corp.  (BAC) - Get Bank of America Corporation Report , Wells Fargo & Co. (WFC) - Get Wells Fargo & Company Report , JPMorgan Chase & Co. (JPM) - Get JP Morgan Chase & Co. Report , HSBC Holdings PLC  (HSBC) - Get HSBC Holdings plc. Report  and Citigroup Inc. (C) - Get Citigroup Inc. Report . The Financial Select Sector SPDR ETF (XLF) - Get Financial Select Sector SPDR Fund Report declined by 2%. 
Citigroup is a holding in Jim Cramer's Action Alerts PLUS Charitable Trust Portfolio. Want to be alerted before Cramer buys or sells C? Learn more now.
Worries over North Korea sent demand for safe-haven assets such as Treasuries skyrocketing. The yield on the 10-year note was down roughly 9 basis points to 2.068%, its lowest level since November 2016, while the 30-year bond was down to 2.69%. 
Crude oil prices were sharply higher on Tuesday as Hurricane Harvey recovery efforts continued. Heavy and prolonged rainfall knocked out a large number of refining operations in the region, setting off erratic moves in commodities markets. 
At least 4.4 million barrels per day of refining capacity was offline in the wake of the hurricane, based on company reports and Reuters estimates. Texas refines 5.5 million barrels of oil a day, the most of any state and roughly 30% of the U.S. refining capacity, while Louisiana accounts for around 18%.
West Texas Intermediate crude oil was up 2.9% to $48.66 a barrel on Tuesday, a three-week high.  
Low inflation could put a dent in the Federal Reserve's rate hike plans. Fed Governor Lael Brainard on Tuesday said that "it would be prudent to raise the federal funds rate more gradually" until higher inflation trends return. In comments to the Economic Club of New York, Brainard said that the central bank will have "substantially more data in hand in coming months" with which to evaluate inflation. The Fed had previously guided for one more rate increase before the end of the year and three over 2018. Brainard also offered her support for the Fed's plan to unwind its trillion-dollar balance sheet. 
The Senate and House are back in session on Tuesday after being in recess for around a month. Not only do they have to agree to raise the debt ceiling before a Sept. 29 deadline, but the Trump White House also has tasked them with a massive tax code overhaul. Treasury Secretary Steven Mnuchin has talked up the prospects of a major tax overhaul by the end of the year. Progress on both could move markets in the near term as day traders react to signs of progress or hints of dysfunction.
"They will have to juggle this full legislative agenda while dealing with North Korea, Russia-gate and Confederate Statue-gate," Michael Pento, president and founder of Pento Portfolio Strategies, in a note. "For a body of elected officials who have built their careers on doing nothing they have an enormous amount of legislation to sift through in an incredibly short amount of time."
The Deferred Action for Childhood Arrivals (DACA) program, an Obama-era program that shields immigrants who were brought to the country as minors and allows them to remain in the U.S, is being rescinded, U.S. Attorney General Jeff Sessions said today. In a press conference on Tuesday, Sessions called DACA unconstitutional and claimed some of those children have stolen American jobs, without presenting any evidence. Sessions did not answer reporters' questions.
Factory orders retreated at a slightly faster pace than anticipated in July. New orders for U.S.-manufactured products fell by 3.3%, its steepest decline in nearly three years, according to the U.S. Census Bureau. Orders for transportation equipment were among the largest drops -- orders for Boeing propped up the June number. 
Chicago-based Tronc Inc. (TRNC) , which owns the Chicago Tribune and Los Angeles Times among other newspapers, announced it was purchasing the New York Daily News. The Daily News, which has been owned by real estate developer Mort Zuckerman since 1993, was acquired by Tronc for just $1, plus the assumption of liabilities.
"The New York Daily News is a venerable New York City institution," Eric Gertler, co-publisher of the News, said in a statement. "We believe that under Tronc's leadership, the New York Daily News will maintain its tradition of excellence in journalism and continue to be a critical voice for millions of print and online readers."
Tronc CEO Justin Dearborn said acquiring the paper and its popular website would "provide us with another strategic platform for growing our digital business, expanding our reach and broadening our services for advertisers and marketers."
Insmed Inc. (INSM) - Get Insmed Inc. Report roared higher, up 122%, on Tuesday after announcing that its phase 3 trial for a lung disease treatment had achieved its primary endpoint. The therapy is designed for treatment-refractory nontuberculous mycobacterial lung disease caused by mycobacterium avium complex, a rare form of lung disease. Insmed will apply for accelerated approval in the U.S. 
Walt Disney Co. (DIS) - Get The Walt Disney Company Report was upgraded to outperform from market perform at Wells Fargo. Analysts changed their rating based on Disney's improved direct-to-consumer streaming strategies. Viacom Inc. (VIAB) - Get Viacom Inc. Class B Report was downgraded to market perform from outperform for its weak streaming strategy. 
Delta Air Lines Inc. (DAL) - Get Delta Air Lines Inc. Report moved lower on Tuesday after reducing a key passenger metric for its third quarter. The airline anticipates third-quarter passenger unit revenue to increase 2% to 3% over the third quarter. Delta had previously provided a range of 2.5% to 4.5% growth back in July. Delta said the "recovery in domestic close-in yields has been slower than anticipated." Operating margins were also lowered. 
See how North Korea's missile program has developed since it began.
Updated from 2:42 p.m. ET, Tuesday, Sept. 6. 
More of What's Trending on TheStreet: