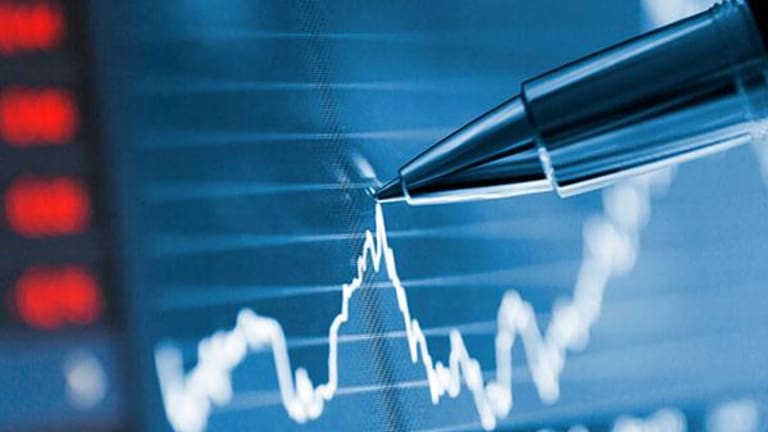 Traders Opt for Crowded Volatility Hedge
The amount of interest generated by traders in the iPath S&P 500 VIX Short Term Futures is thought-provoking because of the types of investors who are drawn to them.
The amount of interest generated by traders in the iPath S&P 500 VIX Short Term Futures (VXX) - Get iPath Series B S&P 500 VIX Short-Term Futures ETN Report is thought-provoking because of the two types of investors who are drawn to them.
The buyers are either people using it to insure their portfolio against a large market loss, since the VXX would increase a lot, or those taking the other side of the insured's trade, said Jim Haile, a vice president of product management at E-Trade, a New York-based brokerage company.
Trading the amount of volatility in the market has emerged to become a popular option for many investors. Since investors cannot trade VIX because it is merely a calculated number on the perceived amount of volatility, they deploy their money into VXX, which was traded more than any S&P 500 stock on Sept. 13 for the first time.
"You can trade ETNs (exchange-traded notes) such as VXX, which is a long position in a 30-day contract of VIX futures," he said. "Investors buying VXX are hoping that volatility will go up, which many view as a plausible scenario given the uncertainty that typically arises heading into a presidential election."
Investors are utilizing ETNs like VXX as a strategy to help insure their portfolios from large movements in the market. When the market declines, the VXX will rise. The other investors are willing to take the other position because "they like that there is a natural long-term downward bias to VXX since VXX is priced on futures, which ultimately must converge to the VIX spot price by the contract expiration," Haile said. "Since the VXX decays like an option, investors are wise to use VXX only for short-term strategies."
Use as a Short-Term Strategy
Investors must recognize that the VXX is not a "buy and hold" product and the best strategy in using it is for short-term protection against big downside moves in the market, said Ron McCoy, a portfolio manager on Covestor, the Boston-based online investing company, and chief investment officer at Freedom Capital Advisors in Winter Garden, Fla.
"We emphasize the word short-term, so think in terms of days and not months," he said.
While the popularity of volatility ETNs has grown exponentially, it can be problematic if too many people are in on the same trade, Haile said. "We are seeing this now with many people shorting VXX, that if an event were to trigger downside movement, VIX futures would spike and VXX would, too. All those with short positions will have to buy back their short positions, causing the futures and VXX to go up even more." 
Using the VXX to "hedge" your portfolio is unlikely to be the best solution, said McCoy.
"Since the volatility is so low, people can purchase put protection cheaply and therefore have more direct insurance against a negative move in the markets," he said. "Puts can also better target the particular stocks or ETFs that the individual owns."