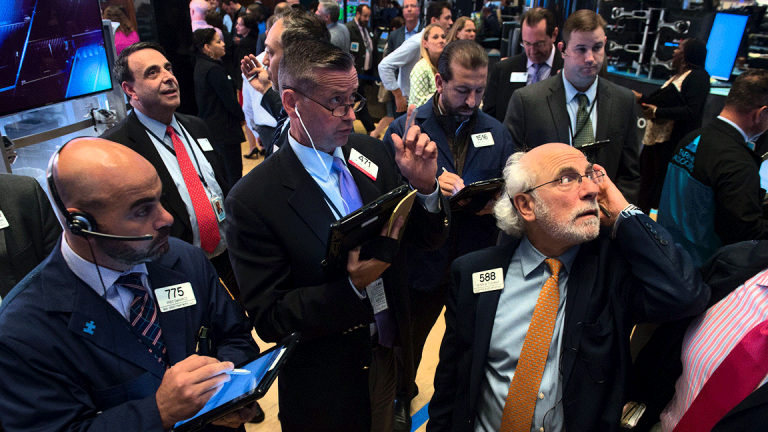 Tax Reform, Tariffs and Nike - 5 Things You Must Know Before the Market Opens
U.S. stock futures suggest Wall Street will open higher on Wednesday, Sept. 27, as investors await details of U.S. tax reform from the Trump administration.
Here are five things you must know for Wednesday, Sept. 27:
1. -- U.S. stock futures suggested Wall Street would open higher on Wednesday, Sept. 27, as investors awaited details of U.S. tax reform from the Trump administration.
Donald Trump is expected to lay out "new details" for a tax overhaul in a speech on Wednesday. Corporate tax rates could be cut to 20% from 35% if the plan is adopted, while individuals would have their top tax rate capped at 35%. Companies also would be able to write off capital spending plans for the next five years, according to Bloomberg.
On Tuesday, Sept. 26, U.S. stocks closed mixed after Federal Reserve Chair Janet Yellen tiptoed the line between dove and hawk. The S&P 500 rose 0.01% and the Nasdaq gained 0.15%. The Dow Jones Industrial Average fell 0.05%, its fourth-straight down day.
Yellen said at a conference Tuesday that the Fed was puzzled that inflation remained so low but said she thought inflation would eventually reach the central bank's 2% target. Yellen also said the Fed should take care not to raise interest rates too slowly, keeping the possibility of an interest rate hike in December alive.
The economic calendar in the U.S. on Wednesday includes Durable Goods Orders for August at 8:30 a.m. ET, and Oil Inventories for the week ended Sept. 22, at 10:30 a.m.
Minneapolis Federal Reserve Bank President Neel Kashkari is scheduled to give welcoming remarks at a higher education conference in Minneapolis at 9:15 a.m., and St. Louis Fed President James Bullard will discuss the U.S. economy and monetary policy at Truman State University in Kirksville, Miss., at 1:30 p.m.
Earnings reports are expected Wednesday from Jabil Inc. (JBL) - Get Free Report , Pier 1 Imports Inc. (PIR) - Get Free Report and Progress Software Corp.  (PRGS) - Get Free Report .
If you'd like to receive the free "5 Things You Must Know" newsletter, please register here.
2. -- A ruling from the U.S. Commerce Department will impose duties of almost 220% on Bombardier Inc.'s undefined C-Series jets after a complaint from rival Boeing Co. (BA) - Get Free Report  that the Canadian compay receives unfair government support.
The 219.63% duty on new commercial jets made by Bombardier and sold in the United States would effectively triple the $80 million base cost of the C-Series and likely lead to its scrapping. Montreal-based Bombardier called the ruling "absurd" and vowed to challenge it through the International Trade Commission.
"The U.S. values its relationships with Canada, but even our closest allies must play by the rules," said Commerce Secretary Wilbur Ross in a statement. "The subsidization of goods by foreign governments is something that the Trump administration takes very seriously, and we will continue to evaluate and verify the accuracy of this preliminary determination."
Boeing's complaint stems from the sale of the jets last year to Delta Air Lines Inc. The U.S. plane maker has complained the 110-to-130 seat Bombardier aircraft were dumped below cost in the U.S. market last year while the Canadian company benefited from unfair subsidies, Reuters reported.
Boeing shares rose 0.4% in premarket trading.
3. -- Nike Inc. (NKE) - Get Free Report  fell 3.3% in premarket trading on Wednesday after the athletic apparel and sneaker company reported fiscal first-quarter earnings that topped Wall Street forecasts but revenue came up short.
Nike earned 57 cents a share in the quarter, higher than analysts' expectations of 48 cents. Revenue of $9.07 billion was up from last year's $9.06 billion but lower than Wall Street's estimates for $9.09 billion.
On a call with analysts, Nike CEO Mark Parker said revenue in the quarter was driven by Air Max sneakers and that new products under that collection will be released "soon." 
Gross margins fell 180 basis points in the first quarter due, in part, to "a higher mix of off-price sales," Nike said.
Micron Beat on Earnings - Volatility is Muted - Here's the Trade
4. -- Germany's Siemens AG (SIEGY) and France's Alstom SA (ALSMY)  agreed to combine their rail divisions in a €7.4 billion $$8.7 billion) deal designed to see off competition from China.
The tie-up, which will give Siemens just a shade more than 50% control of the combined group, still needs regulatory and shareholder approval, but nonetheless represents a major breakthrough in Franco-German industrial relations just as the two countries are attempting to form a cohesive position on European political leadership.
The renamed Siemens Alstom will be listed in Paris, the companies said, although Siemens Mobility, a division of the German company, will remain in Berlin. Alstom CEO Henri Poupart-Lafarge will lead the combined group, which is expected to have around €15 billion ($18 billion) in annual sales and €1.2 billion in earnings and will be better positioned to compete with industry leader CRRC Corp. of China, while Siemens will be given the right to name the new chairman.
5. -- Shares of Micron Technology Inc. (MU) - Get Free Report  rose 5.3% in premarket trading after the chipmaker reported better-than-expected fiscal fourth-quarter earnings and its outlook for the fiscal first quarter topped expectations.
Micron estimated first-quarter revenue of $6.1 billion to $6.5 billion, higher than expectations of $6 billion. The company said earnings should come in at $2.09 and $2.23 a share, above forecasts of $1.82.
This story has been updated from 6:09 a.m. ET
More of What's Trending on TheStreet: