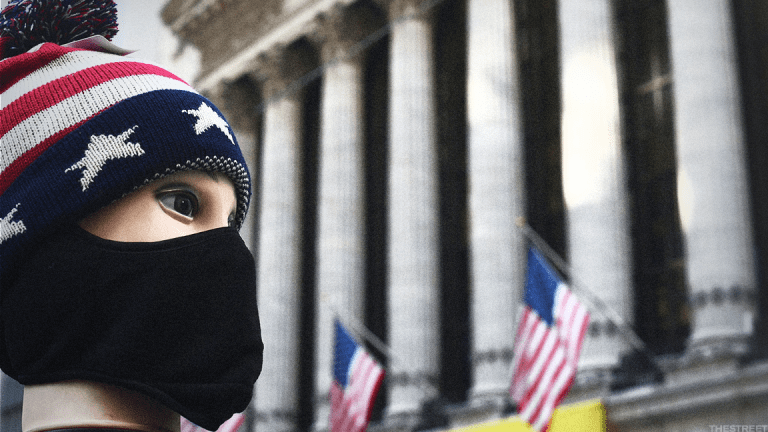 Tariffs, Cigna, Express Scripts, Snap and Elon Musk - 5 Things You Must Know
U.S. stock futures are higher Thursday, as investors react to reports the U.S. may exempt certain countries from its impending trade tariffs; Cigna buys Express Scripts; Snap to lay off engineers.
Here are five things you must know for Thursday, March 8: 
1. -- Stocks Trade Mixed
U.S. stock futures traded higher Thursday, March 8, as investors reacted to reports that the U.S. may exempt certain countries from its impending trade tariffs and largely shrugged off a warming from China that it could make a "justified and necessary response" should a trade war between the world's two biggest economies escalate.
Contracts tied to the Dow Jones Industrial Average rose 29 points, while those linked to the broader S&P 500 rose 7.25 points.
White House trade spokesman Peter Navarro told reporters Wednesday that Donald Trump was planning "a provision which will exclude Canada and Mexico until the Nafta thing is concluded one way or another," suggesting temporary exemptions within the existing treaty for his planned 25% tariff on imported steel and 10% levy on non-American aluminum, which is likely to be formalized by the end of the week, perhaps even as soon as Thursday.
But reminded investors that any decision Trump ultimately makes will have echoes around the global economy.
"A trade war is never the right solution," said China's Foreign Minister Wang Yi. "In a globalized world, it is particularly unhelpful, as it will harm both the initiator and the target countries. In the event of a trade war, China will make a justified and necessary response."
Stocks fell on Wednesday, March 7, after Gary Cohn, the head of Donald Trump's National Economic Council, resigned and investors braced for what could be an escalating global trade war.
The Dow Jones Industrial Average finished down 82 points, or 0.33%, to 24,801 and the S&P 500 declined 0.05%. The Nasdaq rose for a fifth straight day, closing up 0.33%.
The economic calendar in the U.S. on Thursday includes weekly Jobless Claims at 8:30 a.m. ET.
Earnings are expected Thursday from Kroger Co. (KR) - Get Free Report , Marvell Technology Group Ltd. (MRVL) - Get Free Report , Navistar International Corp. (NAV) - Get Free Report and Hovnanian Enterprises Inc. (HOV) - Get Free Report .
If you'd like to receive the free "5 Things You Must Know" newsletter, please register here.
2. -- Cigna Buys Express Scripts
Cigna Corp. (CI) - Get Free Reportreached a deal to buy pharmaceutical benefit manager Express Scripts Holding Co. (ESRX)  for $67 billion in cash and stock, and $15 billion in debt. 
The merger is more of a traditional healthcare combination as opposed to retailer CVS Health Corp.'s (CVS) - Get Free Report nearly $70 billion deal for insurer Aetna Inc. last year.
Cigna's deal consists of $48.75 in cash and 0.2434 a shares of stock of the combined company for each Express Scripts share. The transaction values Express Scripts at $96.03 a share, which is a premium of almost 31% from Express Scripts' closing price on Wednesday of $73.42.
Express Scripts shares were rising 19% in premarket trading to $87.36. Cigna shares fell 4.8% to $185.
3. -- Costco's Sales Jump but Margins Are Compressed
Warehouse king Costco Wholesale Corp. (COST) - Get Free Report used its notorious cut-rate pricing on bulk food and surprising selection of higher-end items to post a same-store sales increase of 8.4% for the holiday season quarter.
Earnings of $1.59 a share for the quarter ended Feb. 18, topped forecasts of $1.47.
However, Costco shares were down 1% in premarket trading on Thursday, likely for several reasons, wrote TheStreet's Cathaleen Chen.
First, what looked like a massive earnings beat was actually an earnings miss as the results included a lift of 17 cents a share from the new U.S. tax law. Further, like other retailers such as Target Corp. (TGT) - Get Free Report and Walmart Inc. (WMT) - Get Free Report that battled Action Alerts Plus holding Amazon.com Inc. (AMZN) - Get Free Report online during the holidays, gross profit margins compressed. Costco's gross profit margin fell slightly from the prior year to 10.98%.
4. -- Snap to Lay Off About 100 Engineers
Snap Inc. (SNAP) - Get Free Report is planning to lay off about 100 software developers in what would be the company's largest round of cuts to date.
The layoffs will affect less than 10% of the company's engineering team, according to a report from Cheddar, which cited sources familiar with the matter. The company laid off a few dozen employees in its hardware and recruiting divisions in October 2017, and two dozen more in January, according to Cheddar.
Snap shares were up 1% in premarket trading on Thursday.
Snap ended its first year as a public company with a widely criticized redesign that was meant to broaden its audience. The new look garnered backlash from its users -- including social media star Kylie Jenner -- resulting in a petition to reverse the changes and the promise of an update in the coming weeks.
5. -- Two Big Tesla Shareholders Back Musk's Pay Package
Two of Tesla Inc.'s (TSLA) - Get Free Report largest shareholders are supporting a plan to award Elon Musk a compensation package valued at $2.6 billion, a show of confidence in the electric carmaker's bid to keep its visionary CEO around for the long haul, Bloomberg reported.
Baillie Gifford & Co. and T. Rowe Price Group Inc., which combined own about 14% of Tesla stock, indicated to Bloomberg that they'll vote in favor of the board's proposal at a special meeting on March 21.
The pay package has been criticized as too costly by proxy adviser Glass Lewis & Co., which has recommended that investors reject the plan, Bloomberg noted.
This article has been updated to include confirmation of Cigna's acquisition of Express Scripts.