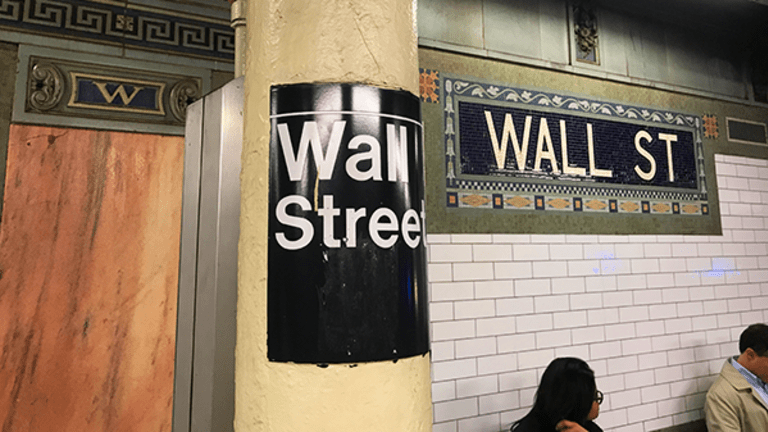 Stocks Tread Water as Volatility Reaches Lowest Level in 24 Years
Volatility sinks to its lowest level since Bill Clinton held the Oval Office, making for a listless and lethargic beginning to the new week.
Volatility sank to its lowest level since Bill Clinton held the Oval Office, making for a listless and lethargic beginning to the new week. 
The S&P 500 rose slightly to a new record close of 2,399.38.  The Dow Jones Industrial Average added 0.03%. The Nasdaq also finished up 0.03% to a new record close of 6,102.
The Volatility Index, often referred to as the fear index, declined by 7.9% to 9.74 on Monday. The index reached an intraday low of 9.70 earlier in the session, its lowest level since 1993. 
The S&P 500 has fallen or risen by 1% or more only three times since the beginning of the year. The benchmark index has averaged 4.25 days of swings of more than 1% every month since 1950, according to CFRA. 
The S&P 500 and Nasdaq notched new intraday highs shortly after market open. Jim Cramer laid out the powerful themes driving this bull market over on our premium site Real Money. Get his insights with a free trial subscription to Real Money.
"The markets have become 'comfortably numb' to almost any news item," said Paul Nolte of Kingsview Asset Management. "Whether it's the French election (yawn), the promise of higher interest rates (really!) or that commodity prices are falling hard (again), the markets just keep pushing ever higher ignoring what in the past would be market moving events. The drug of choice might be better-than-expected earnings or the hope of a better overall tax plan."
President-elect Macron won the French runoff election on Sunday in a decisive victory with 66% of the vote compared to Marine Le Pen's 34%. Macron had run on a platform of improving relations within the European Union and making the country more competitive in the global market.
Far-right nationalist Le Pen had called for stricter immigration laws and rejected France's position in the EU. Le Pen had frequently been compared to Donald Trump throughout the campaign. A win for Le Pen would have destabilized France's position in the EU and made the future of the bloc uncertain. 
"The results are very positive from an economic standpoint and also bode well for the prospect of improving cross-border relationships within the eurozone," Todd Hedtke, chief investment officer, Allianz Investment Management -- US, wrote in a note. "From a capital markets perspective, this was the favored outcome and different from the Brexit vote or the U.S. election in that the polls had it right. Overall, the outcome of this event reduces uncertainty in Europe and paves the way for positive developments in the future."
European markets didn't rally, however, as the results were largely predicted. Polls heading into Sunday's vote indicated Macron had a wide lead over Le Pen. France's CAC 40 fell 0.9% on Monday, Germany's DAX declined by 0.12%, and the FTSE 100 in London slipped 0.09%. 
The Federal Reserve should be careful to now go too slow in raising rates, Cleveland Fed President Loretta Mester warned on Monday. In comments at the Chicago Council on Global Affairs, Mester said "if we delay too long in taking the next normalization step ... we could risk a recession." The Fed opted to leave rates unchanged at its May meeting. The chances of a rate hike in June have grown in recent days. 
Kate Spade (KATE) surged 8% after agreeing to be acquired by Coach (COH) . The handbag brand offered to purchase Kate Spade for $18.50 a share in cash, a deal valued at $2.4 billion and which represented a 9% premium to Kate Spade's closing price on Friday. The deal is expected to close in the third quarter and result in $50 million in synergies.
Straight Path Communications (STRP) rose 32% after confirming it had received a better offer than its current merger agreement with AT&T (T) - Get AT&T Inc. Report . Straight Path confirmed the offer of $184 a share, or $3.1 billion, from an unnamed "multi-national telecommunications company." AT&T and Straight Path had agreed to a buyout offer of $95.63 a share in April. AT&T can now increase its previous bid. 
Horizon Pharma (HZNP) - Get Horizon Therapeutics Public Limited Company Report slumped 34% following weaker-than-expected quarterly results and after announcing plans to purchase River Vision Development  for $145 million. Its quarterly loss widened to 56 cents a share from 28 cents in the year-ago quarter. Adjusted earnings of 21 cents a share came in 2 cents below estimates. Sales also fell below analysts' expectations.
CEO Timothy Walbert said the company's primary care business unit "performed well below our expectations" over the quarter, largely tied to a change in the contracting model with pharmacy benefit managers. 
Newell Brands (NWL) - Get Newell Brands Inc Report climbed 11% on a better-than-expected quarter. Adjusted profit of 34 cents a share came in a nickel above estimates, while the company also beat on the top-line. Newell anticipates full-year earnings of $3 to $3.20 a share, above consensus of $2.89 a share. Its quarterly dividend was also raised 21% to 23 cents a share. 
Jim Cramer and the AAP team trimmed their stake in Newell Brands ahead of the company's earnings report. Find out more with a free trial subscription to Action Alerts PLUS.
Sinclair Broadcasting (SBGI) - Get Sinclair Broadcast Group, Inc. Class A Report on Monday said it secured a deal to acquire Tribune Media (TRCO) - Get Tribune Media Co. Class A Report. The deal, which will need Department of Justice approval to close, calls for Sinclair to acquire Tribune in a cash-and-stock deal valued at $43.50 a share. 
Trending news on TheStreet:
Even One of the World's Richest People Thinks Amazon Is an Indestructible Beast
Here's a Big Clue That Warren Buffett Is Very Bullish on Bank of America's Future
Why Tesla's Explosive Stock Price Deserves to Keep Plummeting
Cocktails & Cramer
Join Jim Cramer on May 23 for an exclusive party at Bar San Miguel, his Brooklyn tavern. You'll get to watch a screening of Mad Money, after which Jim will arrive fresh off of the CNBC set to mingle, pose for photos and answer your investing questions. Participants will enjoy dinner, drinks, an autographed copy of Jim's book Get Rich Carefully and a one-year membership to Action Alerts PLUS, Jim's club for investors. (Current AAP members will receive one extra year of membership for free.)
When: Tuesday, May 23, 6 p.m.-9 p.m. EDT
Where: Bar San Miguel, 307 Smith St., Brooklyn, N.Y.
Cost: $375 per person
Space is very limited, so click here to reserve your ticket to this exclusive event today.