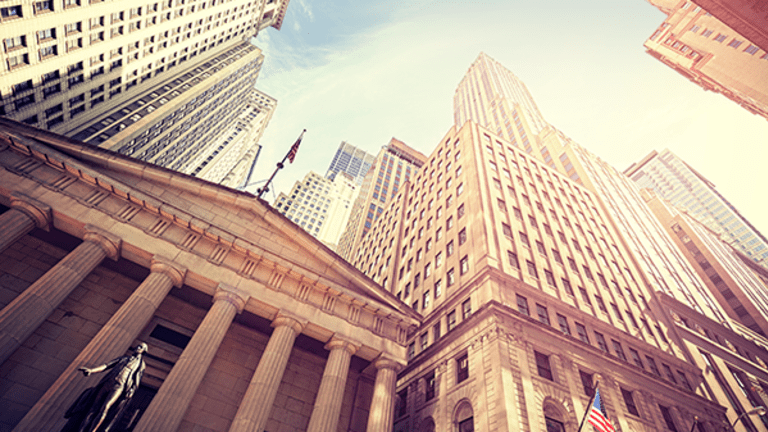 Stocks Climb After ECB Lifts Growth Forecasts and Holds Rates Steady
Stocks rise, though are off earlier highs, Thursday morning after the European Central Bank raises its growth forecasts and maintains its loose monetary policy.
Stocks rose, though were off earlier highs, Thursday after the European Central Bank raised its growth forecasts and maintained its loose monetary policy.
The S&P 500 was up 0.04%, the Dow Jones Industrial Average rose 0.1%, and the Nasdaq increased 0.03%.  
The ECB now sees full-year consumer prices rising by 1.7%, up from a target of 1.3% set in December. Forecasts for full-year GDP growth were also increased to 1.8% from 1.7%.
The central bank opted to leave interest rates unchanged at its meeting on Thursday. The main refinancing rate was held at 0%, while its marginal lending facility rate remained at 0.25%. The ECB said that it anticipates rates to hold "at present or lower levels for an extended period of time" and to remain low "well past the horizon" of its current bond-buying program. The central bank previously said it would reduce its monthly bond purchases to 60 billion euros in April from the current level of 80 billion, though reiterated on Thursday that it would increase its current program if needed.
ECB President Mario Draghi maintained a dovish stance in a press conference following the announcement. Draghi said the central bank was monitoring an increase in inflation and that sentiment readings indicated a recovery in the region had begun to pick up speed. 
European markets were mixed on Thursday. The CAC 40 in France inched 0.06% higher, the DAX in Germany rose 0.14%, and the FTSE 100 in London decreased 0.4%. 
Crude oil extended a recent selloff to fall below $50 a barrel for the first time since December. Commodities have been under pressure since a weekly report from the Energy Information Administration on Wednesday showed a much larger build in domestic stockpiles than anticipated. U.S. supplies have risen for the past nine weeks in a row and are now at record highs of 528.4 million barrels. 
West Texas Intermediate crude was down 1.9% to $49.33 a barrel on Thursday but was off earlier lows. A day earlier, crude clocked its sharpest decline in 13 months, falling more than 5%. Energy stocks were the worst performers on markets Thursday. 
Marathon Oil (MRO) was one of the few oil and gas companies in the green, climbing 4% after agreeing to unload its Canadian business to Royal Dutch Shell (RDS.A) and Canadian Natural Resources (CNQ) . Marathon said the $2.5 billion deal will simplify its portfolio and lead to lower costs. 
U.S. jobless claims rose in the past week, though remained at multi-year lows. The number of new claims for unemployment benefits rose by 20,000 to 243,000. The less-volatile, four-week average increased by 2,250 to 236,500. 
Import and export prices rose in February, according to the Bureau of Labor Statistics. Import prices increased 0.2%, while exports rose 0.3%. Import prices increased by 4.6% over the past 12 months, the fastest rise in roughly five years. 
Wall Street celebrates its eighth anniversary in a bull market on Thursday, its second-longest since World War II. On March 9, 2009, less than two months into the Obama presidency, the blue-chip Dow dropped to 6,547, a level not seen since April 1997. The S&P 500 followed suit, plummeting below 700 to a 13-year low. Since then, the Dow has more than tripled in value, and the S&P 500 has gained nearly 250%.
"The Dow Industrials are up nearly three-fold from the lows of the financial crisis in 2009, bolstered by Fed-driven liquidity, multiple expansion and, most recently, accelerating earnings growth," U.S. Bank Wealth Management's Terry Sandven told TheStreet. "Low interest rates, benign inflation and higher earnings have resulted in higher stock prices."
Investors were also looking ahead to Friday's release of the U.S. jobs report for February. The nonfarm payrolls report should be enough for the Fed to determine whether to make a move higher at their meeting next week. Fed members have turned hawkish in recent months, calling the March meeting a "live" one and telegraphing more than one rate hike this year. The Federal Open Market Committee, the group that decides when interest rates will move, next meets from March 14 to 15. The chances of a 25-basis-point hike next week sits at 88%, according to CME Group fed funds futures. A rate hike would put the new fed funds rate at 0.75% to 1%. 
Staples (SPLS) dropped 3% after reporting a disappointing fourth quarter. The stationery retailer reported a net loss of 94 cents a share after seeing profit of 20 cents a year earlier. Adjusted earnings of 25 cents a share missed consensus by a penny. Revenue of $4.6 billion fell short of an estimated $5 billion.  
Signet Jewelers (SIG)   added 5% despite reporting weaker-than-expected quarterly sales. The owner of Kay Jewelers reported fourth-quarter adjusted earnings of $4.03 a share, 3 cents higher than expected. Same-store sales slid 4.5%, a sharper drop than a targeted 4.2% decline. CEO Mark Light said the company is "adapting to a challenging retail environment and weak mall traffic." Signet anticipates full-year same-store sales to decline in the low-to-mid single digits, falling short of an expected increase of 1.9%. 
Akzo Nobel (AKZOY) , the Dutch maker of paints and chemicals, rejected an unsolicited $22.1 billion takeover bid from PPG Industries (PPG) . Akzo Nobel said Thursday it would look at selling or floating one of its key business units in order to boost investor returns. Akzo Nobel said PPG offered to buy it for around €83 a share ($87.66) in cash and stock, a 29% premium to Akzo Nobel's closing price on Wednesday. Akzo Nobel rejected the PPG bid, but said it would look at strategic alternatives, including the sale of its specialty chemicals business, which had €4.8 billion in sales last year.
AIG (AIG) rose 2% after CEO Peter Hancock announced his resignation amid activist investor pressure. Hancock has agreed to remain at the company until a successor is found. The executive assumed the role in September 2014. In a statement, Hancock said, "Without wholehearted shareholder support for my continued leadership, a protracted period of uncertainty could undermine the progress we have made and damage the interests of our policyholders, employees, regulators, debtholders, and shareholders." 
Sears (SHLD)  jumped 6% after closing its deal to sell its Craftsman brand to Stanley Black & Decker (SWK) . Stanley expects the Craftsman brand to increase its fiscal earnings by 8 cents a share. 
Tailored Brands (TLRD) crumbled 30% on Thursday after reporting a wider-than-expected loss and declining sales over its fourth quarter. Comparable-store sales declined by 5.2% for its K&G brand and 2.2% for its Jos. A Bank locations. CEO Doug Ewert said the retailer suffered from "soft traffic across our retail brands" over the quarter. 
You're Invited...
Wall Street Goes to Washington: In the first of a series of conversations with the President's economic advisors, acclaimed author and columnist Michael Wolff will sit down with Anthony Scaramucci, co-founder of private equity firm Skybridge Capital, to discuss the Trump administration, his thoughts on policies and regulations under debate and his outlook for the next four years. Join us for this cocktail party on Monday, March 27 at The Metropolitan Club in New York. The event is free, but seating is limited and reservations are required. For more information or to RSVP, email events@thestreet.com.