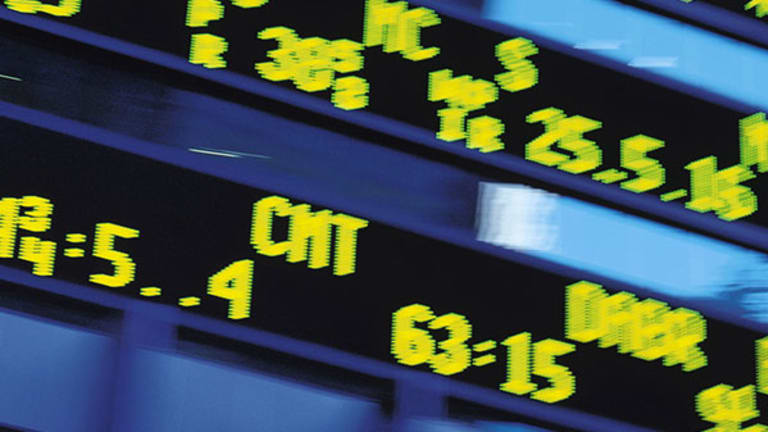 Goldman Sachs' Slide Leads Dow Lower; Bank of America Slips
Stocks are lower on Tuesday after Goldman Sachs' first-quarter earnings come up short.
Stock fell Tuesday after Goldman Sachs' (GS) - Get Goldman Sachs Group Inc. (The) Report  first-quarter earnings came up short.
The S&P 500 fell 0.29%, the Dow Jones Industrial Average dropped 0.49%, and the Nasdaq fell 0.28%. The health care sector was a laggard.
Goldman Sachs reported first-quarter profit and revenue that came in below Wall Street's expectations. The stock declined 4.1%, the drag taking more than 60 points off the Dow. A decline in stock trading revenue hurt the bank as it reported earnings of $5.15 a share on revenue of $8.03 billion. Analysts expected the company to report earnings of $5.31 a share on revenue of $8.45 billion.
Bank of America's (BAC) - Get Bank of America Corporation Report first-quarter profit topped analysts' forecasts. The bank's shares fell 0.3% after the bank posted earnings of 41 cents a share, beating estimates of 35 cents. Revenue of $22.25 billion topped analysts' estimates of $21.61 billion and was higher than a year earlier. Results at the bank were buoyed by rising interest rates.
U.S. housing starts in March fell 6.8% to a seasonally adjusted annual rate of 1.22 million, which came in below FactSet estimates of 1.246 million. Housing permits rose 3.6% to a 1.26 million rate.
Industrial production increased 0.5% in March, matching estimates. The increase from 0.1% in February was mostly due to an 8.6% rise in output of utilities as the weather adjusted to more normal, colder temperatures, the Federal Reserve said. 
Wall Street continued to monitor tensions between the U.S. and North Korea. U.S. Vice President Mike Pence assured Japanese Prime Minister Shinzo Abe on Tuesday that the U.S. stands "100%" behind its anchor ally in Asia in working to defuse risks from North Korea's nuclear program, the Associated Press reported.
Stocks in London fell 2.2% Tuesday after U.K. Prime Minister Theresa May called for an early general election in order establish a solid mandate for the country's exit from the European Union.
Netflix (NFLX) - Get Netflix Inc. Report  shares fell 2% after the streaming company reported earnings of 40 cents a share, beating estimates. Revenue of $2.64 billion matched analysts' forecasts. About 1.4 million U.S. subscribers and 3.5 million international subscribers were added in the first quarter, bringing Netflix's total bases to 50.9 million and 47.9 million, respectively. Analysts expected 1.5 million U.S. additions and 3.7 million international streaming adds. For the second quarter, Netflix forecast it would add 600,000 U.S. subscribers in the second quarter and 2.6 million international subscribers, topping forecasts.
Shares of United Continental (UAL) - Get United Airlines Holdings Inc. Report  rose 1.8% on Tuesday after the airline reported first-quarter earnings of 41 cents a share, beating estimates of 38 cents, while revenue of $8.4 billion matched expectations. The company said first-quarter earnings fell about 70% from a year earlier.
In United's earnings release, CEO Oscar Munoz continued to apologize for an incident more than a week ago when a passenger was forcibly dragged off a United flight. "It is obvious from recent experiences that we need to do a much better job serving our customers," Munoz said.
UnitedHealth Group (UNH) - Get UnitedHealth Group Incorporated (DE) Report shares rose almost 1% after the health insurer reported first-quarter revenue of $48.7 billion and adjusted earnings of $2.37 a share. It also raised its annual revenue outlook to $200 billion.
Johnson & Johnson (JNJ) - Get Johnson & Johnson Report shares fell 3.3% after the company reported earnings of $1.83 a share, beating Wall Street estimates. Revenue of $17.77 billion came in below expectations.
Harley-Davidson (HOG) - Get Harley-Davidson Inc. Report  reported first-quarter earnings Tuesday of $1.05 a share, surpassing Wall Street forecasts of $1.02. Revenue came in at $1.33 billion, slightly missing analysts' projections of $1.35 billion. Shares fell 3.7% as Harley-Davidson only reaffirmed its shipment guidance for the year of flat to down modestly.
GNC (GNC) - Get GNC Holdings, Inc. Class A Report  shares jumped more than 22% after the company reported earnings of 35 cents a share, beating FactSet estimates of 35 cents. Revenue of $644.8 million also came in above expectations. 
Shares of Cabela's (CAB)  climbed almost 7% after Capital One Financial (COF) - Get Capital One Financial Corporation Report said it would purchase the company's credit card portfolio. Synovus Financial said it will buy Cabela's banking assets, so now the company can move forward with its purchase of Bass Pro Shops.