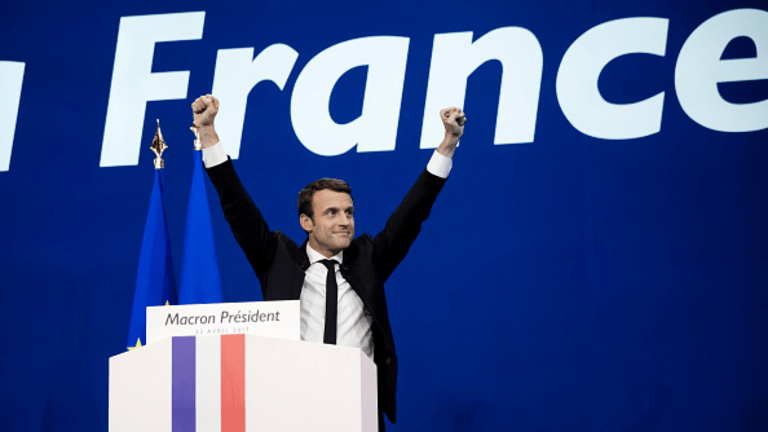 Stocks rocketed higher on Monday, enjoying their biggest gains since the beginning of March, after centrist Emmanuel Macron won the first round of the country's presidential elections over far-right Marine Le Pen. 
The S&P 500 was up 1%, the Dow Jones Industrial Average added 1.1%, or 216 points, and the Nasdaq climbed 1.1%. The Nasdaq opened at a new record on Monday, while gains pulled the three indexes into the green for April. 
Macron and Le Pen will proceed to a presidential runoff after winning 23.75% and 21.53% of the weekend vote, respectively. The run-off for the country's presidency will be held on May 7. Polls suggest Macron holds at least a 20-point lead over Le Pen heading into the second round.
Macron's first-round win was seen as a victory for the European Union with the candidate likely to keep France in the bloc. Anti-European Le Pen would likely negotiate an exit from the EU, similar to what the United Kingdom is currently undergoing. 
European markets were also sharply higher on Macron's win. The CAC 40 in France surged 4.2%, putting stocks at a nine-year high, while Germany's DAX added 3%, and the FTSE 100 in London rose 1.8%. BNP Paribas (BNPQY) , France's biggest lender, rose more than 10% on French markets Monday, while Credit Agricole (CRARY) and Societe General (SCGLY)  also posted healthy gains. U.S.-listed shares of Deutsche Bank (DB) - Get Deutsche Bank AG Report rallied 10%. The U.S.-listed iShares MSCI France Index ETF (EWQ) - Get iShares MSCI France ETF Report roared more than 5% higher. 
"Relief: That is the word that basically describes the sharp moves in the markets today," said Fawad Razaqzada, market analyst at Forex.com, in a note. "The threat that a Eurosceptic leader will preside over France has therefore diminished sharply. However, the prospects of an unlikely victory for Le Pen remains and that may dampen the enthusiasm expressed by investors today."
Halliburton (HAL) - Get Halliburton Company (HAL) Report added 1% after exceeding analysts' quarterly estimates on strength in its North American activity to start the year. The energy services company reported a loss of 4 cents a share over the quarter, far narrower than a loss of $2.81 a share a year earlier. Adjusted earnings of 4 cents a share came in a penny higher than expected. Revenue climbed 1.4% to $4.28 billion, largely in-line with estimates. Company President Jeff Miller said he is "excited by the activity I see in North America and confident in our ability to manage through any challenges in the international markets."
Toymaker Hasbro (HAS) - Get Hasbro, Inc. (HAS) Report climbed 4% following an improved first quarter. Net income of 54 cents a share grew from 38 cents a share in the year-ago quarter. Analysts anticipated earnings to hold flat at 38 cents a share. Revenue in the U.S., which accounts for more than half of the top-line, rose 2% to $451.6 million thanks to growth in gaming sales. Overall revenue of $849.7 million exceeded analysts' target of $818.3 million. 
Kimberly-Clark (KMB) - Get Kimberly-Clark Corporation (KMB) Report  reported a rise in net income, though adjusted earnings and sales came in below Wall Street estimates. First-quarter net income rose to $1.57 a share from $1.50 a share in the same quarter a year earlier. Adjusted earnings of $1.53 a share missed consensus by a penny. Sales came in flat at $4.48 billion, falling short of a rise to $4.49 billion. Kimberly-Clark anticipates full-year sales growth of just 1% to 2%. 
So far, one-fifth of S&P 500 companies have reported on their quarters. Of those, 77% have beat earnings estimates, above the average beat of 64%. Analysts anticipate blended earnings growth of just over 11%, according to Thomson Reuters.
Amazon (AMZN) - Get Amazon.com, Inc. Report added 1% after Wedbush Securities issued a bullish note on the stock. Analyst Michael Pachter increased his price target to $1,250, the highest of any Wall Street analyst, arguing that the company will likely see "substantial earnings growth." In a note, Pachter said the company "appears intent upon growing annual profits (with some quarterly volatility), which we expect to continue as the company invests in growth." Pachter also said Amazon Web Services will likely drive the bulk of growth. The online retailer is set to report on its recent quarter on Thursday. 
Immune Pharmaceuticals (IMNP) slumped 5% on Monday after announcing restructuring plans and receiving a warning from the Nasdaq that it was non-compliant with listing requirements after failing to file its 10-K for 2016 on time. Immune said on Monday that it plans to absorb its oncology unit into its Cytovia business, which could then be spun off into a separate company. 
Becton Dickinson (BDX) - Get Becton, Dickinson and Company Reportreached an agreement to acquire medical technology peer C.R. Bardundefined  for $24 billion, the largest-ever deal for the 120-year-old buyer. Shares of Bard rose nearly 20%. 
Congress will scramble to avoid a government shutdown this week by pushing through a continuing resolution. Negotiations will likely intensify on Friday ahead of the deadline at midnight, April 28. Office of Management and Budget Director Mick Mulvaney has said that money for President Trump's proposed border wall must be part of the spending bill Congress will look to pass, a major conflict for Democrats in opposition of the expensive project.