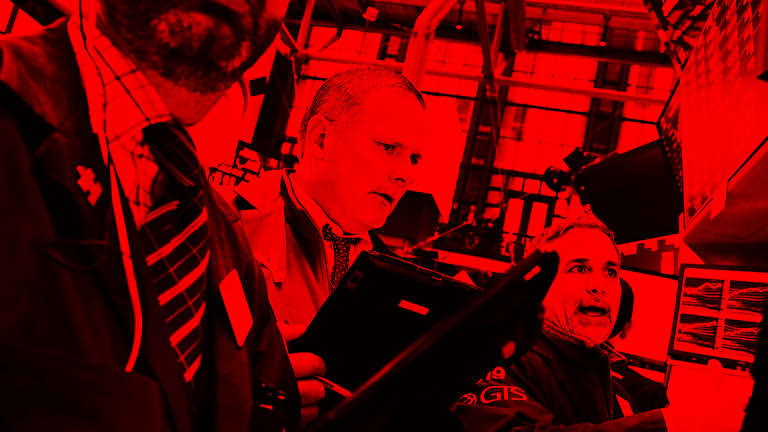 Stocks Slump, Steel Tariffs, Vista Outdoor and Equifax - 5 Things You Must Know
U.S. stock futures point lower as investors react to Donald Trump's plans to impose strict import tariffs on steel and aluminum; beer makers and car companies not thrilled by tariffs.
U.S. stock futures point lower as investors react to Donald Trump's plans to impose strict import tariffs on steel and aluminum; beer makers and car companies not thrilled by tariffs.
Here are five things you must know for Friday, March 2: 
1. -- Stocks Slump as Tariffs Drive the Selloff
U.S. stock futures pointed to an extension of losses for Wall Street on Friday, March 2, and global stocks slumped as investors reacted to both Donald Trump's plans to impose strict import tariffs on steel and aluminum and another round of hawkish testimony from Federal Reserve Chairman Jerome Powell.
Contracts tied to the Dow Jones Industrial Average fell 177 points, while those tied to the S&P 500 declined 11.50 points, following sharp declines on Thursday, March 1, that saw the Dow tumble more than 400 points and the S&P 500 drop 1.33%.
The Dow finished down 420 points, or 1.68%, on Thursday after Trump said the U.S. would impose tariffs next week on steel and aluminum imports.
Trump's aim to curb foreign imports and protect U.S. jobs has investors around the world deeply concerned about a global trade war, with officials in Canada, Germany and China vowing to respond in kind if Trump follows through with a formal announcement next week.
"We have felt that investors in recent weeks may have been viewing the risks around U.S. trade policy with rose-tinted glasses," analysts at ING noted. "One of those assumptions is the strength of the global economy - and certainly, the prospect of a 'global trade war' and heightened geopolitical tensions could temper some of the optimism and see greater two-way risks to global growth." 
In his second day of testimony before Congress, Fed Chairman Powell suggested the central bank could hike interest rates as many as four times this year as the economy continues to improve. Most Fed-watchers have predicted three rate increases in 2018.
For Friday, the  economic calendar in the U.S. includes Consumer Sentiment for February at 10 a.m. ET.
Foot Locker Inc. (FL) - Get Report reported fourth-quarter adjusted earnings of $1.26 a share, 1 cent higher than estimates. Revenue of $2.21 billion came in slightly below forecasts, while comparable-store sales in the quarter fell 3.7%, wider than forecasts.
The stock fell 9.6% in premarket trading as Foot Locker said same-store sales in 2018 will be flat to up in the low single-digit percentage range.
J.C. Penney Co. (JCP) - Get Report   tumbled 10.5% in premarket trading after fourth-quarter adjusted earnings of 57 cents a share came in higher than estimates but sales missed.
If you'd like to receive the free "5 Things You Must Know" newsletter, please register here.
2. -- Beer Makers and Car Companies Not Happy About Steel Tariffs 
Beer makers, car manufacturers and mining companies expressed concern and some outrage Thursday after Donald Trump announced his intention to impose a 25% tariff on steel imports and a 10% tariff on aluminum imports.
The move was seen as an effort to protect two struggling U.S. industries that have seen significant drops in employment in recent years and came after Secretary of Commerce Wilbur Ross recommended in mid-February that the administration impose some combination of tariffs and quotas on countries across the globe exporting steel and aluminum to the U.S.
Molson Coors Brewing Co. (TAP) - Get Report blasted Trump's tariff decision.
"We buy as much domestic can sheet aluminum as is available, however, there simply isn't enough supply to satisfy the demands of American beverage makers like us," the company said in a tweet. "American workers and American consumers will suffer as a result of this misguided tariff."
The American International Automobile Dealers Association said Thursday that both steel and aluminum are "crucial to the production of cars and trucks sold in America today" and the tariff "would raise the sale prices of those vehicles substantially."
Steelmakers, such as U.S. Steel Corp (X) - Get Report and Nucorp Corp. (NUE) - Get Report , finished trading on Thursday with sizable gains.
Nucor is a holding in Jim Cramer's Action Alerts PLUS Charitable Trust Portfolio. Want to be alerted before Cramer buys or sells the stock? Learn more now.
3. -- REI to Stop Selling Vista Outdoor Products
REI, a retailer that sells outdoor apparel and supplies, said it would no longer carry products made by Vista Outdoor Inc. (VSTO) - Get Report because the company also sells guns and ammunition. 
REI's announcement came just hours after thousands of REI's members signed an online petition urging REI to cut ties with Vista Outdoor over Vista's support for the National Rifle Association and its gun-manufacturing business, the Washington Post reported.
REI joins a widening range of other companies that have in some way taken a stand against assault-style weapons and the NRA.
Earlier this week, Walmart Inc. WMT said it was raising the age limit for purchases of firearms and ammunition to 21, and would implement the change as soon as possible. Dick's Sporting Goods Inc. DKS also said it would no longer sell assault-style rifles in its 853 stores and online.
4. -- Data Breach at Equifax Widens
Equifax Inc. (EFX) - Get Report said an additional 2.4 million Americans were impacted by the data breach last year but the newly disclosed consumers had significantly less personal information stolen.
Equifax said the additional customers had their names and partial driver's license information stolen. The information was partial, Equifax said, "because, in the vast majority of cases, it did not include consumers' home addresses, or their respective driver's license states, dates of issuance, or expiration dates."
That's unlike the original 145.5 million Americans who had their Social Security numbers impacted, the Associated Press noted.
In total, roughly 147.9 million Americans have been impacted by Equifax's data breach. It remains the largest data breach of personal information in history. 
5. -- Microchip to Buy Microsemi
Microchip Technology Inc. (MCHP) - Get Report reached an agreement to buy fellow chipmaker Microsemi Corp. (MSCC) for $68.78 a share, or a total equity value of $8.35 billion.
After accounting for Microsemi's cash and investments, the enterprise value of the deal was about $10.15 billion.
Shares of Microsemi rose 5% to $67.50 in premarket trading on Thursday. Microchip gained 4.4%.
This article has been updated from to include earnings from J.C. Penney and Foot Locker.