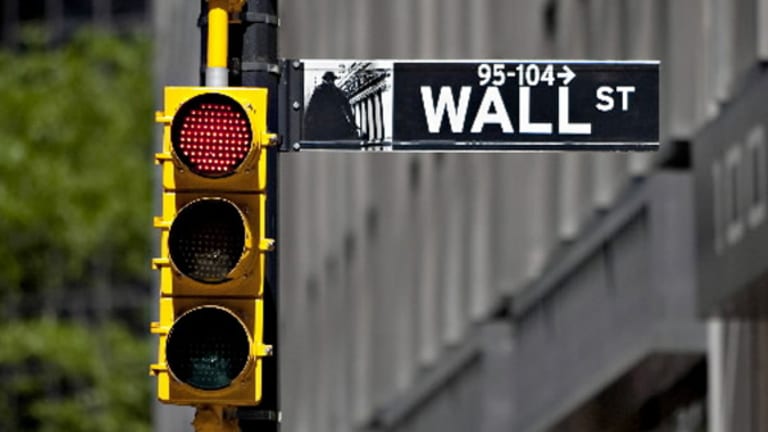 Stocks Slip as Fed Chatter Continues, Crude Oil Declines
Stocks are slightly lower on Wednesday morning as speculation over interest rates hikes continue and another increase in crude inventories pressures oil prices.
Your Money, Your Retirement, and the 2016 Presidential Election - What changes will you need to make to your portfolio should Hillary Clinton become president? What happens to your investments should Donald Trump become president? Join us on Sept. 12 as our panel of the world's top financial experts provide trusted information on the investment risks and opportunities that arise with the upcoming presidential election in November. [Learn more about the event and RSVP.]
Stocks were slightly lower on Wednesday morning as speculation over interest rates hikes continued and another increase in crude inventories pressured oil prices.
The S&P 500 was down 0.34%, the Dow Jones Industrial Average decreased 0.31%, and the Nasdaq declined 0.3%.
Federal Reserve talk continued to spark speculation over a near-term rate hike. Slower U.S. economic growth will likely continue, leading to a prolonged period of low interest rates for the foreseeable futures, Chicago Federal Reserve Bank President Charles Evans said in comments to the Shanghai Advanced Institute of Finance in Beijing. Evans also noted that low expectations among investors has become entrenched, allowing the Fed to delay a hike without financial instability.
"Long-run expectations for policy rates provide an anchor to long-run interest rates," Evans said in his prepared remarks. "So, lower policy rate expectations act as a restraint on how much long-term rates could rise following a surprise over the near-term policy path."
Evans' comments add to the differing views over the Fed's likely rate-hike timeline. Fed Vice Chairman Stanley Fischer added to the discussion on Tuesday, noting that the U.S. labor market is "very close to full employment" and that the next interest rate increase might not be "one and done."
Wall Street currently expects a more than 30% chance that the Fed will raise rates at its Sept. 20-21 meeting. The chances of a September hike were less than 20% before hawkish comments from Fed Chair Janet Yellen on Friday. The U.S. economy has improved in recent months to the point where near-crises levels of rates aren't justified, Yellen said in her widely anticipated speech at the Economic Policy Symposium in Jackson Hole, Wyo. on last week.
Crude oil moved lower on Wednesday after the Energy Information Administration reported domestic crude inventories increased by 2.3 million barrels in the past week. Analysts had expected supplies to rise by just 600,000. Increasing domestic supplies and a growing international supply glut have been a major downside driver to crude prices over the past year. 
West Texas Intermediate crude oil was down 2% to $45.43 a barrel.
The U.S. economy added 177,000 jobs to private payrolls in August, according to the ADP National Employment Report. Economists had expected 175,000 jobs to have been added. July's private payrolls were revised up to 194,000 from 179,000.
The official jobs report for August, the most closely watched release of the month, will be out on Friday. Economists expect the pace of jobs growth in August to slow after blockbuster readings in June and July. Analysts at TD Securities expect 189,000 jobs to have been added to the U.S. economy, while the unemployment rate will dip to 4.8%. The U.S. economy added 255,000 jobs in July.
"Aside from the weak April and May reports, labor data has been consistent and has been the majority of the Fed's case to begin the normalizing interest rates," Christopher Vecchio, currency analyst at DailyFX, wrote in a note. "This week's NFP report is especially important because it is the last employment report before the Fed's September meeting."
Pending home sales in the U.S. climbed in July to their second-highest level in a decade, according to the National Association of Realtors. The index increased 1.3% in July after June's figures were revised to show a 0.8% decline from a 0.2% increase initially reported. Signed contracts to purchase existing homes have risen even as high prices and constrained inventory keep a lid on growth.
Business activity in the Chicago area slowed as weaker global demand and a stronger dollar continue to impede the manufacturing sector. Chicago PMI decreased to 51.5 in August from 55.8 a month earlier. 
Tax preparer H&R Block (HRB) - Get H&R Block, Inc. (HRB) Report fell 6% after reporting a wider-than-expected loss over its recent quarter. The company reported a per-share loss of 55 cents, wider than 35 cents a year earlier and missing estimates of a loss of 53 cents. Revenue fell 9.1%. H&R cited fewer U.S. customers as reason for the weaker performance.
Palo Alto Networks (PANW) - Get Palo Alto Networks, Inc. Report slid 6% after issuing a mixed outlook for the current quarter and full year. The cybersecurity company anticipates per-share earnings of 51 cents to 53 cents in its October-ending quarter, below estimates of 56 cents. Its full-year outlook appears more positive with guidance of $2.75 to $2.80 a share beating forecasts of $2.64.
Chico's (CHS) - Get Chico's FAS, Inc. Report added more than 10% after surpassing earnings estimates on increased cost-cutting measures. The apparel chain decreased corporate and field positions by 13% which added up to $25 million in pretax annual savings.