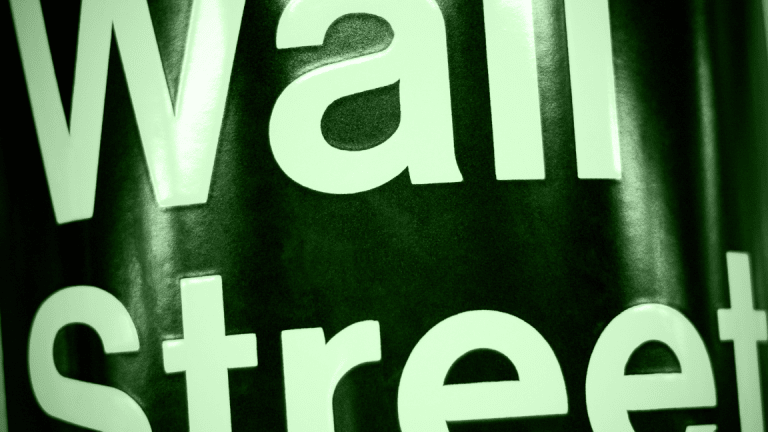 Dow Drops 157 Points; Nasdaq Jumps to New Record for Second Straight Day
The Dow finished lower on Monday.
Here Are 3 Hot Things to Know About Stocks Right Now
Action Alerts Plus holding Apple (AAPL) is making news Monday for shooting down an acquisition of Netflix (NFLX) or Disney (DIS) .
The Dow is now more than 1,400 points below its all-time high of 26,616 set on Jan. 26.
The FAANG stocks continue to push to new highs. TheStreet's Francesca Fontana reports why. 
Wall Street Overview
The Dow Jones Industrial Average finished lower on Monday, March 12, losing momentum from the sharp gains last week that followed a stronger-than-expected U.S. jobs report.
Intel Corp. (INTC) slightly downplayed a report in The Wall Street Journal that it was considering a possible bid for Action Alerts Plus holding Broadcom Ltd. (AVGO) .
The Dow closed down 157 points, or 0.62%. The S&P 500 was down 0.13%. The Nasdaq jumped 0.36% to a new record of 7,588.
Leading the Dow lower were Boeing Co. (BA)  , Caterpillar Inc. (CAT) and United Technologies Corp. (UTX) .
Stocks roared higher on Friday, March 9, after the U.S. added 313,000 new jobs in February, well above estimates and the biggest increase since mid-2016. The Dow closed up 440 points, or 1.77%, to 25,335. The S&P 500 gained 1.74%. The Nasdaq jumped 1.79% to close at a new record high of 7,560. 
Andrew Liveris, Action Alerts Plus holding DowDuPont Inc.'s undefined executive chairman, will step down on April 1 and its co-lead director Jeff Fettig will assume the role, the company confirmed on Monday.
Liveris, 63 years old, will remain a director until July 1. Jim Fitterling will serve as CEO of the materials-science company, to be known as Dow, that is expected to be created when the breakup of DowDuPont takes place next year.
The stock fell 1.2% on Monday.
Action Alerts Plus holding Goldman Sachs Group Inc. (GS) said Monday that David Solomon will serve as sole president and chief operating officer of the firm following the retirement of co-Chief Operating Officer Harvey Schwartz, effective April 20.
On Friday, it was reported that CEO Lloyd Blankfein planned to step down later this year, and possible successors included both Schwartz and Solomon.
Goldman shares were up 0.9%.
The chipmaker, in a statement to Reuters, said it wouldn't comment on "rumors or speculation," and that its focus was on integrating recent major acquisitions, such as Mobileye and Altera.
Broadcom shares rose 3.5% on Monday. Intel fell 1.2%.
Shares of Oclaro Inc. (OCLR) rose 27% after the optical components company agreed to be acquired by Lumentum Holdings Inc. (LITE)  in a deal that values Oclaro at $9.99 a share.