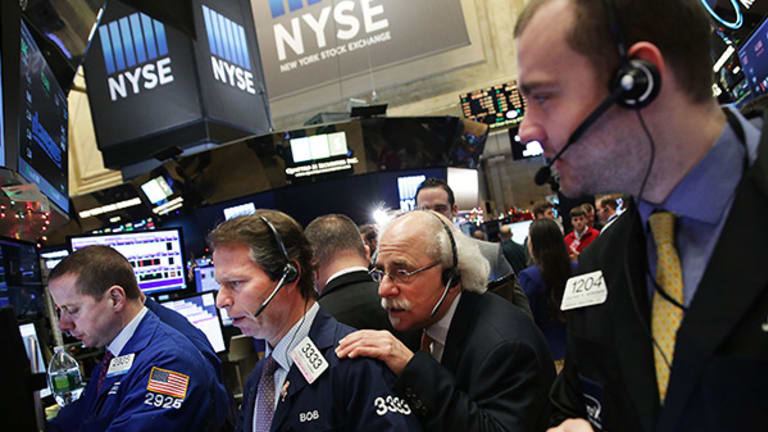 Stocks Extend Gains as Wall Street Mulls Possible Rate Hike
U.S. stocks are rising Monday as investors continue to digest comments from top Federal Reserve officials.
U.S. stocks rose Monday as investors continued to digest comments on interest rates from top Federal Reserve officials last week.
The S&P 500 increased 0.44%, the Dow Jones Industrial Average gained 0.51%, and the Nasdaq added 0.23%.
At a speech in Jackson Hole, Wyo., on Friday, Federal Reserve Chair Janet Yellen said the "case for a rate hike has strengthened in recent months."
"I'm not surprised [Yellen] attempted to sound a little more hawkish,' Ian Winer, head of equity trading at Wedbush Securities, based in Los Angeles, told TheStreet TV.
Vice Chair Stanley Fischer, also on Friday, raised the prospect of a rates increase following the Fed's policy meeting next month.
The central bank hiked interest rates for the first time since the 2008 recession in December 2015.
Personal income in the U.S. rose 0.4% in July, matching estimates. Consumer spending gained 0.3%, also in-line with estimates.
Mylan (MYL) - Get Free Report  dropped 0.9% after it said it would start a generic version of the life-saving EpiPen. The company sparked a wave of controversy after raising the price of the drug last week by 400%. The generic version is said to be priced 50% less than the branded line.
Herbalife (HLF) - Get Free Report rose 4% after billionaire activist Carl Icahn late Friday reported that he had acquired 2.3 million additional shares of the nutritional supplements company.
Swiss drug maker Roche (RHHBY) said Monday that the Food and Drug Administration passed an Emergency Use Authorization for its Zika rRT-PCR test, which the company said helps detect the virus. Zika, which made landfall in the Miami area recently, has been linked to birth defects.
Carlyle (CG) - Get Free Reportis deciding if it should end its hedge fund business, according to a Financial Times report. One of its funds has lost some 90% of its value since 2014.
Harley Davidson (HOG) - Get Free Reportshares slipped 2.3% after Longbow analysts downgraded the stock to underperform from neutral amid a lack of upside catalysts in the near-term.
Shares of capital equipment company KLA-Tencor (KLAC) - Get Free Reportrose 1.8% after Cowen analysts upgraded the stock to outperform from "market perform" with an $80 price target. The stock trades near $68.71.
Caesars Entertainment (CZR) - Get Free Reportshares slumped 20% after a judge ruled the company "must face lawsuits from bondholders," according to Reuters.