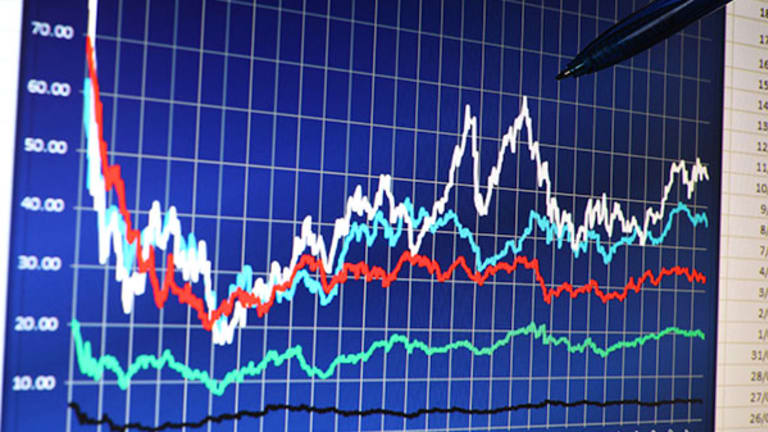 Publish date:
Stocks Pare Some Gains, but Still Up on Positive Earnings, M&A
Stocks stay in the green Monday as M&A and earnings reports lead the market higher, while manufacturing orders rise.
Stocks stay in the green Monday as M&A and earnings reports lead the market higher, while manufacturing orders rise.
Updated from 12:07 p.m.
Stocks pared some gains Monday afternoon but remained in the green, as a flurry of mergers and acquisitions and earnings reports dominated market movement, while positive manufacturing data also gave a boost.
The S&P 500 was up 0.46%, the Dow Jones Industrial Average was climbing 0.46%, and the Nasdaq was adding 0.9%.
An October preview of Markit's U.S. manufacturing data came in at 53.2, vs. a September reading of 51.5. This shows growth in new orders and is a positive sign for U.S. manufacturers.
"The latest reading signaled a solid upturn in overall business conditions, and the rate of improvement was the fastest since October 2015," IHS Markit wrote in its report. "Stronger output and new business growth were the key factors boosting the headline PMI, which helped offset a drag from softer job hiring in October."
West Texas Intermediate crude oil was trading 0.51% lower at $50.59 a barrel on Monday, as Iraq's oil minister said that his country should be exempt from OPEC production cuts due to its war with Islamic State militants, Reuters reports.
T-Mobile (TMUS) - Get Report led the Nasdaq and was up 9.09%. The mobile communications company reported adjusted earnings of 27 cents a share, beating estimates of 21 cents a share, based on the FactSet consensus estimate. T-Mobile said total revenue increased 17.8% to $9.2 billion, and it added 2 million customers during the quarter. T-Mobile's shares are up more than 30% this year.
Rockwell Collins (COL) announced a deal valued at $8.3 billion, including debt, to acquire B/E Aerospace (BEAV) . Rockwell Collins is trying to increase its exposure to the commercial aircraft cabin. On the deal news, Rockwell Collins stock fell 6.3%, pulling the S&P 500 slightly lower though still in positive territory. B/E Aerospace shares jumped 15.8%.
"That's a great merger because Boeing and Bombardier and Airbus have been squeezing their suppliers endlessly," said TheStreet's Jim Cramer, co-manager of the Action Alerts PLUS portfolio. "Rockwell gets together with BEA -- maybe that has has a little more heft, a little more staying power and a little more bargaining power. That's makes a lot of sense to me."
AT&T (T) - Get Report  agreed to buy Time Warner  (TWX) in an $85.4 billion deal, paying $107.50 a share. If approved by regulators, the deal will create a behemoth media and telecommunications company that combines internet services and programming.
"When you're talking about doing really tight integration, ownership is always best," AT&T CEO Randall Stephenson said on an earnings call Monday. "If you have to innovate quickly, it's really difficult to do in a partnering, arms-length negotiated-type transaction. When it's completely owned, you just move a lot faster."
The deal values Time Warner at a 20% premium to its $89.48 closing price on Friday. Time Warner shareholders would receive $53.75 a share in cash and $53.75 a share in AT&T stock. The total transaction value is $108.7 billion, after including Time Warner's net debt, the companies said.
AT&T reported that consolidated revenues for the quarter were $40.9 billion, up 4.6%. The company increased its quarterly dividend to 48 cents a share, or a 5.2% yield at the current valuation.
TheStreet's Jim Cramer, said investors shouldn't buy either stock because AT&T's bid for Time Warner is an "expensive way for the telecom company to stay relevant," while requiring it to compete with companies like Google (GOOGL) - Get Report  and Facebook (FB) - Get Report . AT&T will also have to battle for regulatory approval amid negative rhetoric from politicians, Cramer highlighted. 
"The regulators are in no mood for this deal," Cramer wrote in a note. "AT&T thought about buying T-Mobile in March of 2011 and got it wrong that time because of worries about competition lessening. I think AT&T will get it wrong this time because of worries of too much concentration -- nothing they teach you in antitrust law, but everything the populist political environment says."
Time Warner shares were down 2.48% in trading on Monday, while AT&T shares were 1.92% lower.
In other deal news, TD Ameritrade (AMTD) - Get Report said Monday that it entered into a "definitive agreement" to purchase online brokerage Scottrade Financial Services in a cash-and-stock deal valued at $4 billion.
TD Ameritrade, the biggest discount brokerage by trade executions, said it expected to realize about $450 million in combined annual expense synergies, and more than $300 million in additional longer-term opportunities once the deal closes. TD Ameritrade's shares were down 3.4%.
"That's the kind of acquisition that I like because it takes out a competitor and therefore makes them more powerful," TheStreet's Cramer said, speaking from the floor of the New York Stock Exchange Monday about the TD Ameritrade deal. "I applaud that merger." 
Chinese investment firm China Oceanwide Holdings agreed to acquire Genworth Financial (GNW) - Get Report for about $2.7 billion, or $5.43 a share in cash. Genworth shares slumped 8.35% in trading Monday.
China Oceanwide also said it would use $600 million in cash to tackle Genworth debt, and cash of $525 million for the U.S. life insurance businesses.
The Federal Reserve Open Market Committee enters a blackout period prior to its meeting on Nov. 1 and 2; before that, four Fed speakers are expected to speak Monday.
New York Fed Bank President William Dudley spoke at 9 a.m. on the U.S. Treasury market, while St. Louis Fed President James Bullard spoke at 9:05 a.m. to the Association for University Business and Economic Research in Fayetteville, Ark.
Bullard said over the next two or three years, as the U.S. struggles with slow productivity, low interest rates will likely persist. 
"Real safe rates of return are exceptionally low at present and are not expected to rise soon," Bullard said. "This means, in turn, that the policy rate should be expected to remain exceptionally low over the forecast horizon," he said. 
In the afternoon, Chicago Fed President Charles Evans discussed monetary policy, and Fed Board Governor Jerome Powell spoke on the future of Treasury market settlement transactions. Powell said that Bank of New York Mellon (BK) - Get Report  will dominate the U.S. government securities settlement structure as JPMorgan Chase (JPM) - Get Report   plans to exit.  Evans highlighted the reasons for lower potential output growth: slower growth in labor force, plateauing labor quality, weak capital investment, and slower pace of technological improvement, while saying that inflation targets should match timing of interest rate increases.
Nearly a third of S&P 500 companies are scheduled to report earnings this week.
VF Corp. (VFC) - Get Report , an apparel and footwear company with brands including North Face, Vans and Timberland, reported that third-quarter earnings were $1.20 a share, beating expectations of $1.15 a share, compared to $1.07 a share from a year ago. But sales for the quarter fell 1% from a year ago and the company cut its full-year revenue outlook. VF is down 2.56% and over 14.4% year to date. 
Kimberly-Clark (KMB) - Get Report , a maker of consumer goods, missed earnings expectations. The Irving, Texas-based company was expected to report earnings of $1.54 a share, compared to $1.51 a share a year ago. But adjusted earnings were $1.52 a share on revenue of $4.59 billion. Kimberly-Clark's shares fell 4.76%, bringing its year-to-date loss to 10.5%.
Inovio Pharmaceuticals (INO) - Get Report  fell 17.1% to $6.93 as the Food and Drug Administration said that it would place a "clinical hold" on the company's phase three VGX-3100 trial, a DNA immunotherapy used to treat cancer. 
"In its initial communication, the FDA has requested additional data to support the shelf-life of the newly designed and manufactured disposable parts of the Cellectra 5PSP immunotherapy delivery device," the company said in a statement. 
Payment company Visa (V) - Get Report will release its results for the three months through September after the market closes Monday. The San Francisco-based company is expected to report earnings of 73 cents a share, compared to 62 cents a year ago. Visa's shares are up 0.94%.
Visa, Alphabet, Facebook,  is a holding in Jim Cramer's Action Alerts PLUS Charitable Trust Portfolio. Want to be alerted before Cramer buys or sells these stocks? Learn more now.