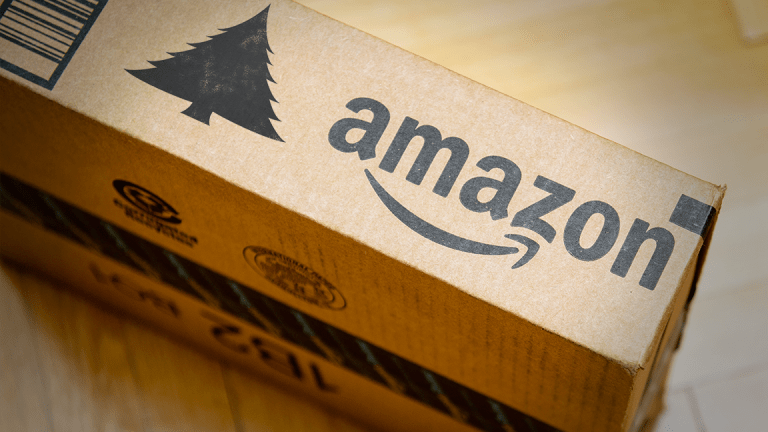 Stock Futures Waver on a Cyber Monday That Could Shatter Sales Records
As traders return from a long Thanksgiving weekend, stock futures suggest Wall Street could open mixed on Monday.
Stock futures pointed Wall Street toward a mixed start to the week on Monday, Nov. 27, as investors returned to trading on Cyber Monday after a long Thanksgiving weekend. 
Dow Jones Industrial Average futures rose 4 points, or 0.02%. S&P 500 futures were close to flat, up 0.01%, and Nasdaq futures decreased 6 points, or 0.1%. The S&P 500 gained 5 points, or 0.21%, to close above 2,600 on Friday, Nov. 24, for the first time ever and snag a new record. The Nasdaq increased 22 points or 0.32%, also closing at a new record of 6,889.
After a Black Friday that skewed heavily toward online shopping, Cyber Monday could break new records this year. Sales are forecast to total about $6.6 billion, which would make Monday the largest U.S. online shopping day in history, according to Adobe Analytics. 
Last week, Black Friday and Thanksgiving Day online sales jumped to a record $7.9 billion, or a 17.9% increase over the same period a year earlier. For the first time, smartphone and tablet traffic for online shopping this year was expected to top desktop traffic. 
Strong online predictions are good news for Amazon.com Inc. (AMZN) - Get Free Report , which is expected to capture 50% of all online sales growth Monday, according to Bain & Co. Amazon stock gained 0.65% in premarket trading on Monday.
Meanwhile, online prices at Walmart Stores Inc. (WMT) - Get Free Report  were nearing that of Amazon for the first time on Cyber Monday, according to a new study, as the battle for consumers over the biggest shopping days of the year continues.
For Monday, the economic calendar in the U.S. includes New Home Sales for October at 10 a.m. ET.
Earnings reports are expected Monday from Tech Data Corp. (TECD) - Get Free Report and Thor Industries Inc. (THO) - Get Free Report .
In non-shopping-related deal news, Meredith Corp. (MDP) - Get Free Report , the owner of Better Homes & Gardens, reached a deal to acquire Time Inc. (TIME) for $18.50 a share in an all-cash transaction valued at $2.8 billion. The deal, which is expected to close in the first quarter, represents a 46% premium over the closing price of Time Inc. on Nov 15, the date when media reports surfaced of Meredith's interest.
Meredith estimated that, had the merger happened in 2016, the combined company would have had sales of $4.8 billion and adjusted earnings before interest, taxes, depreciation and amortization of $700 million. Meredith said it believes it could wring out $400 million to $500 million in synergies within the first two years of operations likely through staff consolidation.
In addition to securing $3.55 billion in new financing from a consortium of RBC Capital Markets, Credit Suisse, Barclays and Citigroup, Meredith scored a $650 million preferred equity commitment from Koch Equity Development, an investment fund backed by conservative-leaning billionaires Charles and David Koch.
Meredith said KED won't have a seat on its board and won't have influence on its editorial or managerial operations. For the Koch Brothers, buying into a combined Meredith-Time would mark their first major move into the media business. Meredith stock rose 6.56% and Time Inc. stock jumped 8.91% premarket Monday.
Investors will look for more direction on tax reform when the Senate votes on its version of the bill later this week. Republicans in Congress are pushing to get a bill to President Donald Trump's desk by the end of the year. After the House GOP passed its tax overhaul bill ahead of Thanksgiving, Senate GOP leaders will aim to follow suit this week despite dealing with a considerably smaller margin for error -- while the House GOP could manage 20 defections and still pass a bill, the Senate GOP can only afford two. 
Bitcoin prices are on pace to touch the $10,000 threshold this week after hitting another all-time high in overnight trading on Monday amid a global rush into cryptocurrencies that has lifted overall values past $300 billion.
Bitcoin traded higher 3.51% to $9,654 early Monday, after earlier reaching a new record of $9,689. It's the latest in a string of new highs for bitcoin -- the cryptocurrency topped $8,000 eight days ago and broke through $9,000 just one day ago. 
The gains extend bitcoin's year-to-date advance past 870%. The digital currency now trades at 7.5 times the price of gold, after having traded $200 below the bullion on Jan. 1.
Coinbase, the biggest bitcoin exchange in the U.S., said it had added around 100,000 accounts, or "wallets" in the days leading up to and over the Thanksgiving weekend, taking the total to around 13.1 million as consumers appeared to favor the digital currency as either a holiday gift or a means with which to make Black Friday purchases.
Bitcoin's chief rival, ethereum, also hit a record $475, taking its so-called market cap to around $46 billion, giving the entire spectrum of digital currencies a global value of more than $300 billion.
Oil prices eased some Monday ahead of an OPEC meeting on Thursday, Nov. 30. Crude prices reached two-year highs Friday, jumping nearly 1.5% by settling time. On Monday morning, West Texas Intermediate crude futures slipped 1.1% to $58.32 a barrel. 
OPEC and producers including Russia are expected to meet later this week to discuss extending cuts beyond their March 2018 expiration date. Traders have wavered on earlier optimism that the extension would happen, as Russia is widely considered a wild card at this point. 
More of What's Trending on TheStreet: