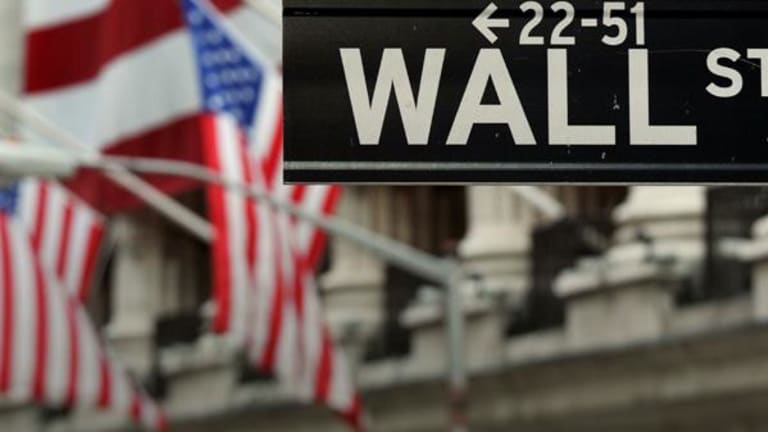 Stocks Waver as Wall Street's Trump Rally Fades
Stocks hold mixed midday Monday as Wall Street continues to pick apart the likely policies of President-elect Donald Trump.
Stocks hold mixed midday Monday as Wall Street continues to pick apart the likely policies of President-elect Donald Trump.
Stocks fluctuated on Monday afternoon as Wall Street continued to pick apart the likely policies of President-elect Donald Trump.
The S&P 500 was down 0.18%, the Dow Jones Industrial Average slid 0.08%, and the Nasdaq slipped 0.54%. The Dow closed at new records on Thursday and Friday and secured a new all-time high of 18,934 earlier Monday.
Trump and his family appeared on 60 Minutes on Sunday evening in his first televised appearance since Tuesday's election. Trump outlined his plans to appoint an anti-abortion Supreme Court Justice, again refused to release his tax returns, and offered few details on his proposed wall along the southern U.S. border and his plans to replace Obamacare.
Also on Sunday, Trump appointed Republican National Committee Chairman Reince Preibus as his chief of staff and Steve Bannon as his chief strategist. Bannon is a controversial figure having been an instrumental player in the rise of the alt-right, a movement that often is associated with certain white supremacist ideas. He leads the Breitbart news site, a leading mouthpiece of the GOP's anti-establishment wing.
The Dow rocketed higher last week, fueled by gains in financials and pharmaceutical stocks, after President-elect Donald Trump's election night victory. While most of his policies remain murky, investors bet big that Trump would loosen banking regulations and not pursue Democratic candidate Hillary Clinton's plan to address price gouging at drug companies. The Dow ended with its best weekly gain since 2011.
But technical analyst Helene Meisler of Real Money, TheStreet's premium site for active traders, thinks the market hasn't topped out yet. "I continue to believe that dips/declines/pullbacks will lead to another rally [until] sentiment is 'all in' and we are maximum overbought," she wrote Monday morning. Click here to see where her charts predict the S&P 500 faces both upside resistance and downside support.
A selloff in tech that pressured the Nasdaq last week resumed momentum on Monday. Major tech companies including Apple (AAPL) - Get Report , Amazon.com (AMZN) - Get Report , Alphabet (GOOGL) - Get Report  and Microsoft (MSFT) - Get Report  stumbled, while the TechnologySelect Sector SPDR ETF (XLK) - Get Report slid 1.2%. 
Treasury yields surged on Monday as investors feared faster inflation from Trump's spending plans would drive the Federal Reserve to hike rates at a faster pace to stay ahead of the curve. Trump proposed a "$1 trillion over a 10-year period" infrastructure stimulus plan in his victory speech last week. The yield on the 10-year Treasury note rose to 2.293% on Monday, its highest since the beginning of the year.
The U.S. dollar climbed against foreign currencies on Monday. The U.S. Dollar Index rose 1.1% earlier in the session, hitting its best level since November 2015. The U.S. dollar rose 1.3% against the euro, 1% against the British pound, and 1.6% against the Japanese yen. Gold prices fell as the U.S. dollar climbed. Gold settled down 0.2% at $1,221.70 an ounce, its lowest level in more than five months. 
"With Treasury markets, and the obvious rotation among stock sectors taking place, it's plain to see that markets expect growth, expect inflation, and expect to see rising interest rates going forward," Stephen Guilfoyle, chief market economist at Stuart Frankel & Co., wrote in a note. "Sounding hawkish is not going to do anything except cement current opinion."
The Fed will next meet on Dec. 13-14. Investors have priced in an 85% chance the Fed will hike at that meeting, according to CME Group fed funds futures. The Fed's plans will gain even more scrutiny this week as Fed Chair Janet Yellen presents her economic outlook on Capitol Hill. Yellen will address the Congressional Joint Economic Committee at 10 a.m. on Thursday. The Fed chair last testified before that committee in December 2015, prior to the Fed's decision to hike interest rates for the first time in nearly a decade.
Crude oil prices came back from lows on Monday even as worries over global oversupply persisted. The Organization of Petroleum Exporting Countries on Friday reported output at a record 33.64 million barrels a day in October. The International Energy Agency forecast the global supply glut to remain in 2017. OPEC are set to meet at the end of the month, though any production freeze agreement is in doubt.
West Texas Intermediate crude finished 0.2% lower at $43.32 a barrel, its worst level since mid-September.
Siemens (SIEGY) agreed to buy Mentor Graphics (MENT) for $4.5 billion on Monday in a deal that will expand its industrial software portfolio. Siemens offered $37.25 a share in an all-cash deal that values Mentor at a 21% premium to its Friday close. Mentor shares rose 20% on Monday.
In more deal news Monday, Samsung Electronics (SSNLF) agreed to buy Harman International (HAR) for $8 billion. The acquisition allows Samsung access to the fast-growing auto electronics technology business. Samsung will pay $112 a share for Harman, a 28% premium to its close on Friday. Harman shares rocketed 24% higher.
Dynavax (DVAX) - Get Report plummeted more than 60% after the Food and Drug Administration rejected a marketing application for a hepatitis B vaccine. The drugmaker now needs to partner with another pharmaceutical company or a financial backer to resubmit its application for approval.
Twitter (TWTR) - Get Report climbed 2% after hedge fund Jana Parters disclosed a new stake of 2.9 million shares. Jana Partners also disclosed a sole share stake in Yahoo! (YHOO) and dissolved its sole share stake in Expedia (EXPE) - Get Report .
SeaWorld (SEAS) - Get Report was downgraded to neutral from buy at Citigroup. Analysts said the valuation is less attractive based on a $19 price target.