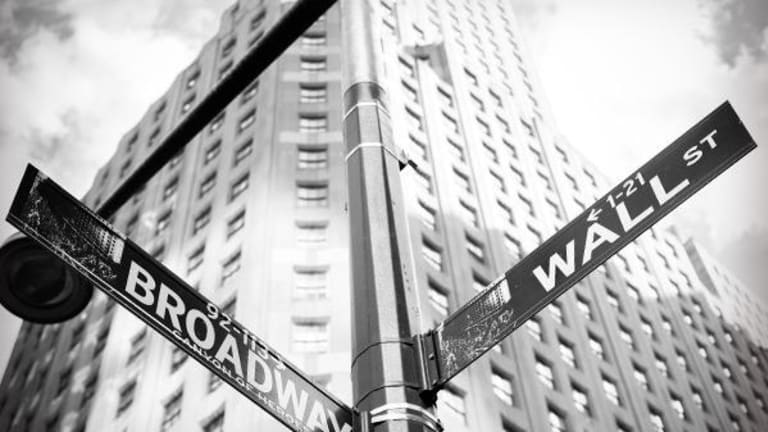 Stocks Add to Gains After Rate Hike Chances Remain High After Disappointing Jobs Report
Stocks add to gains on Friday on faith the Federal Reserve will move ahead with a June rate hike even after a weaker-than-expected May jobs report.
Stocks added to gains on Friday on faith the Federal Reserve will move ahead with a rate hike this month even after a weaker-than-expected May jobs report. 
The S&P 500 was up 0.13%, the Dow Jones Industrial Average gained 0.16%, and the Nasdaq rose 0.46%. The three indexes touched intraday record highs shortly after the markets opened Friday.
Wall Street stepped into June with confidence on Thursday with each of the three benchmark indexes scoring new all-time highs. The S&P 500 and Nasdaq notched new intraday and closing records, while the Dow ended at its highest level ever.
The nonfarm payrolls report for May showed 135,000 jobs having been added to the U.S. economy, according to the Labor Department. Economists had expected 178,000 jobs in May. Both April and March figures were reduced: April's was cut to 174,000 from 211,000, while March was revised to 50,000 from 79,000. 
The unemployment rate fell by 10 basis points to 4.3%, according to FactSet estimates, surprising analysts expecting the figure to hold steady. The unemployment rate fell to its lowest level since 2001. Average hourly wages increased 0.2% to $26.22, in-line with estimates. 
"Today's jobs number is disappointing, but the overall trend is still very positive and the unemployment rate continues to decline," said Tony Bedikian, head of global markets at Citizens Bank. "The U.S. economy is showing other signs of strength as well and the market is still forecasting that the Fed will raise rates later this month."
But a disappointing headline number for May and downward revisions for March and April likely won't derail the Fed's expected plans for June. The chances of a 25-basis-point increase to the federal funds rate when the FOMC meets in June held at 90%, according to CME Group fed funds futures. The Federal Open Market Committee, the decision-making arm of the Fed, is next set to meet June 13-14. 
May's jobs report does not support current market optimism and could give sellers some ammo, James "Rev Shark" Deporre argues over on our premium site for investors, Real Money. Get his insights with a free trial subscription.
The U.S. trade deficit widened by 5.2% to $47.6 billion in April, according to the Census Bureau. Exports fell by 0.3%, while imports increased 0.8%.
The economic calendar in the U.S. on Friday also includes Baker-Hughes weekly rig count in the afternoon.
Global crude prices fell sharply Friday on concerns Donald Trump's decision to leave the Paris Accord on climate change could spark increased drilling and production rates from American oil companies. Trump pledged to quit the nearly-200 nation agreement on the campaign trail, but after his election hope surged that he might change his mind. Prices have already been under pressure in recent days on worries over a global supply imbalance. 
West Texas Intermediate crude was down 2.5% to $47.17 a barrel. 
Energy companies were the worst performers on Friday. Major oil companies Exxon Mobil (XOM) - Get Report , Royal Dutch Shell (RDS.A) , BP (BP) - Get Report , Total (TOT) - Get Report  and Schlumberger (SLB) - Get Report were lower, while the Energy Select Sector SPDR (ETF) (XLE) - Get Report declined 1.4%. 
Lululemon (LULU) - Get Report rocketed 15% higher after reporting a positive quarter and announcing restructuring plans. The athletic apparel brand earned an adjusted 33 cents a share, 3 cents higher than a year earlier and a nickel above expectations. Sales also exceeded estimates. Lululemon also announced that it would close around 40 of its 55 Ivivva-branded stores and fold the remainder into the larger brand's locations. 
Restoration Hardware  (RH) - Get Report plummeted 20% after trimming its full-year earnings outlook. The furniture retailer reduced its fiscal year earnings guidance to $1.67 to $1.94 a share, down from its previous range of $1.78 to $2.19 a share. CEO Gary Friedman said management was taking a "cautiously optimistic approach to our outlook given the uncertain macro environment."
Broadcom (AVGO) - Get Report increased 7% after swinging to a profit over its fiscal second quarter. The chipmaker earned an adjusted $3.69 a share, 3 cents above estimates. Sales also exceeded analysts' targets.
Meet the Millennial Media Moguls
Planning to be in New York on Tuesday, June 13? You're invited to join us for an evening of cocktails and conversation with three dynamic young CEOs whose companies have found big news audiences and good markets. How have they done it? What have they learned? Meet Chris Altchek, CEO and co-founder of Mic; Shafqat Islam, co-founder and CEO of NewsCred; and Kathryn Minshew, the CEO and co-founder of TheMuse. Our panel discussion will be led by Ken Doctor, media analyst and columnist for TheStreet. The event, from 6 to 8 p.m. is free, but space is limited and reservations are required. Please click here to RSVP and get more information.