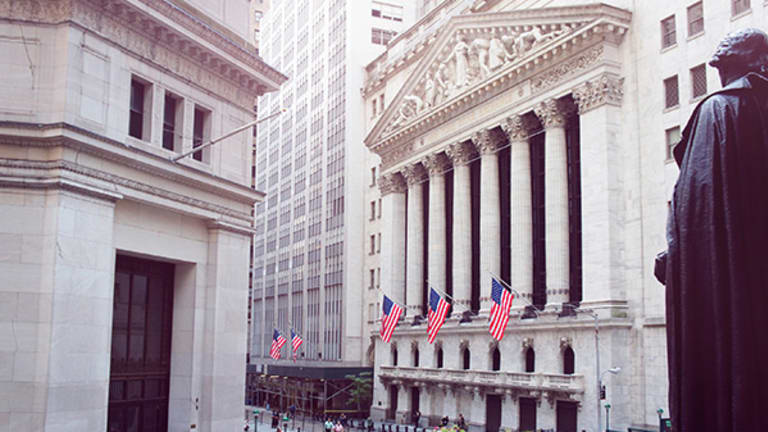 Stocks Turn Lower on Rate Hike Concerns
U.S. stocks are lower Tuesday as Wall Street seeks clues on the timing of the next interest rate increase.
U.S. stocks turned negative Tuesday, despite a better-than-expected reading on consumer confidence, as Wall Street priced in an interest rate hike sooner rather than later. 
The S&P 500declined 0.29%, the Dow Jones Industrial Average fell 0.35%, while the Nasdaq fell 0.29%.
Federal Reserve Vice Chairman Stanley Fischer said the U.S. labor market is "very close to full employment" in an interview with Bloomberg Television on Tuesday, adding he couldn't say whether the next interest rate increase would be "one and done."
"We can choose the pace. But we choose the pace on the basis of data that are coming in," Fischer said in the interview.
"So I don't think we know at the time we start whether it's one and done or several. It depends entirely on what happens in the economy," Fischer said.
At a speech last week in Jackson Hole, Wyo., Fed Chair Janet Yellen said the argument for a rate hike "has strengthened in recent months."
The Conference Board's consumer confidence index rose to 101.1 in August, topping estimates of 97.3. The index stood at 96.7 in July. 
The S&P CoreLogic Case-Shiller U.S. National Home Price index rose 5.1% year over year in June, in line with May's increase.
Apple (AAPL) shares slipped 0.8% after the European Union found that Ireland gave the technology giant illegal tax breaks to the tune of 13 billion euros ($14.5 billion).
Jasper Lawler, a market analyst with CMC Markets, based in London, said Apple has a long tenure in Ireland, setting up shop in the nation even before its legendary iPhone was released.
"Some of the other big tech companies have followed suit - Amazon, Alphabet's Google, Microsoft and Facebook have thousands of employees in Ireland," Lawler said to TheStreet TV. "From Ireland's perspective, that's been good for their economy."
Shares of Hershey (HSY) fell 12% Tuesday after Mondelez (MDLZ) said it was no longer interested in pursuing an acquisition of the chocolate and candy maker.
Mondelez offered $23 billion for Hershey last month, but was turned down.
Abercrombie & Fitch (ANF) tumbled 18.8% after the retailer posted an adjusted quarterly loss of 25 cents a share, wider than analysts' expectations, and issued a soft outlook.
Shoe retailer DSW (DSW) slipped 8.5% after reporting a 1.2% decline in second-quarter same-store sales. The company reported earnings of 35 cents a share, beating estimates of 30 cents. 
After 20 years with American Airlines (AAL) , Scott Kirby is jumping ship to United Continental Holdings (UAL) , taking the role of president. United shares rose 7.6% and American Airlines shares rose 1.7%.