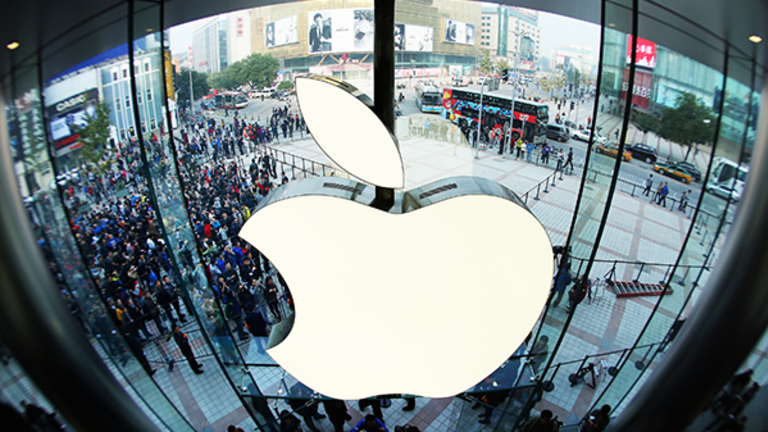 Stocks Mixed as Wall Street Awaits Apple's Earnings
Stocks are narrowly mixed Tuesday afternoon in the wait for earnings from world's largest company Apple.
Stocks were narrowly mixed Tuesday afternoon in the wait for earnings from world's largest company Apple (AAPL) - Get Free Report .
The S&P 500 was down 0.05%, and the Nasdaq fell 0.09%. The Dow Jones Industrial Average added 0.04%.
Apple was on watch ahead of its earnings report to be released after the closing bell. Apple, the largest publicly traded company in the world, has become somewhat of a highlight of the reporting season. The company is seen as an industry bellwether and a measure of consumer sentiment, taking the pulse of how willing consumers are to spend on discretionary items.
The iPhone maker is expected to post earnings of $2.02 a share in its fiscal second quarter, a 6.4% increase from the same quarter a year earlier. Sales are also expected to post growth, gaining 4.8% to $52.99 billion. First-quarter sales growth broke a worrisome losing streak after three quarters of revenue declines. iPhone sales are expected to rise by 1%, which is generally low growth as consumers wait out for the next model, the iPhone 8.
Apple is a holding in Jim Cramer's Action Alerts PLUS Charitable Trust Portfolio. Want to be alerted before Cramer buys or sells AAPL? Learn more now.
The tech sector moved higher ahead of Apple's results. Fellow tech names including Alphabet (GOOGL) - Get Free Report , Microsoft (MSFT) - Get Free Report , Facebook (FB) - Get Free Report , and Intel (INTC) - Get Free Report rose, while the Technology Select Sector SPDR ETF (XLK) - Get Free Report increased 0.2%. 
Over on Real Money, James "Rev Shark" Deporre is choosing to mess around with small-cap trades instead, including Health Innovations (HIIQ) - Get Free Report . Check out his analysis with a free trial subscription to Real Money.
The Fed convened for its semi-monthly meeting on Tuesday with an announcement on rates set for Wednesday afternoon. Members of the Federal Open Market Committee will be assessing recent mixed data. The majority of economists don't expect a change in interest rates.
"The May FOMC meeting will likely prove to be a non-event, as it is probably too early for the Fed to change the reinvestment language in the statement," said Societe Generale's Michala Marcussen in a note. "Similarly, the balance of risks and forward guidance should remain unchanged, and we look for only modest tweaks to the economic assessment."
The odds of a rate hike to 1% to 1.25% at this meeting sit at a negligible 4.8%, according to CME Group fed funds futures. A June rate hike looks more likely, with a 67.4% chance. The meeting on Wednesday will conclude with no press conference, often taken by investors as a sign of no change in monetary policy.
It's the second day of May, a period in which the market wisdom of "sell in May and go away" could be put to the test. The saying refers to a general downward trend each May, though that hasn't held true in seven of the past 10 years. Positive earnings have mostly kept markets on an upward trend in recent weeks.
Don't miss these top stories on TheStreet:
Top 10 Cheap Classic Cars to Invest in for Big Gains With Your Delayed Tax Refund Check
These 5 Major Fast Food Restaurants Are About to Be Whacked by Soaring Chicken Prices
Advanced Micro Devices (AMD) - Get Free Report fell 22% after posting a so-so first quarter. The chipmaker reported a loss of 4 cents a share on revenue of $984 million. Both the top- and bottom-line met analysts' estimates.
Aetna (AET) swung to a loss over its recent quarter as expenses piled up after terminating a proposed merger with Humana (HUM) - Get Free Report . A loss of $1.11 a share compared with profit of $2.08 a share a year earlier. Adjusted earnings of $2.71 a share came in higher than estimates of $2.37. The health insurer anticipates its failed merger with Humana to reduce full-year earnings by $3.69 a share. The merger fell apart after a federal judge found antitrust issues. 
ConocoPhillips (COP) - Get Free Report sank 1% on Tuesday after posting an unexpected adjusted loss. An adjusted loss of 2 cents a share came in lower than an estimated profit of 2 cents a share. The oil company also achieved 2% production growth year over year when adjusted for downtime.   
CVS Health (CVS) - Get Free Report topped analysts' estimates on its top- and bottom-line over its recent quarter. Adjusted earnings of $1.17 a share beat expectations by 7 cents, while revenue of $44.5 billion exceeded consensus of $44.2 billion. Pharmacy same-store sales declined by 4.7%, while pharmacy services revenue increased 8.5%. However, second-quarter guidance was on the weak side. 
Pfizer (PFE) - Get Free Report posted slightly better-than-expected first-quarter earnings but missed analysts' forecasts for revenue amid a slowdown for sales of its key Prevnar 13 vaccine. Sales in its essential health unit declined by 10% in the first quarter as its antidepressant drug Pristiq lost exclusivity in the U.S. and epilepsy treatment Lyrica faced increased generic competition. 
Shares of Merck (MRK) - Get Free Reporttraded slightly higher after the drugmaker reported adjusted first-quarter net income of $1.55 billion, or 88 cents  share, topping analysts' estimates by a nickel. Merck also raised full-year earnings guidance. Sales of type 2 diabetes treatment Januvia and higher animal health revenue helped to boost overall quarterly results.  
MasterCard (MA) - Get Free Report rose 2% after exceeding first-quarter earnings estimates. Net income of $1 a share improved on profit of 86 cents a share a year earlier. Adjusted earnings of $1.01 a share beat estimates of 95 cents. Revenue of $2.7 billion was in-line with estimates.  
April was a weak month for automakers with sales pulling back after months of strong growth. Demand for trucks and SUVs, once the driver of growth, have since cooled.
Ford (F) - Get Free Report declined 4% after reporting a sharp decline in U.S. sales in April. The automaker reported a 7.2% drop in U.S. sales as truck sales fell by 4.2% and F-series sales dipped 0.2%. General Motors (GM) - Get Free Report was also lower by 3% after reporting a far steeper decline in car sales than anticipated. U.S. unit sales fell by 5.8% compared to an expected drop of 0.7%.
Fiat Chrysler (FCAU) - Get Free Report dropped 4% after posting a 7% decline in unit sales, more than an anticipated drop of 5.8%. By brand, Fiat sales dropped 18%, Chrysler declined by 3%, and Jeep sales slid 17%. 
Lumber Liquidators (LL) - Get Free Report plummeted 18% after posting a loss far deeper than analysts had forecast. The flooring retailer reported a loss of 93 cents a share, narrower than $1.20 a share a year earlier, but deeper than an expected loss of 21 cent The company is still dealing with the fallout from an investigation into carcinogens in its flooring laminate. 
Twitter (TWTR) - Get Free Report surged more than 4% on Tuesday, adding to gains a day earlier, after businessman and investor Mark Cuban said he had bought stock. Cuban told CNBC that the company had "finally gotten [its] act together on artificial intelligence."
Airlines stocks were on watch as airline and industry executives testified on airline customer service before the House Transportation Committee. The hearing follows from the April 9 controversy of David Dao being forcibly dragged from a United (UAL) - Get Free Report plane. Rep. Bill Shuster said the hearing's purpose is to get "much needed answers about airline customer service policies and issues, and what can be done to improve the flying experience for American travelers." United shares rose more than 3%, while Delta (DAL) - Get Free Report gained 4%. 
On Real Money, Brian Sozzi said a good grilling by lawmakers could benefit United in the long run. Check out his insights or analysis with a free trial subscription to Real Money.
Molina Healthcare (MOH) - Get Free Report surged more than 16% after sacking its CEO Mario Molina and Chief Financial Officer John Molina. Chief Accounting Officer Joseph White will act as interim president and CEO, effective immediately, while a permanent replacement is found. The board decided on the shakeup after a "disappointing financial performance." 
Crude oil prices moved lower on Tuesday ahead of a weekly reading on domestic inventories. The American Petroleum Institute will release data on crude stockpiles after oil settles, while the Energy Information Administration will report official data mid-morning Wednesday. 
West Texas Intermediate crude was down 2.4% to $47.66 a barrel on Tuesday. The energy sector was the worst performer on markets on Tuesday afternoon. 
Don't miss these top stories on TheStreet:
Top 10 Cheap Classic Cars to Invest in for Big Gains With Your Delayed Tax Refund Check
These 5 Major Fast Food Restaurants Are About to Be Whacked by Soaring Chicken Prices