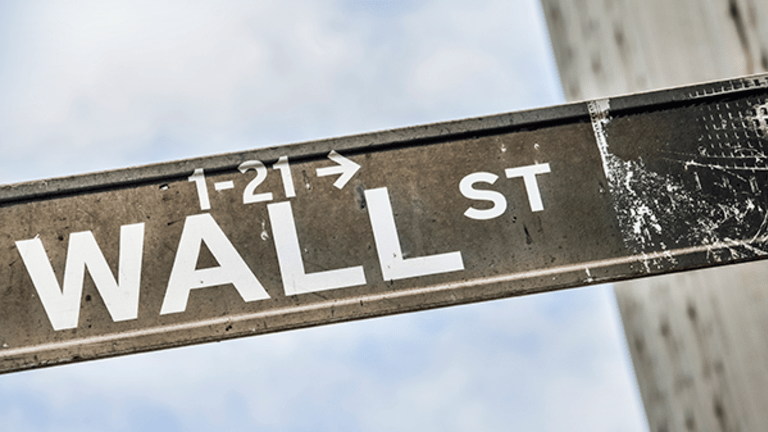 Stocks Rise, Wall Street on Track for Longest Record Streak Since Early '90s
Stocks hold higher by early afternoon Wednesday even as Federal Reserve officials back at least three rate hikes this year, the timing of which remain murky.
Stocks held higher by early afternoon Wednesday even as Federal Reserve officials backed at least three rate hikes this year, the timing of which remain murky.
The S&P 500 rose 0.35%, the Dow Jones Industrial Average gained 0.4%, and the Nasdaq increased 0.4%. The three indexes set new intraday record highs. Stocks were on track for their fifth record close in a row, their longest record-making streak since a six-session stretch from late 1991 to early 1992.  
Three rate hikes this year appear appropriate for the Fed, Philadelphia Fed President Patrick Harker said on Wednesday. "The overall economy is in pretty good shape," Harker told an audience at La Salle University, noting that unemployment had reached its "natural state."
Separately, Boston Fed President Eric Rosengren said more than three rate hikes could be called for this year. In a keynote speech at the New York Association Economics Luncheon on Wednesday, Rosengren said, "It is my view that it will likely be appropriate to raise short-term interest rates at least as quickly as suggested by the Fed's current ... median forecast, and possibly even a bit more rapidly than that forecast."
Fed Chair Janet Yellen attended to other matters in day two of her testimony to Congress. Yellen addressed the House of Representatives on Wednesday, a day after delivering her semi-annual monetary policy testimony to the Senate Banking Committee.
In a question-and-answer session, Yellen listed a number of improving metrics including job growth since the financial crisis and rising wages in the past year. Representative Bill Huizenga asked Yellen whether the U.S. economy could be better to which she replied, "In many dimensions, yes." However, Yellen refuted that fewer regulations would have helped U.S. economic growth, an assertion Republican representatives continued to press.
Yellen said there was no evidence that the Volcker Rule had negatively impacted bond market liquidity. The question, posed by House Financial Services Commitee Chairman Jeb Hensarling, parallels with President Donald Trump's push to dismantle Dodd-Frank reforms that require financial institutions to pass stringent regulations.
Yellen played the part of both dove and hawk in her remarks on Capitol Hill Tuesday, reiterating that rate hikes would be gradual but pointing out that it would be "unwise" to wait too long to hike again.
Market expectations for a rate hike at next month's meeting remain slim, but the outlook for the rest of the year is murkier. The Fed has expressed a more hawkish lean in recent months as inflation trends toward the central bank's 2% target and the U.S. economy nears full employment.
"Regarding the outlook for monetary policy, we view her remarks as indicating a low probability of a rate hike in March," Barclays analysts wrote in a note. "We see it as consistent with 'a few' rate increases this year that the chair referenced in her January speech and the committee projected in December."
Futures indicate markets expect a 43% chance of at least three hikes this year, according to CME Group. The chances of at least three moves in 2017 sat at 33% on Monday.
Donald Trump again made vague references to a forthcoming tax reform plan on Wednesday. The president said that a "massive tax plan" would be made public in the "not-too-distant future." Trump made the remarks at a meeting with retail executives, which included the heads of Target (TGT) - Get Target Corporation Report and Best Buy (BBY) - Get Best Buy Co., Inc. Report . Stocks hit records last week after Trump alluded to plans for tax reform, though has not yet revealed any substantive detail. 
Trump also welcomed Israel Prime Minister Benjamin Netanyahu to the White House on Wednesday in their first meeting since Trump took office. Trump told reporters in a press conference after their meeting that he had asked Israel to "hold back" on settlement construction as they push for peace with Palestinians. Trump said the U.S. would be "working on [a peace deal] very diligently," but that it was Israel and the Palestinians "who must directly negotiate such an agreement."
Crude oil prices slipped on Wednesday after domestic inventories rose at a steeper pace than anticipated in the past week. The Energy Information Administration reported an increase of 9.5 million barrels to U.S. stockpiles in the past week, adding to growth of 13.8 million barrels a week earlier. Analysts anticipated stockpiles to increase by 3.51 million barrels. 
"Crude oil prices have been on a roller-coaster ride to absolutely nowhere in recent weeks," Fawad Razaqzada, technical analyst at Foex.com, wrote in a note. "It appears as though the buying and selling pressure in finely balanced. Bullish speculators are encouraged to remain in the game because of the OPEC's efforts to reduce supply. Bearish traders are encouraged by signs of renewed rise in oil production in the US." 
West Texas Intermediate crude was down 0.1% to $53.16 a barrel. 
Retail sales in the U.S. increased by 0.4% in January, slowing from a revised 1% increase a month earlier. Analysts estimated sales to increase by 0.1%. Excluding autos and gas, sales rose 0.7%, smashing consensus of 0.3% growth. 
Consumer prices rose in January, another sign inflation is heating up. The consumer price index climbed by 0.6% in January, double estimates, and increased by 2.5% over the past 12 months. Excluding food and energy, core prices rose by 0.3%, higher than a target of 0.2%. 
Industrial production in the U.S. showed an unexpected decline in January. The measure fell by 0.3% to a reading of 104.6 in January, worse than an expected flat reading. Production rose 0.8% in December. 
Business inventories in December rose by 0.4% to $1,835.7 billion, according to the Census Bureau. The increase was in line with consensus following a 0.8% rise in November. 
Manufacturing conditions in the New York region significantly improved in February, according to the Empire State Manufacturing Index. The index increased to 18.7 in February from 6.5 in January. 
Cigna (CI) - Get Cigna Corporation Report and Anthem (ANTM) - Get Anthem, Inc. Report  traded slightly lower after the companies called off a proposed merger. Cigna terminated the merger agreement and has asked Anthem to pay a $1.85 billion reverse termination fee. Cigna is requesting an additional $13 billion in damages.
Yahoo! (YHOO)  rose 1.2% on reports Verizon (VZ) - Get Verizon Communications Inc. Report had reached a revised deal to acquire the Internet company. Verizon is reportedly close to making the new deal public. The companies are close to agreeing to a $250 million reduction to Verizon's original offer of $4.8 billion for Yahoo's core Internet business, according to Bloomberg.
Fortress Investment Groupundefined rocketed 28.5% higher after SoftBank Groupagreed to buy the asset manager in a deal worth $3.3 billion. Fortress shareholders will receive $8.08 a share, a 39% premium to the closing price on Monday. 
Billionaire investor Warren Buffett increased his stake in Apple (AAPL) - Get Apple Inc. (AAPL) Report  during the fourth quarter. Buffett's Berkshire Hathaway (BRK.A) - Get BRK.A Report holding company reported owning 57.4 million shares of Apple as of Dec. 31, up from 15.2 million shares of the tech giant at the end of the third quarter. Berkshire Hathaway's stake is now worth about $7.74 billion. Apple shares closed Tuesday at a record for the second day in a row. The stock dipped slightly on Wednesday.
Apple is a holding in Jim Cramer's Action Alerts PLUS Charitable Trust Portfolio. Want to be alerted before Cramer and the AAP team buys or sells AAPL? Learn more now.
Berkshire Hathaway also added to all of its airline investments. At the end of 2016, Berkshire held 45.5 million shares of American (AAL) - Get American Airlines Group, Inc. Report , 60 million shares of Delta (DAL) - Get Delta Air Lines, Inc. Report , 43.2 million shares of Southwest (LUV) - Get Southwest Airlines Co. Report and nearly 29 million shares of United Continental (UAL) - Get United Airlines Holdings, Inc. Report .
Fossil Group (FOSL) - Get Fossil Group, Inc. Report tanked 16% after a disappointing quarter ravaged by currency exchange woes. The accessories maker also guided for a weak full year and said "several factors will cause volatility," primarily foreign exchange and restructuring charges. Fossil said it anticipates full-year sales in a range of a 6.5% drop to breakeven and for adjusted earnings of $1 to $1.70 a share. Analysts anticipate full-year earnings of $1.73 a share. 
The weak quarter and guidance prompted Wells Fargo to downgrade Fossil to underperform from market perform. Analysts said they had concerns over the company's wearables business, particularly in light of weaker-than-expected sales in the fourth quarter. Sales weakness came in spite of "a much-hyped push in wearables (that was three years in the making)."
SodaStream (SODA) - Get SodaStream International Ltd. Report jumped 5% after a far better quarter than analysts expected. Earnings surged to 71 cents a share from 13 cents in the year-ago quarter, trouncing consensus of 36 cents. Revenue jumped 17% to $131.8 million and topped estimates of $125.5 million. The homemade seltzer company reported an 18% increase in sales in Western Europe and a 20% increase in the Americas. 
PepsiCo (PEP) - Get PepsiCo, Inc. Report was down 0.3% after topping analysts' estimates on its top- and bottom-lines over its recent quarter. Fourth-quarter earnings fell to 97 cents a share from $1.17 a share in the year-ago quarter, but came in at $1.20 a share when excluding one-time charges. Analysts anticipated adjusted earnings of $1.16. Sales rose by 5% to $19.52 billion, exceeding consensus of $4.7 billion. Frito-Lay North America sales increased 10%, while North America beverage sales rose 8%. Pepsi anticipates fiscal 2017 adjusted earnings of $5.09 a share, falling short of $5.16 consensus. 
PepsiCo is a holding in Jim Cramer's Action Alerts PLUS Charitable Trust Portfolio. Want to be alerted before Cramer and the AAP team buys or sells PEP? Learn more now.