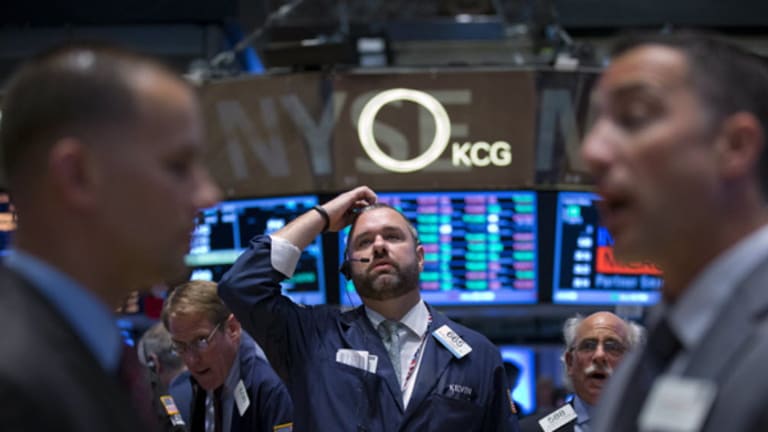 Stocks Tumble as Chances of Rate Hike in September Increase
Stocks remain in the red on Friday after Federal Reserve vice chairman Stanley Fischer raises the possibility of a September hike.
Stocks remained in the red early Friday afternoon after Federal Reserve Vice Chairman Stanley Fischer raised the possibility of an interest rate hike in September. Fed Chair Janet Yellen made the case for another rate hike earlier in the session.
The S&P 500 was down 0.20%, the Dow Jones Industrial Average slid 0.28%, and the Nasdaq fell 0.05%.
The U.S. economy has strengthened to the point where another rate hike will soon be warranted, Yellen said in a widely anticipated speech at the Economic Policy Symposium in Jackson Hole, Wyo.
"In light of the continued solid performance of the labor market and our outlook for economic activity and inflation, I believe the case for an increase in the federal funds rate has strengthened in recent months," Yellen said in a speech prepared for delivery to the Jackson Hole summit.
Yellen said she expects "moderate growth" in GDP and further tightening in the labor market over the next few years. She also reiterated that the decision on interest rates will "always depend on the degree to which incoming data continues to confirm the Fed policy committee's outlook."
Fischer backed up Yellen's confidence, noting that the overall trends in the U.S. economy are looking better and that Yellen's address is consistent with a September move. Fischer added that the August jobs report out next Friday will factor into the Fed's decision. The Fed will meet on Sept. 19-20. 
The chances of a September rate hike increased to 30% on Friday from 21% a day earlier, according to CME Group fed funds futures. A rate hike in December has better chances at 44%.
The Fed's promises for gradual rate increases is hurting its credibility and possibly hindering the economy, St. Louis Fed President James Bullard told CNBC on Friday. Bullard, a voting member of the policy committee, said that the process is "affecting global pricing" and hopes the Fed and market expectations begin to line up with a "more realistic assessment of what is going to happen." Bullard expects one rate hike over the next two-and-a-half years.
Separately, Cleveland Fed President Loretta Mester told CNBC that economic improvements mean that it "makes sense" to start moving interest rates higher. Mester, another voting member of the committee this year, expects the economy to pick up momentum in the second half of the year.
Fed members headed to Jackson Hole for their closely watched summer summit on Thursday. Prominent central bankers, finance ministers and economists from around the world meet annually to discuss economic trends and monetary policy action.
Fed members' confidence in the U.S. economy soothed investors' fears over earlier data that showed weaker growth over the second quarter. The U.S. economy grew 1.1% over the second quarter, according to the second estimate of GDP from the Bureau of Economic Analysis. The downward revision from 1.2% was as analysts had expected. Weaker manufacturing activity caused by slower international demand and a stronger U.S. dollar put a cap on U.S. economic growth last quarter. Consumer spending remained strong with estimates raised to 4.4% from 4.2%.
Crude oil moved slightly higher after U.S. oil rig activity remained flat in the past week, snapping an eight-week streak of increases. Signs of growing domestic inventories have recently pressured crude prices.
West Texas Intermediate was 0.02% lower at $47.32 a barrel on Friday afternoon. 
Consumer sentiment dipped in August as views over personal finances turned weaker, even as expectations over economic growth improved. The final reading from the University of Michigan fell to 89.8 in August from 90 in July. Analysts had expected the reading to improve to 91.
Herbalife (HLF) fell 3% on reports activist investor Carl Icahn is looking to sell his stake. Investment bank Jefferies Group has helped Icahn seek out buyers for his 18% stake, worth roughly $1 billion, over the past month. Fellow activist investor Bill Ackman reiterated on Friday that he has a $1 billion short position on Herbalife.
GameStop (GME) slipped 10.5% as quarterly sales missed estimates and comparable-store sales disappointed. The video-game retailer earned 27 cents a share, a penny above forecasts, while revenue of $1.63 billion missed estimates of $1.76 billion. Same-store sales fell 10.6%, far worse than an expected decline between 4% and 7%. Third-quarter earnings guidance between 53 cents and 58 cents a share met analysts' estimates of 55 cents.
Big Lots (BIG) reported weaker comparable-store sales than expected, while quarterly revenue declined. The liquidation retailer reported a same-store sales increase of just 0.3%, the low-end of a previous range of flat to 2% growth. Revenue fell 0.5% to $1.2 billion, $20 million less than estimated.
Splunk (SPLK) slid after topping estimates on its top- and bottom-lines over the second quarter. The software company earned 5 cents a share, exceeding forecasts by 2 cents. Sales climbed 44% to $212.8 million, higher than consensus by $12.3 million. Splunk also increased its full-year sales guidance to $910 million to $914 million, above previous estimates of revenue no higher than $896 million.
Viacom (VIAB) was downgraded to market perform from outperform at Telsey Advisory. Analysts said fundamentals are lagging behind peers and the company is facing a likely credit downgrade.