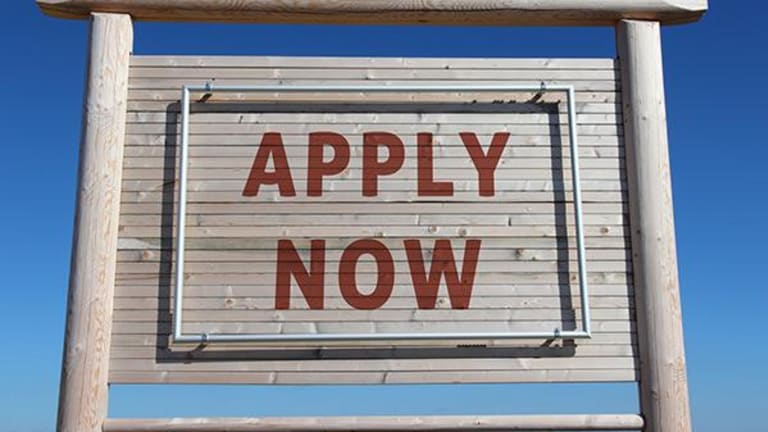 S&P 500, Dow Rise as Weaker Jobs Report Raises Questions About Fed's Plans
Stocks mostly higher after fewer jobs added to U.S. economy than expected.
If you'd like to receive our daily "5 Things" newsletter, please register here.
Stocks were mostly higher on Friday, Sept. 1, even after fewer jobs were added to the U.S. economy than expected in August.
The Dow Jones Industrial Average was up 0.26%, the S&P 500 added 0.23% and the Nasdaq was up 0.07%. Should the S&P 500 close higher on Friday, it will mark its sixth straight day in the green. Any gains for the Nasdaq would mean a fresh record close. 
The U.S. economy added 156,000 jobs in August, according to the Labor Department. Economists surveyed by FactSet anticipated 180,000 jobs to have been added to nonfarm payrolls in August. July's job increase was cut to 189,000 from 209,000, while June's increase was cut to 210,000 from 231,000. 
The U.S. unemployment rate increased to 4.4% from 4.3%, a surprise to economists looking for an unchanged reading. Hourly wages rose by 2.5% over the past 12 months, a flat reading from July.
"Overall, the report wasn't a tragedy, but it wasn't rollicking either," Dan North, chief economist at Euler Hermes North America, told TheStreet. "Most importantly, and most disappointing, wages gained a mere 3 cents, leaving the year-over-year growth rate at 2.5%, where it has stubbornly remained for five consecutive months."
The disappointing jobs report probably won't halt the Federal Reserve's plans to begin reducing its balance sheet, likely to begin this month, continued North. However, it could put a crimp in previous plans to hike one more time before the year is out. The chances of a December rate hike sit around 42%, according to CME Group fed funds futures. 
The Fed has previously said it would begin unwinding its balance sheet "relatively soon" should the economy continue to grow at the pace expected. Unloading mortgage-backed securities and other assets would likely tighten monetary conditions in the same way an interest-rate hike would. 
Manufacturing activity in the U.S. rose at a faster pace than anticipated in August, according to the Institute for Supply Management. The ISM Manufacturing Index rose to 58.8 in August, up from 56.3 in July. Analysts expected a reading of 56.6. 
Construction spending unexpectedly declined in July. Sector spending fell 0.6%, compounding a 1.4% drop in June. Analysts anticipated an increase of 0.6%. Private construction dipped 0.4%, while public construction slumped 1.4%. 
Consumer sentiment in August was not as strong as initially thought, according to a final reading from the University of Michigan. The sentiment index receded to 96.8, down from a preliminary reading of 97.6. Economists had expected the reading to hold at 97.6. Views of current conditions fell, while expectations rose. 
Crude oil prices were lower ahead of a weekly reading on drilling activity in the U.S. from Baker Hughes. Rig count data is set for its normal release time of 1 p.m. On Wednesday, the Energy Information Administration reported that U.S. crude stockpiles fell by 5.4 million barrels in the past week, more than double a consensus of a 1.9 million-barrel drop. Gasoline stockpiles were unchanged, while distillates added 700,000 barrels.
Prices have also been erratic this week as investors assessed the impact of Hurricane Harvey on drilling and refining activity in the Texas and Louisiana area. Harvey has forced the shutdown of some major refineries along the Gulf Coast. According to some estimates, about a quarter of the U.S. refining industry was shut down.
West Texas Intermediate crude was down 1.2% to $46.71 a barrel on Friday morning. 
General Motors Co. (GM) - Get General Motors Company (GM) Report spiked more than 2% after posting a far better increase in sales in August than anticipated. The Detroit automaker reported a 7.5% rise in unit sales in August, more than triple estimates. By brand, Chevrolet sales climbed 11.4%, and GMC 12%, while Buick sales fell 23% and Cadillac 8%. 
Ford Motor Co. (F) - Get Ford Motor Company Report reported a decline in August sales, though demand for its F-series continued to come in strong. Unit sales fell by 2.1%, slightly narrower than an expected 2.4% drop. Passenger car sales declined 9%, while truck sales rose 9%. 
Fiat Chrysler Automobiles NV (FCAU) - Get Fiat Chrysler Automobiles N.V. Report was a disappointment, reporting an 11% drop which was more than double an expected decline. By brand, Fiat sales dropped 23%, Chrysler 33%, and Jeep 15%. 
Lululemon Athletica Inc. (LULU) - Get Lululemon Athletica Inc (LULU) Report  spiked nearly 9% after guiding for a positive full year. The sportswear brand anticipates full-year revenue between $2.545 billion and $2.545 billion, a surprise after weak spring sales earlier in the year contributed to conservative estimates.
Lululemon also exceeded second-quarter estimates. Earnings of 36 cents a share came in a penny over expectations, while comparable-store sales increased 7%. Revenue rose 13% to $581.1 million, above expectations of $567 million. 
Palo Alto Networks Inc. (PANW) - Get Palo Alto Networks, Inc. Report  added 10% after besting quarterly estimates. The security tech developer earned 42 cents a share, or an adjusted 92 cents a share. Analysts expected adjusted earnings of 79 cents. Revenue reached a record $509.1 million, the first time above $500 million in Palo Alto's history. Sales climbed 27%. Palo Alto anticipates record revenue of more than $2 billion for the full year. 
Chief Financial Officer Steffan Tomlinson also announced he will retire. Tomlinson will remain in his position until a suitable replacement has been found. 
Dow Chemical and DuPont have successfully completed their merger as of Friday morning. The new company, called DowDupont, will trade on the New York Stock Exchange using the ticker DWDP.
Updated from 10:38 a.m. ET, Sep. 1. 
More of What's Trending on TheStreet: