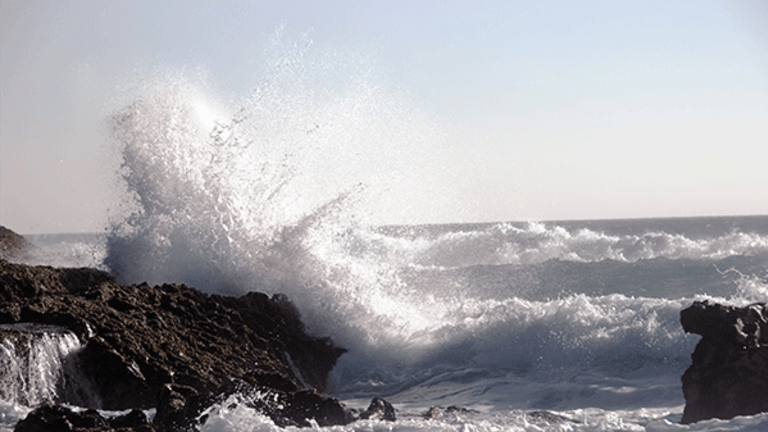 S&P 500 at Session Lows, Dow Under 22,000 on North Korea Threat
Stocks are lower.
Updated from 12:58 p.m. ET, Thursday, Aug. 10. 
Stocks were trading lower for their third straight session on Thursday, Aug. 10, as the threat of conflict with North Korea cast a pall over Wall Street.
The Dow Jones Industrial Average was down 0.63%, around 140 points lower and retreating below its 22,000 level. 
The S&P 500 fell 1.1% and was trading at session lows. The Nasdaq slid 1.7%. The Volatility Index increased 35% to 14.96. The index reached a level not seen since mid-May earlier in the session.
Tensions between North Korea and the U.S. have intensified in recent days after Trump warned of severe retribution should the authoritarian state proceed with any more missile tests or threats. In a statement delivered at his Bedminster, N.J., golf club on Tuesday, Trump said, "North Korea best not make any more threats to the U.S. They will be met with fire and fury like the world has never seen." Trump tweeted Wednesday morning that one of his first orders as president was to "renovate and modernize" the nuclear arsenal.
Trump followed up on his threats Thursday in comments in Bedminster. He told reporters, "North Korea better get their act together or they're going to be in trouble like few nations have been in trouble before."
Trump's rhetoric has escalated since reports broke at the beginning of the week that North Korea had successfully produced a nuclear warhead that could be fitted inside its missiles. The U.N. Security Council unanimously voted on Saturday to impose new sanctions on North Korea after several missile tests.
In more back-and-forth between President Trump and North Korea, Pyongyang General Kim Rak Gyom, leader of the country's strategic forces, said that "sound dialogue is not possible with such a guy bereft of reason and only absolute force can work on [Trump]". The general also outlined plans to launch four Hwasong-12 ballistic missiles to strike the sea around U.S. territory Guam.
Plans are being drawn up and will be ready by the middle of August, North Korea said. The country previously threatened a further "all-out war, wiping out all the strongholds of enemies, including the U.S. mainland" in a government statement.
Markets were lower on Thursday, Aug. 10, though they refrained from a heavy selloff. The Dow fell for the third day in a row. Still, trading has been fairly range-bound over the summer with volatility at multi-year lows. The Dow has not closed with a rise or fall of more than 1% since March 21 and has moved that much only five times in the entire year.
The S&P 500 has fallen for three straight days, the longest losing streak of the month. If the S&P 500 closes at these lows, it will mark its worst daily performance since July 6. Thursday's losses pushed the S&P 500 into the red for the month. 
The iShares MSCI Emerging Markets Index ETF (EEM) - Get iShares MSCI Emerging Markets ETF Report , an index tracking equity market performance in emerging markets, was lower on Thursday afternoon. The index declined nearly 2%, its worst daily performance since early March. 
Inflation trends remained weak in the U.S.  in July. Producer prices fell by 0.1% in July, according to the Bureau of Labor Statistics. Economists had expected an increase of 0.1%. The decline was the largest since August 2016. Core prices, excluding food and energy, declined by 0.1%, the first drop of the year. 
Inflation could make a rebound in coming months as a tighter labor market and weaker dollar lift trends, New York Fed President William Dudley said on Thursday. In a speech to economists, he said, "Our outlook anticipates a continued moderate growth trend, with some further strengthening in the labor market and an increase in inflation over the medium term toward our objective of 2%." However, inflation might not reach that target for at least another six months. 
Jobless claims in the U.S. rose in the past week, though held close to multi-year lows. The number of new claims for unemployment benefits increased by 3,000 to 244,000. The less volatile, four-week average fell by 1,000 to 241,000. Continuing jobless claims fell by 16,000 to 1.95 million.   
Blue Apron Holdings Inc. (APRN) - Get Blue Apron Holdings, Inc. Class A Report  fell 18% on Thursday after reporting earnings for the first time since going public on June 29. The meal-kit delivery services reported a loss of 47 cents a share, steeper than consensus of 27 cents. Revenue exceeded estimates, rising 18% to $238.1 million. The number of customers rose by 23% from a year earlier, though fell by 9% from the first quarter. 
Watch:Jim Cramer on What Amazon-Whole Foods Means for Blue Apron
Macy's Inc. (M) - Get Macy's Inc Report  fell 10% despite topping quarterly earnings and sales estimates. Net income rose to 38 cents a share from 3 cents in the year-ago quarter. Adjusted profit of 48 cents a share exceeded estimates by 2 cents. Sales of $5.55 billion was slightly higher than expected. Same-store sales for owned locations declined 2.8%. The retailer anticipates full-year adjusted earnings of $2.90 to $3.15 a share, falling short of $3.27 consensus. 
Kohl's Corp. (KSS) - Get Kohl's Corporation (KSS) Report   fell 7% after Macy's issued a disappointing outlook. Shares were higher earlier after a better-than-expected quarter. Adjusted profit of $1.24 came in higher than estimates of $1.19. Revenue slipped 1% to $4.14 billion, but came in slightly higher than consensus. CEO Kevin Mansell said foot traffic had "accelerated" over the second quarter.
Watch:Jim Cramer Reacts to Macy's and Kohl's Results
Brinker International Inc. (EAT) - Get Brinker International, Inc. Report  rose after a better-than-expected fourth quarter. The parent of Chilli's restaurants earned $1.09 a share over the quarter, a nickel above estimates. Revenue fell 8% to $810.66 million, but came in $1 million higher than anticipated. 
Perrigo Co. PLC (PRGO) - Get Perrigo Co. Plc Report  rose 17% after exceeding quarterly expectations. Adjusted earnings of $1.22 a share soared past consensus by 29 cents. Revenue sank 7.5% to $1.24 billion, but beat estimates by $60 million. The drugmaker said it progressed in its cost-cutting program designed to deliver annual cost savings of more than $130 million by mid-2018. 
Twenty-First Century Fox Inc. (FOXA) - Get Fox Corporation Class A Report climbed 1% after a mixed quarter. The media empire earned an adjusted earnings of 36 cents a share on sales of $6.75 billion. Economists expected 35 cents a share on $6.77 billion. Domestic cable advertising increased 6% with the firing of long-time host Bill O'Reilly not hurting ratings at Fox News. Executive co-chairman Lachlan Murdoch said the cable network was the most watched over the past year. 
Crude oil prices gave back gains on Thursday even after the Organization of Petroleum Exporting Countries boosted demand forecasts for the full year. The cartel anticipates global oil demand of 1.37 million barrels a day in 2017, up 100,000 barrels from a previous forecast. Production among the oil-producing countries still remains an issue, though, with increases in output from Libya, Nigeria and Saudi Arabia causing the largest concern.
West Texas Intermediate crude oil was down 1.8% to $48.69 a barrel on Thursday. Crude had seen small gains earlier in the session. 
More of What's Trending on TheStreet:
Watch More with TheStreet:
Who Holds the Biggest Share of Snap?
It's Not Just North Korea, This is a Stronger Time for Gold