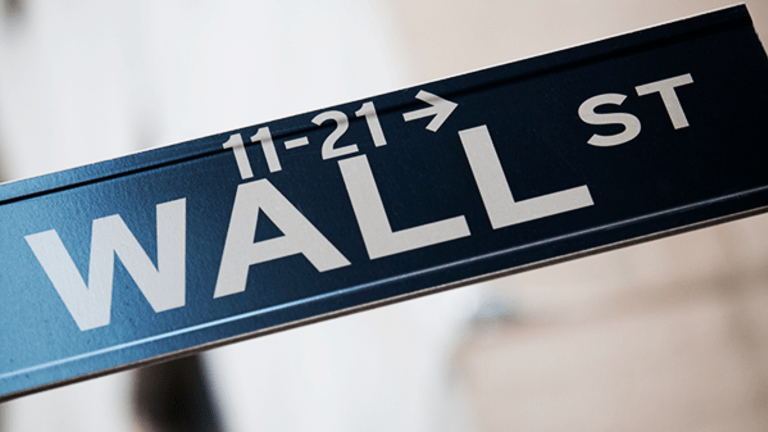 Stocks Fall for Day Two as Trump Targets Health Care Sector
Stocks fall for a second day on Tuesday, the first back-to-back decline since January, as a selloff in health care spoils attempts by the market to push higher.
Stocks fell for a second day on Tuesday, the first back-to-back decline since January, as a selloff in health care spoiled attempts by the market to push higher.
The S&P 500 was down 0.29%, the Dow Jones Industrial Average slid 0.14%, and the Nasdaq fell 0.26%. The Dow and Nasdaq had traded higher earlier in the session. 
Health care stocks dropped after Donald Trump renewed his vow to address pricing in the drug industry. In a morning tweet, the president said he was "working on a new system where there will be competition in the drug industry." Trump has promised to address ballooning drug prices for months, though hasn't revealed how he plans to do so.
Drugmaker stocks moved lower on Tuesday following Trump's tweet. The SPDR S&P Biotech ETF (XBI) - Get SPDR S&P BIOTECH ETF Report fell 1.7%, while the SPDR S&P Pharmaceutical ETF (XPH) - Get SPDR S&P Pharmaceuticals ETF Report declined by 0.9%. Large-cap stocks including Pfizer (PFE) - Get Pfizer Inc. Report , Novartis (NVS) - Get Novartis AG Report , Merck (MRK) - Get Merck & Co., Inc. Report  and Amgen (AMGN) - Get Amgen Inc. Report were sharply lower. The Health Care SPDR ETF (XLV) - Get Health Care Select Sector SPDR Fund Report slid 0.76%. 
Markets had rallied since the November election on promises from the president for massive tax cuts, boosted military budgets, and infrastructure spending. However, the recent rally has been under threat in the last few days as questions persist over how Donald Trump will execute his promises. Trump has been light on details for tax and health care reform and changes to the budget since his election in November.
Capitol Hill has been quiet on details of market-moving tax reform and infrastructure spending plans, though details of changes to immigration and health care reform have been released in the past two days.
Details of the long-teased bill to replace and repeal Obamacare were released overnight when the latest version of the legislation was formally released by GOP leaders. The bill, now formally named the American Health Care Act, would replace the Affordable Care Act's income-based tax credits with age-based tax credits. In most cases, the cuts would be smaller than what is currently offered under the ACA. The bill also scraps plans to increase federal funding for states' expansion of Medicaid. 
WATCH MORE: Drugmakers Suffer After Trump Tweet
Two House committees are scheduled to vote on the plan Wednesday, GOP leaders announced late Monday. House Speaker Paul Ryan, R-Wis., plans to send the bill to the House floor for a vote and then forward it to the Senate by the beginning of April.
On Monday, Trump signed his second iteration of a controversial travel ban. The revised travel ban from the executive branch bans travel to the U.S. from six Muslim-majority nations; Iraq was part of the first travel ban but was removed in the revision.
The first version of the immigration order was struck down by the Ninth U.S. Circuit Court in January. The order could face fresh challenges from the courts given the unconstitutionality of a religious test, a barrier to entry Trump once suggested on the campaign trail.
Crude oil fell on Tuesday after the Energy Information Administration increased its production outlook for the U.S. The energy watchdog anticipates the U.S. will produce an average 9.21 million barrels per day this year, higher than its previous target of 8.98 million. Its 2018 forecast is also higher at 9.73 million from 9.53 million. Crude prices have fluctuated on ballooning U.S. supply and global production cuts since the beginning of the year. 
West Texas Intermediate crude was down 0.1% to $53.14 a barrel on Tuesday afternoon. 
Investors were in wait-and-see mode ahead of a loaded back-half of the week, capped off by the U.S. jobs report for February on Friday. A strong jobs report should be enough for the Federal Reserve to raise interest rates at its meeting next week. Fed members have turned hawkish in recent months, calling the March meeting a "live" one and telegraphing more than one rate hike this year. Recent Fedspeak has increased the chances of a rate hike in March in the eyes of investors. The Federal Open Market Committee, the group that decides when interest rates will move, next meets March 14-15.
The U.S. trade deficit ballooned in January to its highest level in around five years. The deficit increased by 9.6% to $48.5 billion, as expected. Imports rose 2.3% to $240.6 billion, while exports increased 0.6% to $192.1 billion. 
Pandora (P) fell 6% on Tuesday after Liberty Media CEO Greg Maffei said an acquisition was not on the table as the music-streaming service was currently overvalued. Maffei had previously expressed some interest in a possible deal. Maffei spoke at the Deutsche Bank Media, Internet and Telecom Conference on Monday. 
Michaels (MIK) - Get Michaels Companies Inc Report jumped 2.2% after topping analysts' estimates in its fourth quarter and guiding for a better-than-expected 2017. The arts and crafts retailer earned an adjusted 96 cents a share over its fourth quarter, a penny higher than consensus. Earnings for 2017 are expected to come in between $2.05 and $2.17 a share, higher than estimates of $2.02.
Dick's Sporting Goods (DKS) - Get Dick's Sporting Goods, Inc. Report fell 8.9% on disappointing guidance for its 2017 fiscal year. The sporting goods retailer anticipates full-year earnings between $2.63 and $3.73 a share, on the light side compared to consensus of $3.71. First-quarter earnings are expected to come in no higher than 53 cents, missing estimates of 61 cents. 
Snap (SNAP) - Get Snap, Inc. Class A Report plummeted 10% on Tuesday in a continued downswing following its highs of last week. The disappearing message app had rocketed higher on Thursday and Friday following its market debut. Analysts have raised the possibility its shares are currently overpriced. 
WATCH MORE: Jim Cramer Says Snap Is One of the Greatest Calls of His Life